CLICK FOR VIDEO:
MIRANDA RUNNING DELIMBER
And another video showing the process of hooking logs and Yarding them up, and delivering to the delimber. I'm out in the brush hooking the logs. This Area was the last spot we logged. It was flat for once!!
CLICK FOR VIDEO:
JOE HOOKING
[ 6 comments ]
---

-Miranda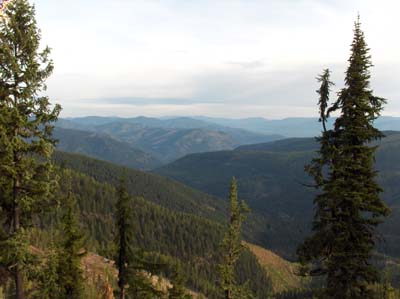 One of many nice views from our job (6000 feet).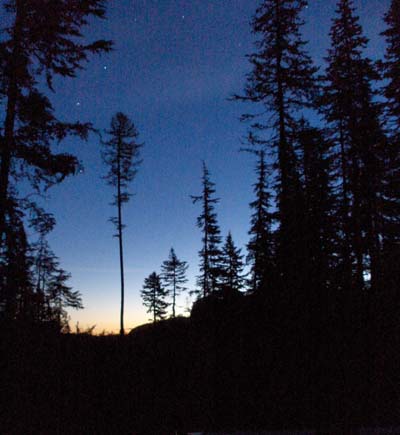 Sunrise one of the many early mornings.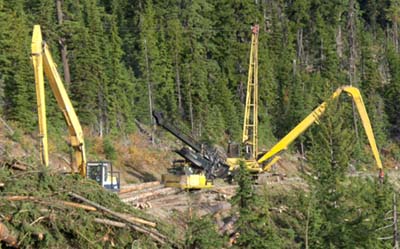 From left to right: the loader, delimber and yarder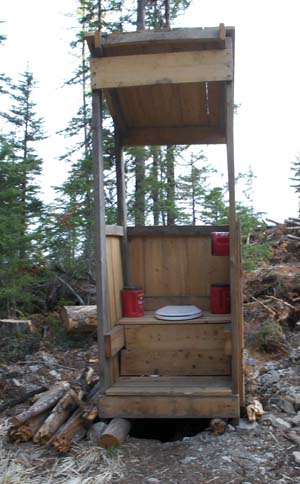 The bathroom facilities at camp.

[ 3 comments ]
( 22 views )
---
The middle of last week was exciting. Pat and I were down hooking on a Super-sloped Corridor 45degrees+ . A huge limbless log 300 feet up was lost out of the grapple... All we heard was a huge "whoosing" sound, and could see debri flying up the hill directly above us. Pat freaked out, which really freaked me out.. We had to just sit still and determine to which side of us this bullet train was going to go.. At about 50 feet away It looked 10feet to my left, So I bolted to the right as fast as i could... "Whooooosh" it carreened by... I was pretty freaked out, But I guess something like that rarely happens, maybe just once/year... so i was just lucky to see one so soon

Also have to listen for boulders bouncing down the Corridors... Feels like Freaking Donkey-Kong Down there

Off to try another week!
-joe
[ 4 comments ]
( 31 views )
---
I should really get a video up here of miranda running her machine!
-joe
[ 5 comments ]
( 44 views )
---
So I'm going to bring Miranda up to camp for Thursday and Friday,
She can have a look at the operation so we can decide whether to stay here the winter working or not!.. Going to see if she's interested in learning to run the Giant complicated De-limber machine!! Whilst i just do dumb brute grunt work hooking.
-Joe
[ 1 comment ]
( 30 views )
---
Back
Next