We got to the airport, then headed to the rental companies to get a car. Budget was sold out, so we headed to the Thrifty. They wanted $400 for a car for the week... Joe had looked online at Budget earlier and it quoted $250. So, we headed to National. While he checked there, I went online and checked the other rental places. Avis wanted about $300, so I reserved a car and we headed over there. Nice that we ended up saving $100 just by checking online quick. :p
We picked up Mary without a problem and got to the place we were staying. It's super cute. It's the middle floor in a house (the house is built on the hillside) and is completely separate from the top and bottom floors.
In the morning, we picked up some snorkel gear and headed north. Unfortunately, a lot of the possible places were pretty choppy. We did end up snorkeling for a bit in one place, but it was a bit murky.
From there, we headed to Hawi to have lunch at the Bamboo restaurant. It was very good. We kept going to Pulolu Bay, which is at the end of the road. The walk down to the water was a little painful, but it was worth it. The beach was gorgeous as well as the forest. There were huge ropes all over the place. It was like a boy scout playground sometimes... So odd.
The drive back was nice and we had dinner at home. The next morning we headed out for some early snorkeling. There is a protected bay pretty much right in town. It was shallow and relatively busy, but there were fish everywhere. We also saw 2-4 turtles. It was great. It was good we got there when we did. It was packed when we were leaving.
From there we headed south to check out the sights. We stopped at a few Kona Coffee places. They provide a number of free samples and one of the places you can watch the coffee getting roasted, etc. The farthest south we went was to Pu'uhonua o Hōnaunau National Historical Park. It was a gorgeous area. From there, we headed back home, dropped Mary off in the touristy shopping area of Kailua-Kona and headed home. Joe will be picking her up shortly.

So, basically lazy day, but still fun.
-Miranda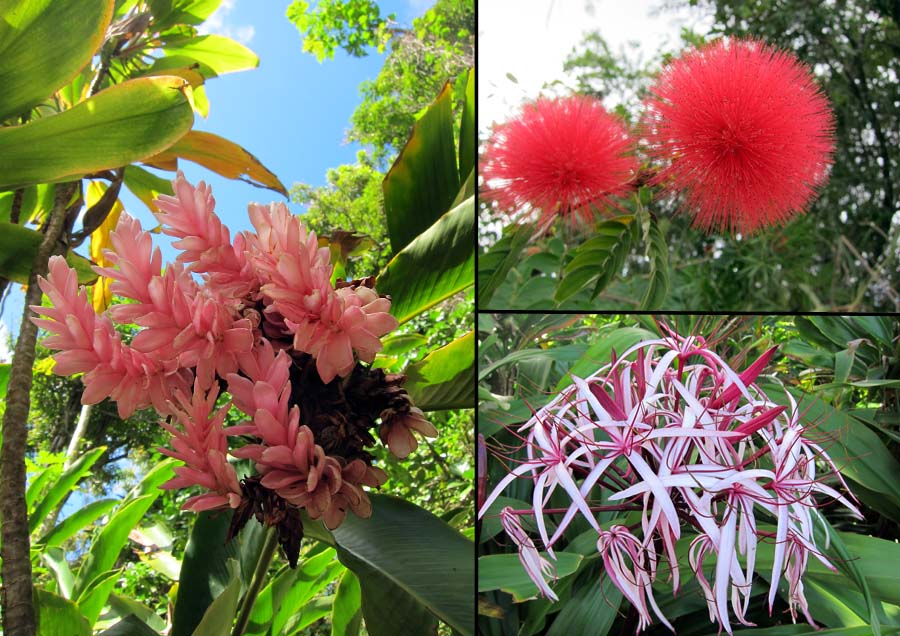 Neat flowers around the isle. (Click on photo for larger.)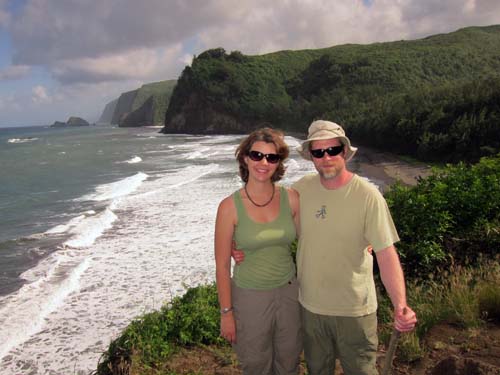 Joe and me in front of Pulolu Bay.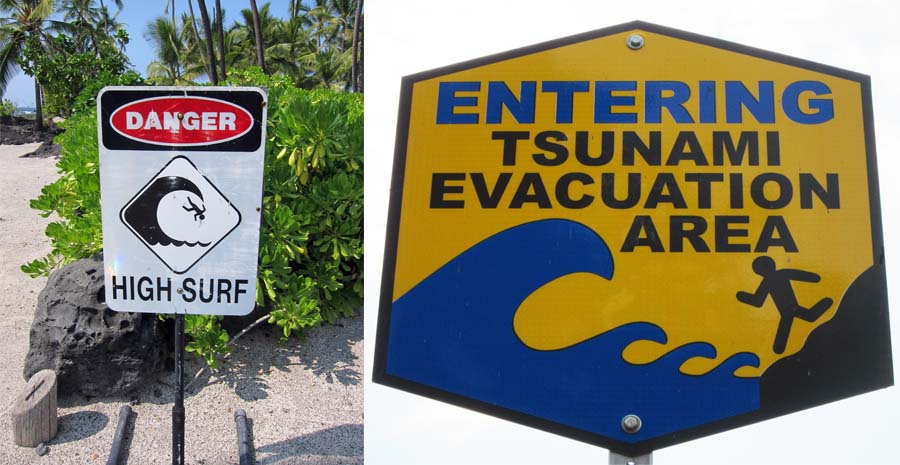 Some amusing signage. (Click for larger.)
[ 2 comments ]
( 18 views )
---
Once we were done, we headed back up the hill. So hot. But we made it in one piece and sat and worked for the rest of the day.
-Miranda
[ 2 comments ]
( 11 views )
---
This morning, we got packed back up and headed to the airport. Our flight to the Big Island left at 1:39 without a problem. We arrived and decided to try without a rental car for the couple days we're here before Mary arrives. The bus only stops at the airport twice a day, so we didn't bother waiting and just started hoofing it towards the highway. Once on the highway, it took 10-15 minutes to hitch a ride into town to the Target/Kmart. We did a little shopping at Target then headed up to Kmart where there was a bus stop.
The bus arrived, we got on, and then found out a tire was flat, so we had to get off. We waited 45 for the next bus to come, then took that. Apparently there aren't really bus stops here.... You just know the route of the bus and flag it down when you see it coming. That's our best guess so far. When you request a stop, it stops at the next corner and drops you off. We weren't quite sure where the hostel we were going to stay at was, but we did have the address and it was right along the highway. As soon as we spotted it, we pulled the cord and he stopped soon after.
The hostel is super quiet. The room is big. It even has a couch in it, but the 'bathroom' is outside and the kitchen is in a different building. It's pretty interesting. So far, we've seen the two owners and that's it. I don't even know if anyone else is staying here. The woman running the place seems very nice. At least it will be quiet tonight.

-Miranda
[ 1 comment ]
( 4 views )
---
I brought the idea of heading back together for some thorough investigation and he was game. It was great, we drove back out there, almost to Hana (2hrs) after having bought underwater flashlights and a mask for him. We took our time in the frigid water, searching around for underwater passages, which i wasn't even sure would be there. We found TONS. and it was glorious. He was a great search buddy. A little more comfortable with diving, he led the way most of the time, finding air pockets and then taking turns pointing the lights straight down as a navigation aid, etc. Eventually after finding a giant, completely otherwise inaccessible cavern, we took a long dive down and back up and out a different pool than we had started in!!! It was crazy. I drew a map showing the different areas we explored and routes for others.
-Joe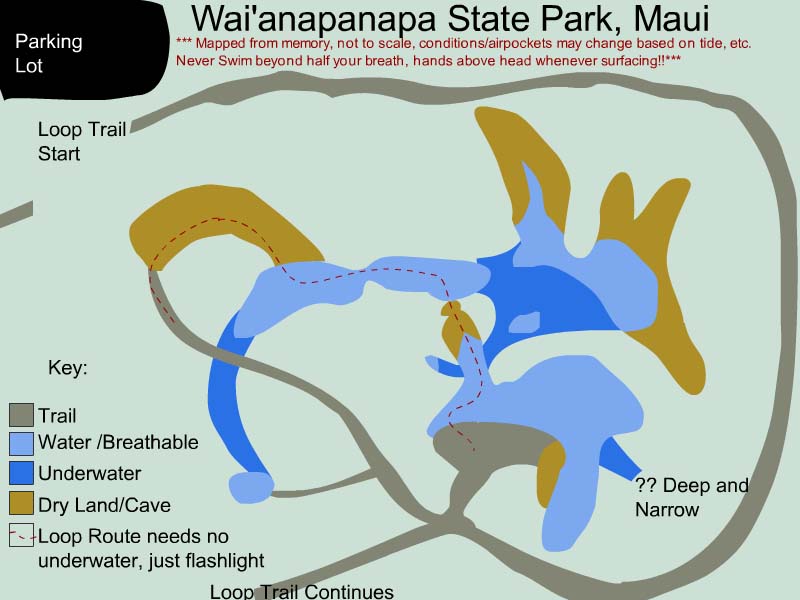 The map (click picture to see it larger.)
[ 1 comment ]
( 12 views )
---
One was from North Dakota and lived in Minneapolis for a while. She's been on Maui for a year this time. The other girl was from Philly and has been on Maui for 6 years. We had a good time chatting with them.
Once into town, we dropped them off, then headed back to Down To Earth, a completely vegetarian grocery store. Their deli options are great, so we had lunch there. Then it was time to head to the airport and drop Laura off.
It sounds like she left and got back to LA without a problem and a nice smooth ride. When we left the airport though, we headed back to North Shore Hostel. We are staying here for a couple nights. We've been mostly working. Tomorrow we'll probably head to the nearby I'ao State Park for a hike. If we want to just have the weekly rate for the rental car, we'll have to return it on Friday, so we may head to the Big Island then. Mary is meeting us there on Monday. It would be nice to get settled a little before she comes.
-Miranda
[ add comment ]
---
Back
Next