Wednesday, we woke up with the plan to get some more of that yummy horchata, wasting a little time before we had to be at the airport. Unfortunately, that changed when Mary woke up sick. Instead I went out to find some medicine and food that she might be able to eat and then we just stayed in the room until we had to be at the airport.
She was definitely uncomfortable and threw up literally right before getting on the plane. We made it though. After getting to the house, she crashed. She woke up feeling much better though, so that was definitely a relief.
-Miranda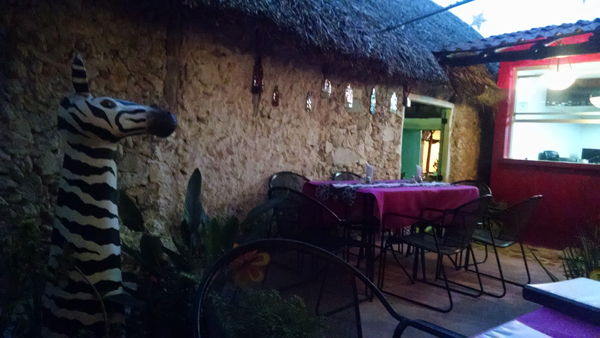 The cute restaurant. This was taken on my phone when it was pretty dark, so not great, but you get the feeling.
[ 2373 comments ]
( 62926 views )
---
On Mon we woke up bright and early to see the sunrise. It was definitely gorgeous, but our breakfast place didn't open until 9 so there was quite a bit of waiting around until we could go get our yummy crepe breakfast. It was worth it as usual though.
At 10:30 Mary left to go on a snorkel trip. It was basically the same one we did but she didn't have the bad weather to foul it up. She had a blast. Saw lots of cool things and had a lot of really fun people on her boat with her. She was so glad she went.
-Miranda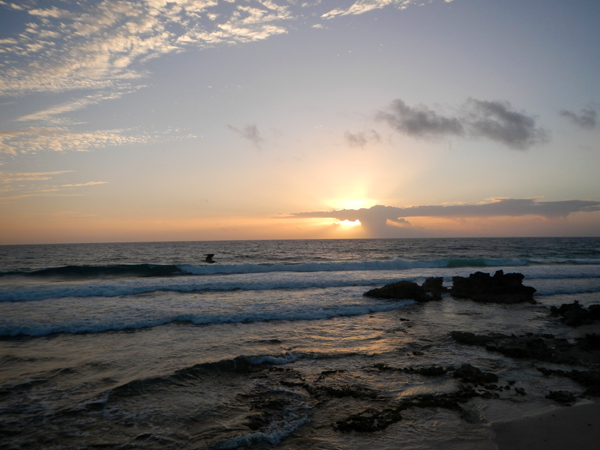 Sunrise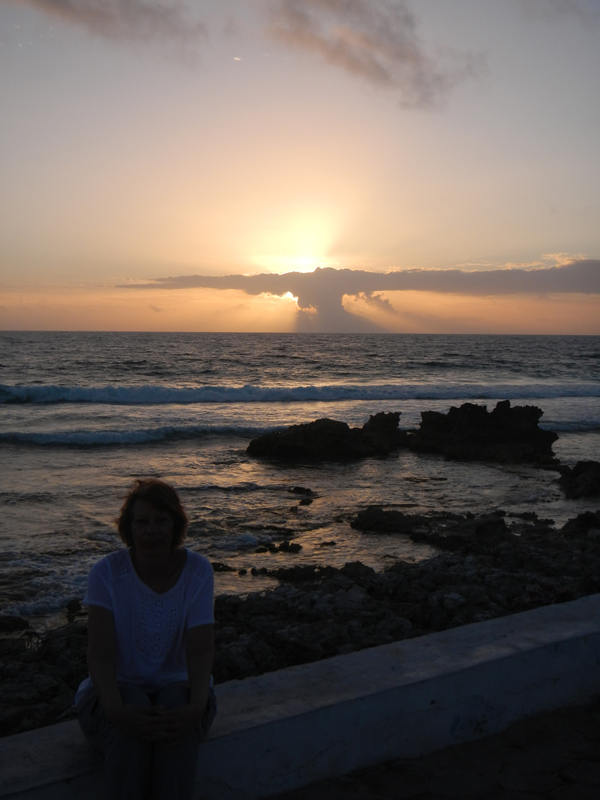 Mary at sunrise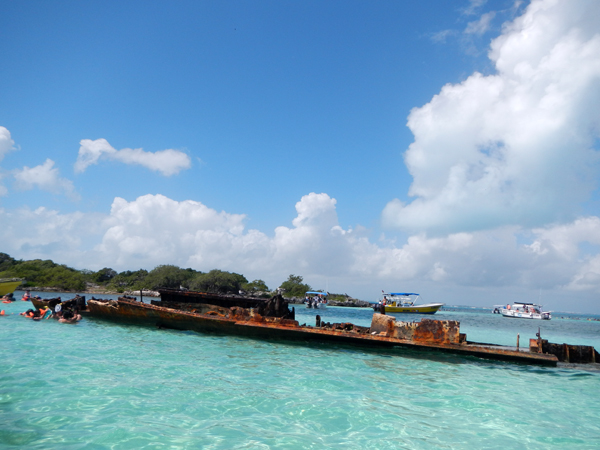 The rusty, sunken ship where Mary went snorkeling.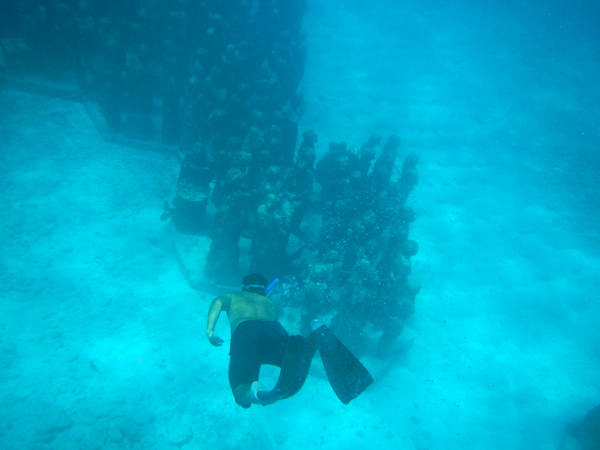 The underwater museum.
[ 3889 comments ]
( 116322 views )
---
On our walk back, we were walking barefoot and Mary managed to step on a bee which then stung the bottom of her foot. She limped her way back to the room and took some motrin. After our showers she said it was feeling all right so we went for a walk along the coast which was gorgeous. They have a cement walkway along the east coast that goes along most of the northern part of the island. After the walk we got a yummy dinner then headed back to the room. I spent an hour or so on the moon deck enjoying the breeze while reading before heading to sleep.
-Miranda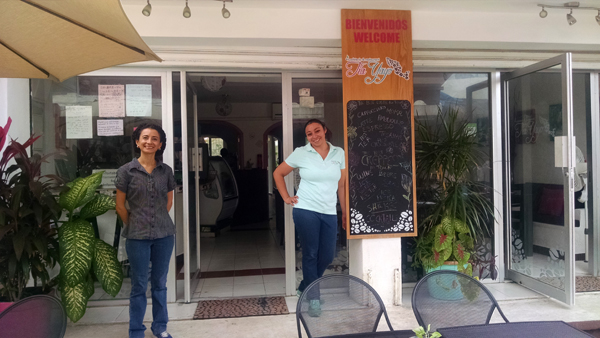 Super yummy crepe place.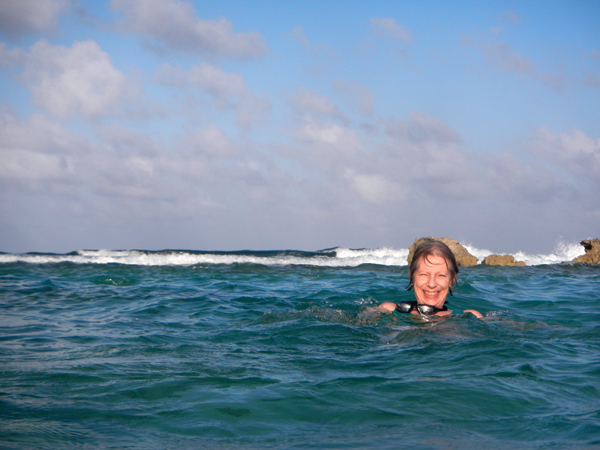 Swimming and looking for fishies.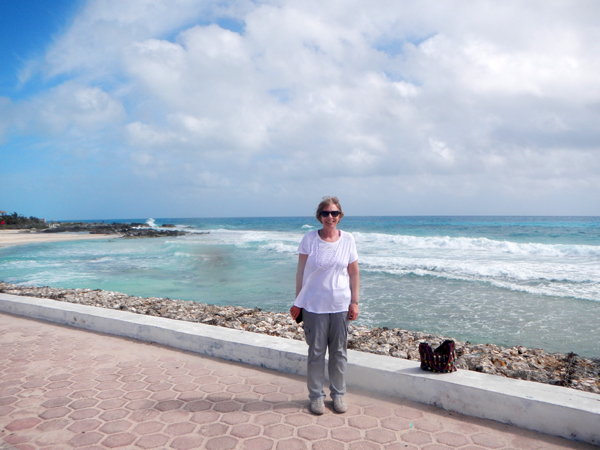 Mary at the coast.
[ 584 comments ]
( 3279 views )
---
We hopped on a bus to Cancun. From there we found a bubble tea place, sat down for a drink then got a cab to the ferry to Isla. The line for the ferry was crazy! It was so long. It didn't take us too long to get on a boat. Unfortunately that had me worried that we were going to have issues finding a place to stay. This did end up being the case. I tried about 5 places before setting Mary down with our bags at a juice place and wandering around myself. I finally found a place that had one night available. I took that and we proceeded to look around for a place for the weekend. Our plan was to stay at least until Monday. I ended up only finding a couple places that had one room available with only one double bed.... That would be pretty uncomfortable for the two of us. One of those options was not only expensive but only had wifi in the lobby. I was hoping for something to be available where Mary and I would actually be able to sleep.
We did one more loop together to try and catch some that I hadn't tried yet (there weren't many) and found each place that I remember Joe, Dani and I had looked at (after we already had a place) because it was painted super cute. It was pretty pricey. Mary and I stopped in and it was the same guy. I asked and he seemed pretty sheepish and said that he did have a room available. I expected a single bed or something similar and he opened the door to an adorable room with two double beds and a refrigerator. He said they have wifi throughout the hotel, a pool on the roof, a community kitchen and water available to refill bottles. It is expensive but we took it since we were obviously not having luck anywhere else. Mary is so extremely happy.
Once we could chill out a bit, I went back to the room while Mary went shopping. After she came back we found some yummy dinner then walked around a bit before heading to bed.
-Miranda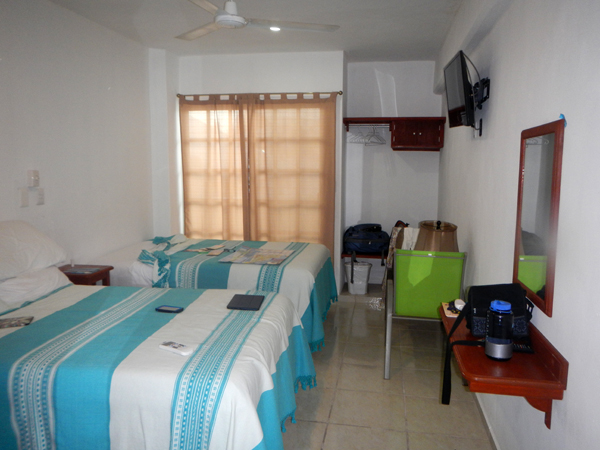 The first room.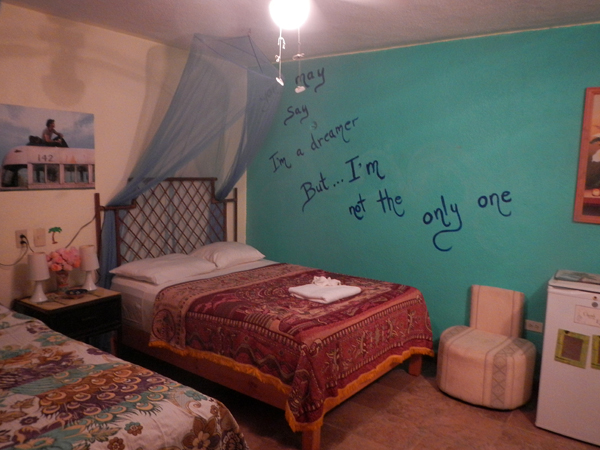 Our upgrade.

[ 784 comments ]
( 94097 views )
---
We went right to the ferry and over to Playa to drop off her bag. We then went out for some falafel for dinner and a little walking around before heading back to the room for rest and sleep.
-Miranda
[ 16425 comments ]
( 192494 views )
---
Next