Anyway, we finally got that situated, and headed to security. We got through security without a problem, found a tiny bit of breakfast, and were on the plane. It took off early at about 7:55. It was a 6.5 hour flight. At about 5 hours into the flight, Joe realized his wallet wasn't in his pocket. After searching the aircraft and our baggage, we tried to retrace when we last saw it. We remembered him taking it out and putting it in a tray at security, but can't remember it after that. He talked to the flight attendants and they were a big help. The pilot ended up contacting Honolulu and asked the security if they had the wallet. Unfortunately, they didn't. I just remembered that this security check was the only time I haven't looked back and triple checked that we had everything. So, he must have left it and then someone behind us swiped it. We're still hoping that it turns up, but our hopes aren't too high...
We landed in Fiji and had no idea where to go. We found some food and talked to information who apparently knew about the hostel we were supposed to be staying at. He called her and she came to pick us up. We found out the actual hostel was under renovations and we would be staying nearby at the Wailoaloa Beach Resort instead. The room is nice. It has wifi, though it doesn't reach our room, so we just have to sit outside in the eating area.
She then talked to us some more and was trying to help us plan our week. We ended up deciding to take a boat to a nearby island and stay at a hotel there for four nights (all meals included). She was doing the booking, she called the place to verify that they did have wifi and that they could cater to vegetarians. When we added it up, it came to about $500. She wanted the cash upfront. We were a little skeptical, but wanted to just have a plan figured and taken care of, so we paid her. Later, we were talking to the guy that checked us in here, and he was basically saying that we were charged way too much. After some talking with him and hearing about a situation where another couple had problems through her, he ended up calling the director of the place we're staying to verify things. They later called him back and were upset that she was sending people out there without money... So, basically, the guys here are going to get the money back from her tomorrow and we're apparently doing the stay through them. So, now we feel a bit bad for her, but who knows. I guess we'll just see how tomorrow plays out...
-Miranda
[ 1 comment ]
( 6 views )
---
Friday we made plans to go snorkeling and leave early in the morning. Well, it rained all night, so Donald figured the water would be too stirred up to really see anything. We went back to bed and ended up heading out later in the afternoon to a different, closer area. The rain started up as soon as we went over the mountains. It was pouring! We stopped at the beach and decided to go into the water anyway. It was kind of neat to snorkel with the water hitting your back. The visibility was pretty awful though.
We didn't stay long, but the main problem was, Megan and I didn't really have much for dry clothes. We got some stuff sorted, warmed up a bit, and found a restaurant that had very good food. We then found a creperie called Le Crepe Cafe that was amazing. We had very good dessert crepes before dropping Donald and Megan off and heading back to the house.
The next day, we got some stuff prepared before calling them again to try for a new snorkel adventure. This time we went to a place nicknamed 'Electric Beach' because it is right outside a power plant that shoots warm water (it uses sea water to cool its pipes). Apparently fish congregate around there. We headed out and definitely found some warm water. You can see it bubbling to the surface.
It was a very neat area. There were fish everywhere, some we hadn't seen yet. We also got to see an eel. When we started heading in, Joe spotted an octopus! So, that's our second one. Very fun.
This adventure went much better than the previous one. We headed towards an Indian restaurant for dinner, but ended up going to a Hawaiin-Southern restaurant? The food was good, it was just a bit interesting. Afterwards, we all agreed that Le Crepe Cafe was amazing and we should head back there. We were hoping to be home by 8 to get a load of laundry done, but we ended up chatting for quite a while and didn't get home until 9. All worked out fine though. It was a blast to get to know them.
-Miranda
[ add comment ]
---
We spent about 4 hours on our feet and walked another 4 miles or so. We were pretty tired and sore from the day before still, so I think it was a day too early... We did find the packets and they had less protein in them than Joe was hoping, but he still picked up a bag of them.
On our way home, we stopped at a vegan restaurant that was very good.
Today, we have been sitting at the house just working, resting and playing. Joe's getting a little bored, but it should mean we have more energy for doing something tomorrow.
-Miranda
[ add comment ]
---
This morning, we headed out to get breakfast. Unfortunately, the house is up quite a hill. We walked a mile down and found a small grocery store and a cute cafe. We had breakfast at the cafe, walked around a little bit, then headed back to the supermarket, back up the hill in the hot sun, and home.
We were due for our second Twinrix shot (Hep A and Hep B shot in one) so I called a travel clinic that was a little under 2 miles away. They could get us in at 2. We headed back out and hoofed it down there. We each got our shot and decided to walk around and explore some. We walked down to the beach and over to Waikiki before starting to work our way back, finding dinner along the way. We ended up walking around 13-14 miles today total. We're hurting pretty good.
-Miranda
[ add comment ]
---
We found lunch and even some desert before heading back to the other beach. Once there, we sat in the shade and watched the others in the water for a while. An older couple (just retired age) were watching whales out from the beach. They let us use their binoculars some. Joe and Mary went into the water and I sat with them chatting and watching the whales. They were super active!
For dinner, we found a little hole in the wall sushi joint. The food was excellent.
All three of us were flying out on Monday, so in the morning, we had heard of another good snorkeling spot. We decided to head there. The snorkeling was great. We got to see an eel and a couple turtles. The geography of the coral was amazing. Afterwards, we headed back to the house, cleaned up, and headed to the airport.
We got there early, like you're supposed to do. It looked like the waiting area for our gate was through a line that had a sign about agricultural inspection (you can't bring fresh fruits, vegetables or flowers from Hawaii to the mainland), so an hour before our flight, the previous flight was done boarding though the plane hadn't taken off yet, we got into line to go into the waiting area. The lady checked our tickets, wrote a new seat number and said, 'here ya go'. Apparently we were supposed to board the plane? So weird. Because we happened to be there, they put us on the flight before ours.
It worked out fine in the end because we just stayed in the Honolulu airport with Mary until our ride was coming to get us.
-Miranda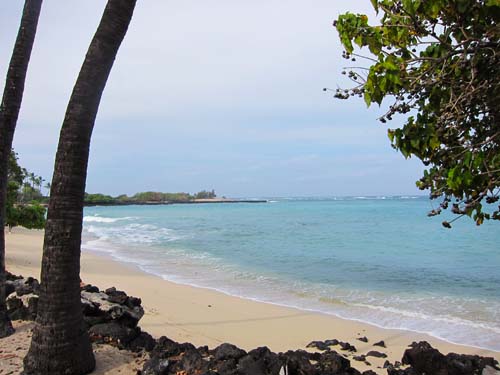 The gorgeous beach.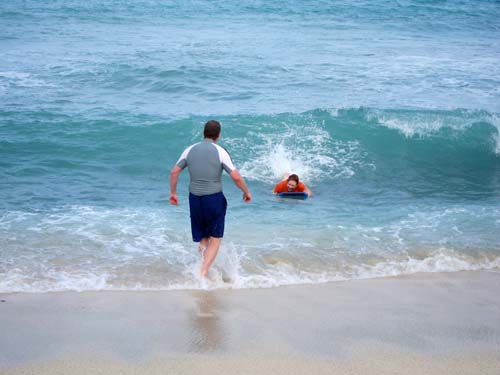 Joe and Mary hanging out in the waves.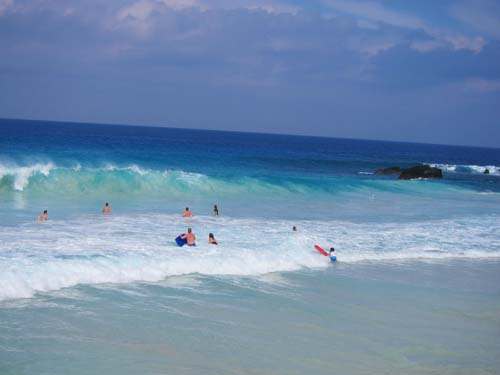 Another gorgeous beach. The colors were amazing.
[ add comment ]
---
Back
Next