We found a ride pretty quickly, so we started hiking. It was a bit more up and down than I was expecting, but it was still a very nice hike. Most of it was in the forest and it had some great views of the coast and some beaches. We made the hike in 4 hours. It was around 13k total.
From there we headed back into Takaka to use the library's internet for an hour. Our goal from there was to maybe get to a free DOC site, but it was looking a little far and we were due for a shower, so we stopped in Motueka at a holiday park and are staying here for the night. It's super packed because the fruit pickers of the season are here, but a shower is definitely nice.
-Miranda
[ 2 comments ]
( 2 views )
---
From there, we headed up to a view point that was gorgeous. The rocks were weathered from the rain, which looked very neat. I didn't get any photos of the view, because the sun was coming right from that direction, so it wouldn't have shown anything anyway.
That night was super cold. Joe even broke out the second sleeping bag to put on top of us. After breakfast, we headed to Takaka and have been using the free internet at the library. Unfortunately, we only get an hour, and we've already exceeded that, so, off we go!
-Miranda
[ add comment ]
---
After seeing him a couple times, we went over to check out the Dusky Dolphins. They were very fun to watch. They're pods are typically around 100-500 dolphins. We watched them for quite a while before heading towards some rocks where Fur Seals were hanging out. We watched some seal pups for a bit, then headed back out towards the canyon and got another view of Tiaki before he dove again.
We're back at the free spot just 28km from Kaikoura for the night since we're both tired and don't really feel like driving.
-Miranda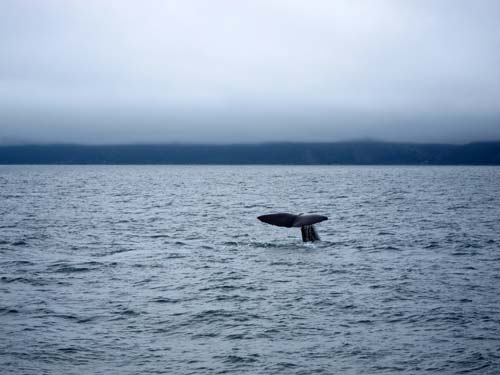 Tiaki's tail.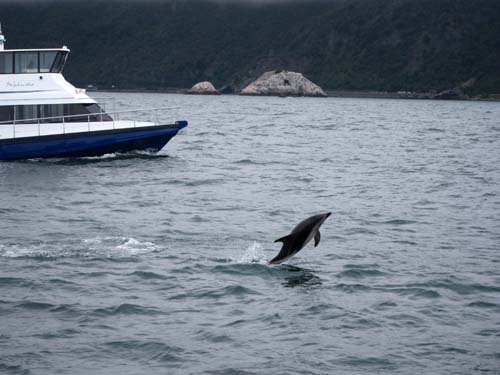 A Dusky Dolphin.
[ 1 comment ]
( 10 views )
---
fancy dinner (Who knew apricots, figs, prunes, onions, carrots,rice
and sauces went well together...)
We took the Ferry from north Island to south island for $200. Not
cheap, but it's a 3 hour tour. Picturesque views of the sound for
the last hour of travel.
-Joe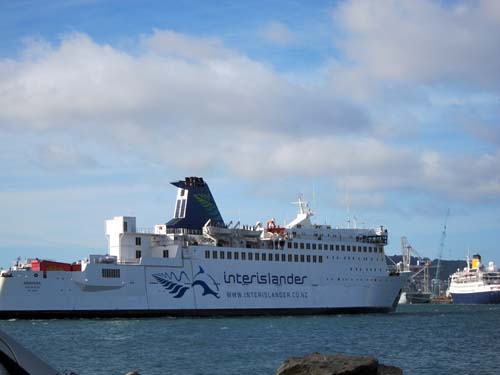 The ferry.
[ add comment ]
---

The rope stopped you 20 feet short of bottom and bounced you all about. So, yeah, survived, but I don't know as I'll need to do that again ;)
-Joe
[ 1 comment ]
( 13 views )
---
Back
Next