We stayed at that DOC site because one closer was jam packed. The crazy thing was, so was the one we were at. And it only had one pit toilet that smelled so bad it burned my eyes and throat. So crazy to have such terrible facilities at a campground with so many people. I'm not quite sure how they expect it to stay nice...
We left in the morning for the glaciers. We did a couple walks, including one to the base of the Franz Josef glacier. It was a bit chilly, but decent weather. To go on the glacier you have to do a guided tour.
Next we headed for Fox glacier. Due to the recent rain apparently the river valley was dangerous, so we couldn't get very close to Fox glacier. We ran into the same German couple that we've seen a few times now (the one that went Bungy jumping with Joe). We talked them into doing the hike on the other side of the river that went to a view point of the glacier. We both drove to that parking area, but by that time it was raining. We headed out anyway. The walk wasn't a long one, but there was one river crossing that was a little hairy. We made it across without getting wet and saw the great view of the glacier. Well, it would have been great if it hadn't been so cloudy and rainy.
We headed back, but right next to the river, I slipped. It wasn't a big deal, except I keep my camera in the side pocket of my pants. Of course a rock hit the corner of the LCD screen. Now the screen doesn't work at all. It still takes photos, but I can't see what I'm shooting at all. Oh well. :p
We reached the Haast last night and, because we were wet and cold from our hike, decided to get some dinner and stay at a holiday park. The dinner was expensive, but good. They had a pseudo salad bar. On it was a salad, potato salad, coleslaw, roasted potatoes, baked squash pieces, peas and carrots, and fries. We finally got a full and decently healthy meal, which has been a little hard to come by in these smaller towns. When we got to the place we planned to stay, we showered quick and then I did laundry. Unfortunately, it was via tokens and the dryer didn't get everything dry.. . . I really didn't want to pay another $3 just to dry the clothes more, so we separated out the stuff that was still damp and hung it up in the van to dry. Fortunately, today, it's sunny and clear, so I think the clothes will eventually dry out.
We currently in Queenstown. We don't really have any plans yet, but there are a couple DOC sites not too far from here, so we may hang out in town for a bit, then head over there.
-Miranda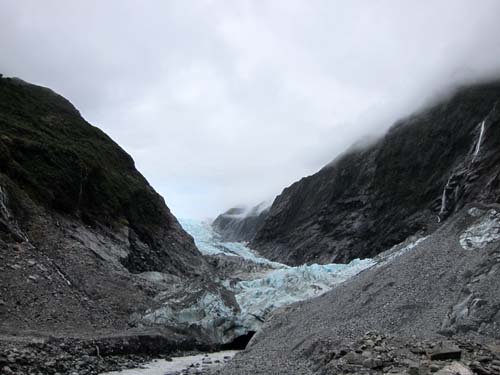 Franz Josef glacier.

Amusing signs by the glaciers. (Click on image to enlarge.)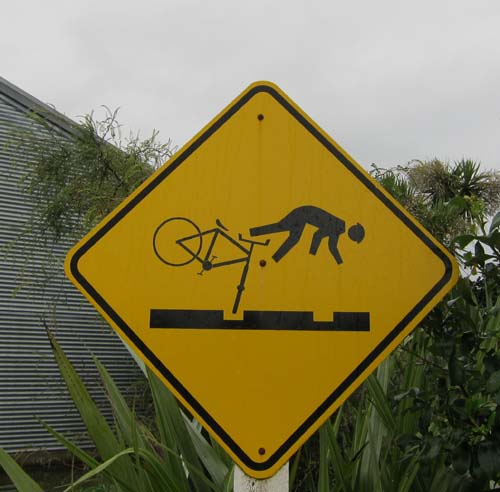 Another new and amusing sign near the Haast visitor center.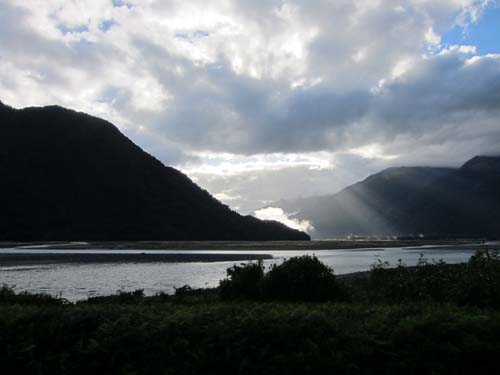 The sun poking through the mist this morning!
[ 4 comments ]
( 22 views )
---
We stopped at the Pancake Rocks. They are limestone that squished a long time ago into skinny layers. Now that they're above the sea floor and some erosion has occurred, they basically look like pancakes stacked on top of each other. Near there was also a cavern. We walked in there and checked it out some. It didn't go in very far, but enough that we did need the flashlights that we brought. When we got back to the car, we saw a flightless rail walking around the cars, checking the grill for bugs!
In one town we passed through, we found an Indian restaurant open. We found out that if we ate in, it would cost an extra $4... A lot of restaurants here are 'takeaway'. We're thinking that eating in must be taxed more heavily? Not really sure. The tax is always included in purchases. So, we decided to try Indian takeaway. We got the rice, a sauce and an order of papadum. They came in a couple little tupperwares! Now we have some nice tupperwares if we need more.
We were aiming for a DOC site for the night, but it was already dark and we weren't sure how far off the highway it was. We finally got there and had a heck of a time finding a place to park since it had been raining most of the day. The grass was sopping. We eventually found a spot that worked.
This morning, we watched a couple more of those rails run around the campground. There were even 3 chicks that were fun to watch. We did go on one hike even though it was raining, then we headed off down the road. It has been between raining and pouring all day so far. The weather forecast claims it's not supposed to rain tomorrow. Since we're almost to the glaciers, hopefully that's true. We both really want to check those out, but if it's raining or too wet, then we won't be able to.
-Miranda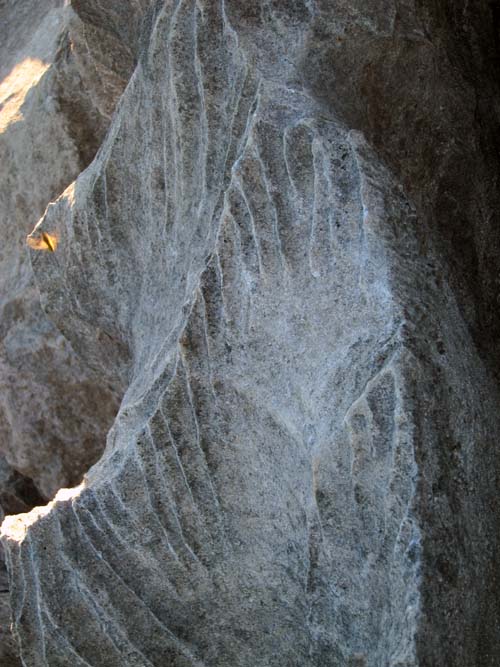 The neat erosion on the rocks from the previous entry.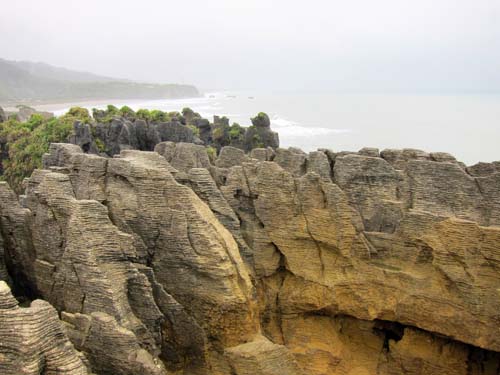 Pancake Rocks!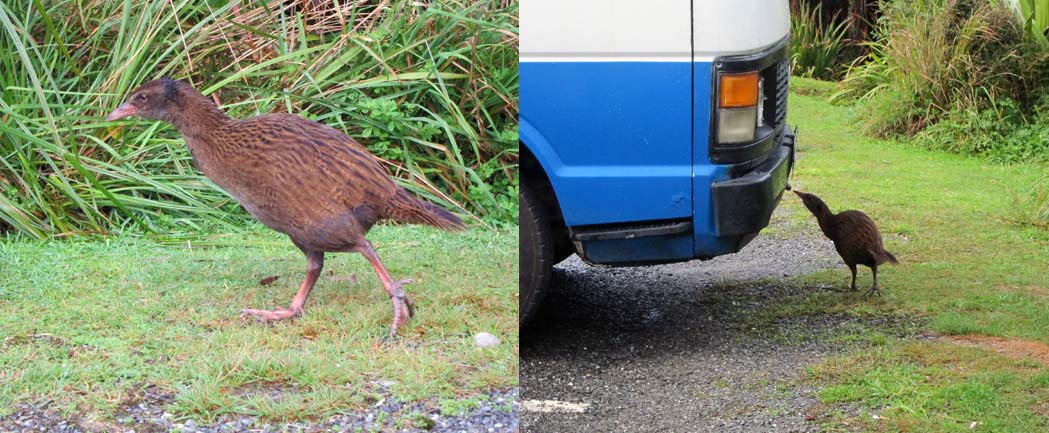 The rail. Second one is it checking the car's grill for bugs. (Click photo for larger view.)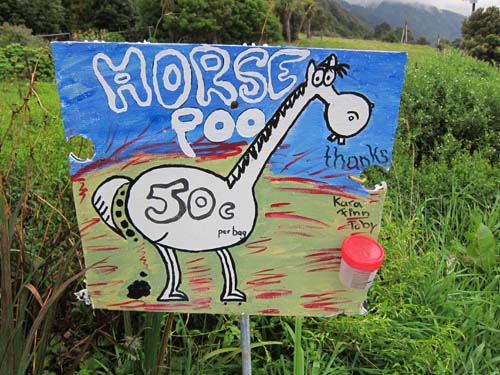 A horse poo for sale sign! Bags of horse poo were sitting below the sign. This is not the first sign like this we've seen. This one was just the cutest.
[ 1 comment ]
---
We found a ride pretty quickly, so we started hiking. It was a bit more up and down than I was expecting, but it was still a very nice hike. Most of it was in the forest and it had some great views of the coast and some beaches. We made the hike in 4 hours. It was around 13k total.
From there we headed back into Takaka to use the library's internet for an hour. Our goal from there was to maybe get to a free DOC site, but it was looking a little far and we were due for a shower, so we stopped in Motueka at a holiday park and are staying here for the night. It's super packed because the fruit pickers of the season are here, but a shower is definitely nice.
-Miranda
[ 2 comments ]
( 2 views )
---
From there, we headed up to a view point that was gorgeous. The rocks were weathered from the rain, which looked very neat. I didn't get any photos of the view, because the sun was coming right from that direction, so it wouldn't have shown anything anyway.
That night was super cold. Joe even broke out the second sleeping bag to put on top of us. After breakfast, we headed to Takaka and have been using the free internet at the library. Unfortunately, we only get an hour, and we've already exceeded that, so, off we go!
-Miranda
[ add comment ]
---
After seeing him a couple times, we went over to check out the Dusky Dolphins. They were very fun to watch. They're pods are typically around 100-500 dolphins. We watched them for quite a while before heading towards some rocks where Fur Seals were hanging out. We watched some seal pups for a bit, then headed back out towards the canyon and got another view of Tiaki before he dove again.
We're back at the free spot just 28km from Kaikoura for the night since we're both tired and don't really feel like driving.
-Miranda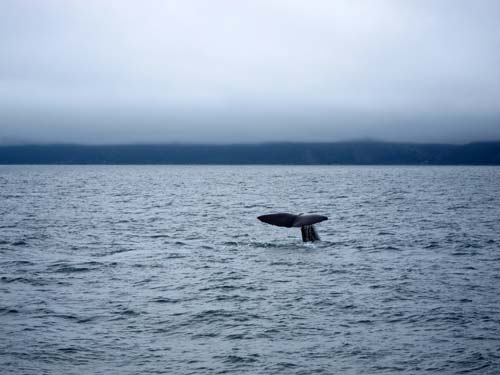 Tiaki's tail.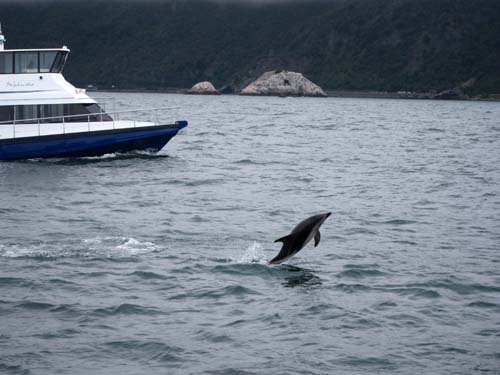 A Dusky Dolphin.
[ 1 comment ]
( 10 views )
---
Back
Next