We found a ride pretty quickly, so we started hiking. It was a bit more up and down than I was expecting, but it was still a very nice hike. Most of it was in the forest and it had some great views of the coast and some beaches. We made the hike in 4 hours. It was around 13k total.
From there we headed back into Takaka to use the library's internet for an hour. Our goal from there was to maybe get to a free DOC site, but it was looking a little far and we were due for a shower, so we stopped in Motueka at a holiday park and are staying here for the night. It's super packed because the fruit pickers of the season are here, but a shower is definitely nice.
-Miranda
[ 2 comments ]
( 2 views )
---
Our plan for the day was the Tongariro Alpine Pass. It's a day hike that typically takes 7-8 hours. It's 19.4 km (12 miles) with about 2500 ft up and 3600 feet back down. When we arrived at the parking lot, there were a lot of people there. Some shuttles (read buses) pulled up not long after us, so we tried to get started before them. The train of people was pretty crazy, but through the hike, we did manage to space out a bit.
We definitely saw the inspiration for Mordor and got to see 'Mount Doom' up close. The walk back down was quite painful on the knees, but the hike was great. There were beautiful sites along the way, including some 'emerald lakes'. Unfortunately, my camera's battery was basically dead, so I didn't get to take nearly as many photos as I wanted to, but maybe that was a good thing in the end. Now we can say that we have walked through Mordor. :D
Here's a link to a map of the hike:
http://www.tongariroalpinecrossing.com/
-Miranda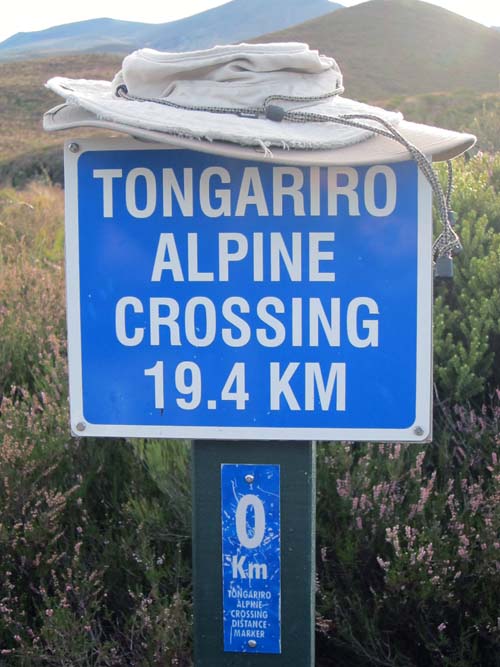 Start of the hike.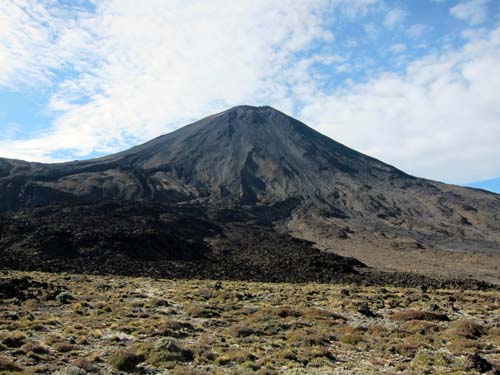 Mt Ngauruhoe ('Mount Doom')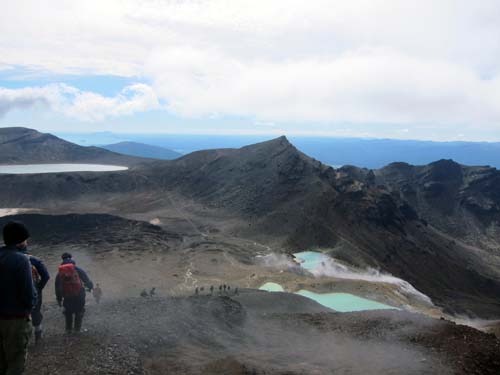 Emerald Lakes.
[ add comment ]
---
This morning, we headed out to get breakfast. Unfortunately, the house is up quite a hill. We walked a mile down and found a small grocery store and a cute cafe. We had breakfast at the cafe, walked around a little bit, then headed back to the supermarket, back up the hill in the hot sun, and home.
We were due for our second Twinrix shot (Hep A and Hep B shot in one) so I called a travel clinic that was a little under 2 miles away. They could get us in at 2. We headed back out and hoofed it down there. We each got our shot and decided to walk around and explore some. We walked down to the beach and over to Waikiki before starting to work our way back, finding dinner along the way. We ended up walking around 13-14 miles today total. We're hurting pretty good.
-Miranda
[ add comment ]
---
Once we were done, we headed back up the hill. So hot. But we made it in one piece and sat and worked for the rest of the day.
-Miranda
[ 2 comments ]
( 11 views )
---
From there, we headed down the highway to check out a hike that is supposed to have a couple swinging bridges on it. We weren't quite sure where to find it. We eventually did though. It was on a plantation, so we had to pay $6 per person.... Seemed a bit steep, but the hike was gorgeous and fun. At the end is a pool you can swim in. We didn't bring our suits, but it was still a great hike.
Our general plan was to head to Paia afterwards to play in the waves and have a good dinner. It ended up being too late, so we worked our way home and stopped in Lahaina again. The hope was for pizza, but we were not impressed with the menu. We ended up finding a Vietnamese place that was very good. We just headed home after that. Very fun day.
-Miranda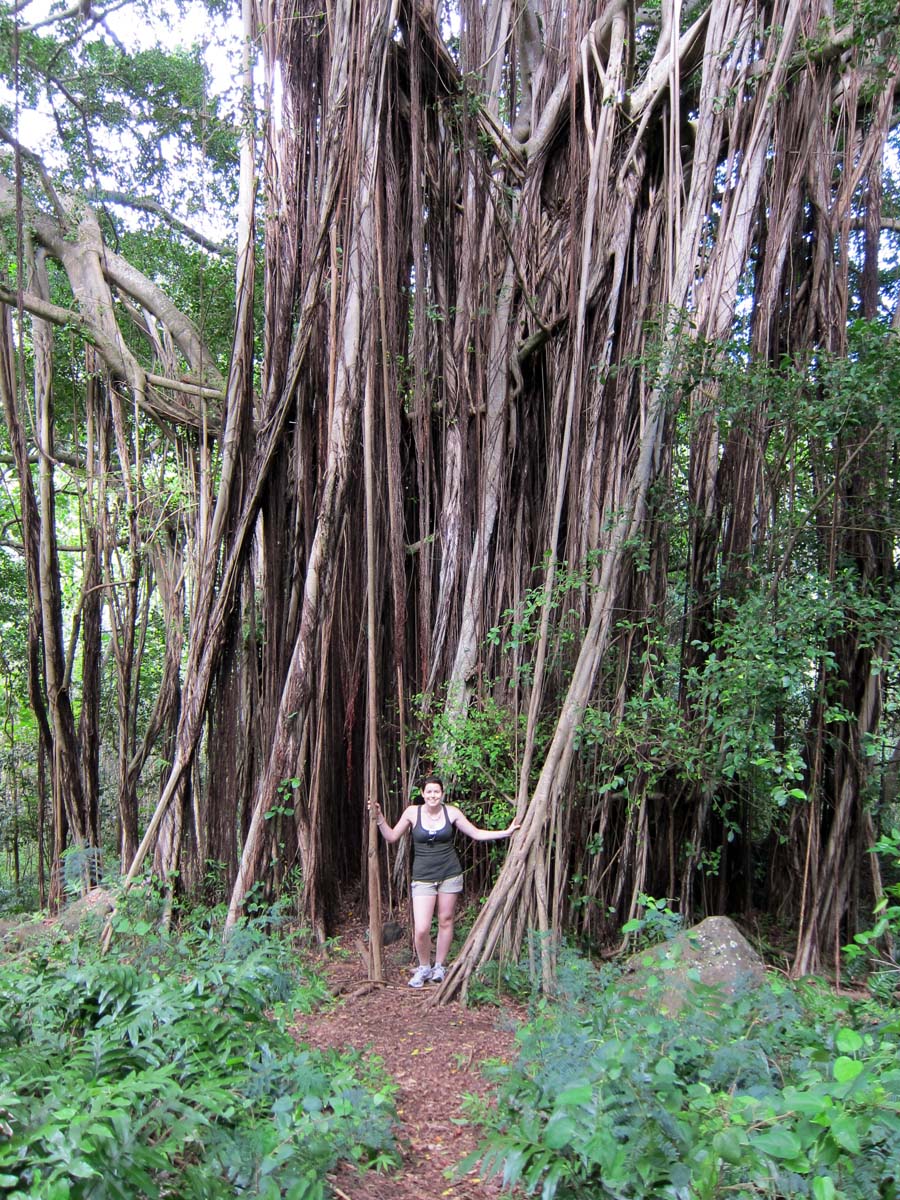 Laura in front of a Banyon Tree. These trees are super neat. Their branches let out 'feelers' that are roots and will basically create a whole nother tree trunk. There is one in Lahaina that you would swear is multiple trees.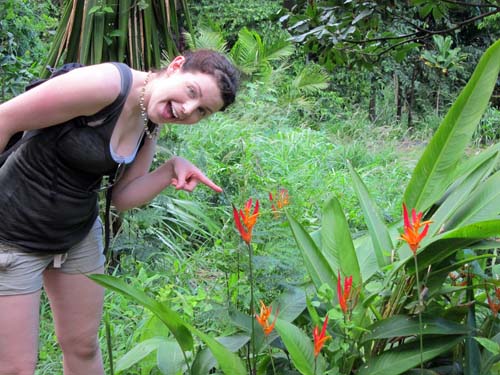 Laura by a super pretty flower.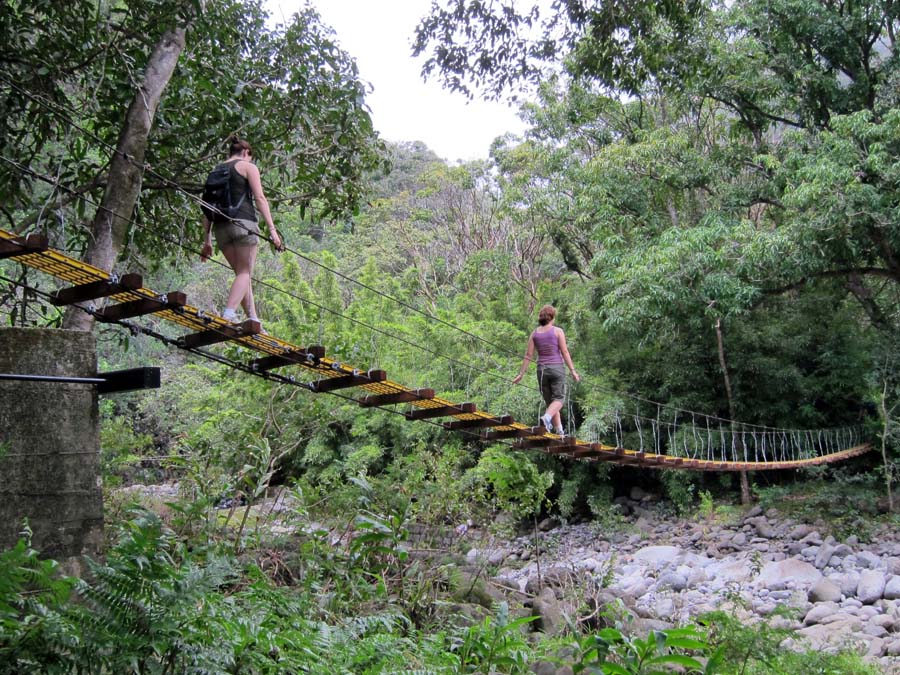 Laura and I walking across one of the swinging bridges. (Click on photo to see it larger.)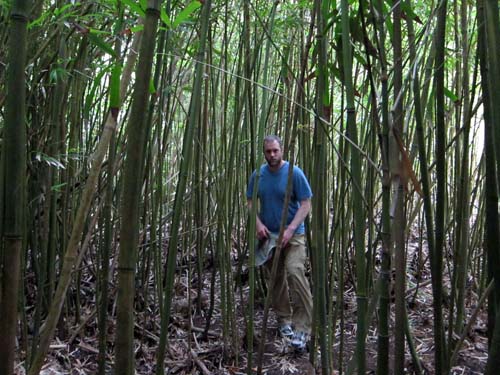 Joe in the bamboo forest.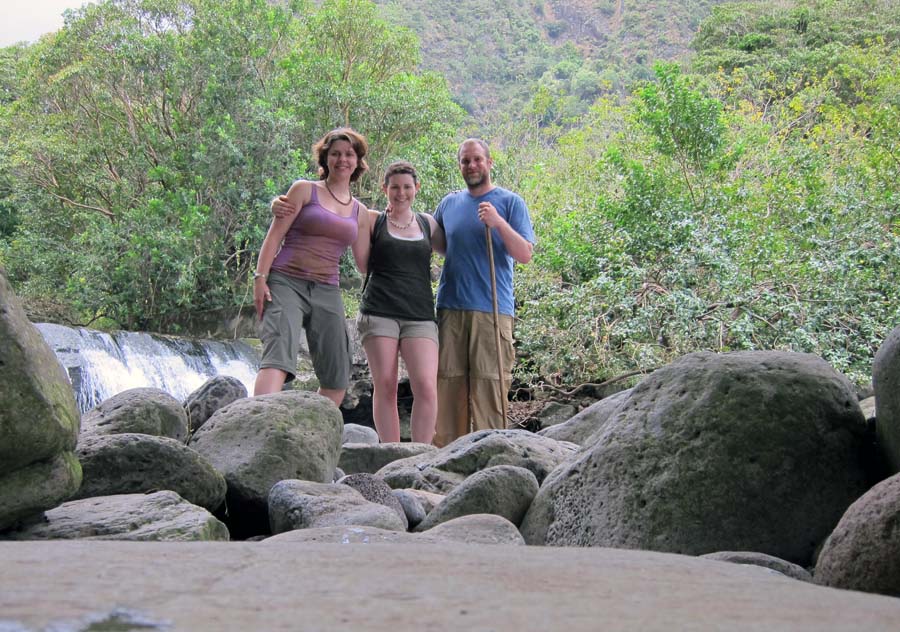 The three of us at the pool at the end!
[ 2 comments ]
( 12 views )
---
Back
Next