Joe ended up catching a wave in the perfect spot apparently and was riding it sideways and everything. After that, his board kept spinning out from underneath him and he couldn't figure out why. He eventually noticed that his fin was missing... It completely busted off! If we ever doubted how vital the fin is, we definitely don't anymore.
We went into Newport to see about either getting a fin or seeing how long and how much to fix it. We figured it would be probably a week or more, which it turned out to be, but it's not very expensive. So, Joe just bought a cheap fin and is going to JB Weld it in. That will hopefully last until we head home and then someone at home can fix it.
We're here for the night, but don't know if they'll have a spot for us tomorrow night. We'll see.
-Miranda
[ add comment ]
---
Fun.
-Joe
[ 2 comments ]
( 8 views )
---

-Miranda
[ 2 comments ]
( 14 views )
---

CLICK FOR VIDEO:
Miranda Surfing
[ 2 comments ]
( 9 views )
---
Oh, afterwards we went to a Mongolian Grill in Newport. It was quite good.

-Miranda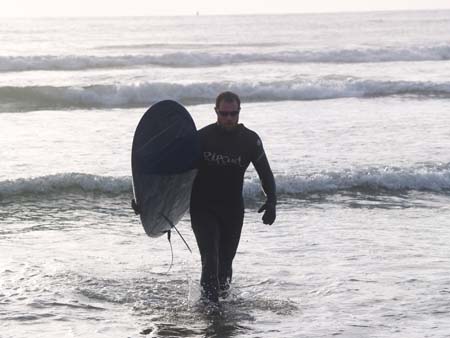 Coming out to chat for a minute before heading back out for a short bit.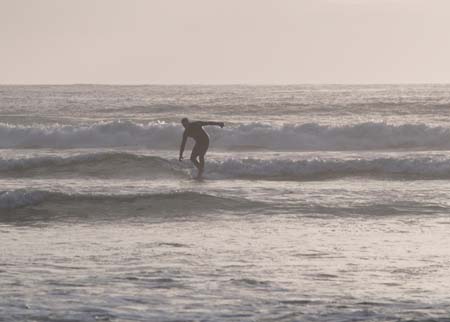 Joe riding a wave.
[ add comment ]
---
Back
Next