-Miranda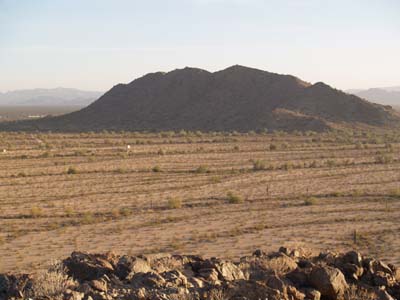 That small white speck is our RV. There were train tracks not terribly far away that was frequently used. It was mostly background noise, but we kept thinking a vehicle was coming down the dirt road.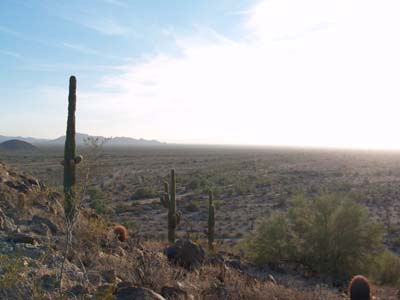 A view near the top of a small mountain we went up.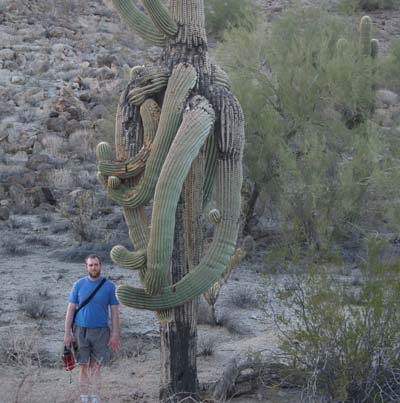 A crazy, big cactus.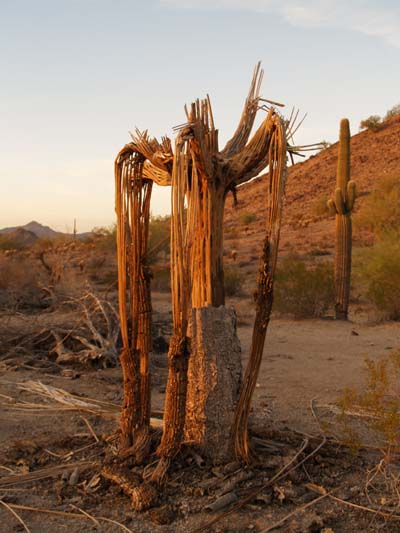 Cactus skeleton
[ 1 comment ]
( 8 views )
---

Apparently it's a popular place to climb and we were tempted, but the rocks are very rough. We would need palm gloves to keep our hands from getting too chewed up.
On our first evening, we went for a walk and saw a bobcat! I've never seen a bobcat in the wild before! It acted like a big kitty. We even watched it stalking something. Tail doing the twitchy thing and everything. It was neat.
The next day we walked all over jumping over rocks and such. The rocks were so sticky you could walk up just about anything.
After our walk, we started driving south, towards I-10. We saw the Cholla (pronounced coy-ya) Cactus gardens. Very neat looking. That area was the transition into the drier, hotter Colorado Desert. Not as much neat stuff there, we ended up heading out of the park and stayed in Quartzite, AZ last night. Seems to be a trucker town... but the RV park is cheap.
-Miranda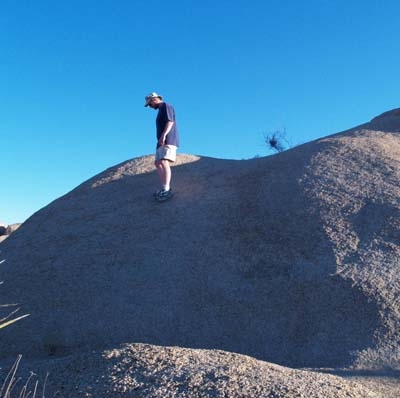 Joe walking down a boulder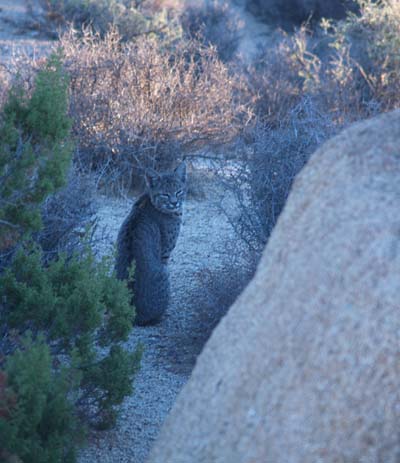 The bobcat!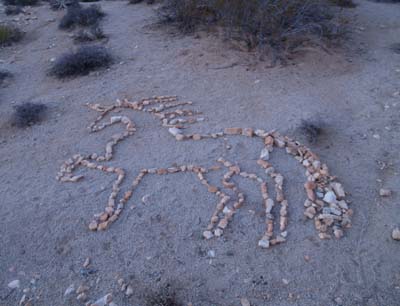 There was an area where there were tons of rocks laid out in all sorts of shapes. Here was a unicorn we thought was well done, and appropriate for our game.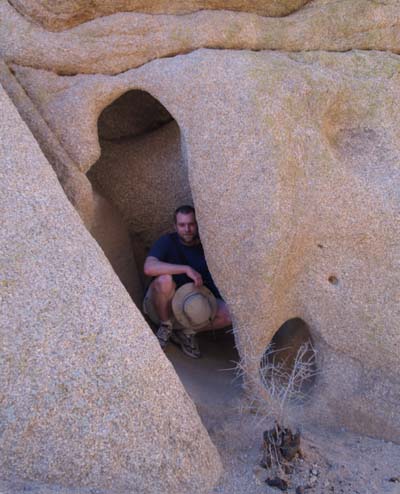 A neat formation in the side of a rock.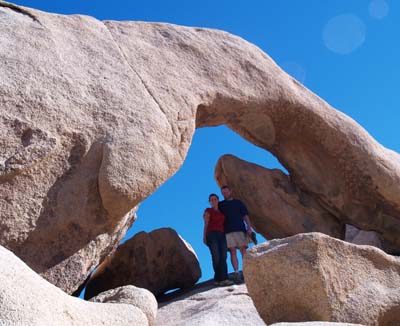 A natural arch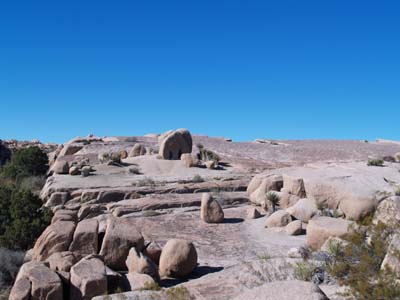 Some of the landscape. That rock looks like a pig nose...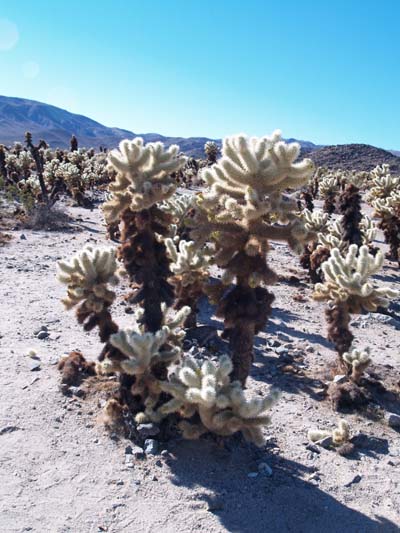 A Cholla Cactus. You can see bunches more behind it.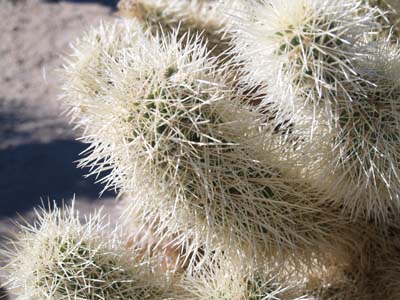 The spines of the Cholla Cactus. The have very tiny barbs on the very end that make them difficult to get out. Ouch!
[ 2 comments ]
( 2 views )
---

So, here was our camping spot. barely anyone there except on the weekend. Then there were some tent campers around us.
-Miranda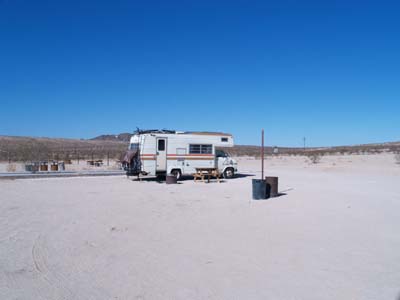 [ 1 comment ]
( 12 views )
---
-Miranda
[ add comment ]
---
We went on the studio tour which was neat. Getting to see the streets and back lots where they have western streets, European streets, suburbia, etc. Sounds like one of the streets we went by was just used in an episode of Heroes that week. They were in Ireland or something. Don't watch the show, so I don't really know.. .

We found a vegan restaurant that had been recommended to us that was down Hollywood Blvd. That had some very good food. We then took the metro back and got off where we thought was the closest to where the RV was. We ended up getting turned around and finally asked someone stopped at a stop light which direction the ocean was. After they confirmed it, we headed to the next bus stop and waited there (they had said it was miles away). Not long later, the same car pulled up and they offered us a ride. So, that was awfully nice of them. We got a ride back to the park. In all it was a fun day.
-Miranda
[ 2 comments ]
( 17 views )
---
Back
Next