This morning we did get to go out for a dive. It was pretty hectic since no one had been able to dive for quite a few days. They had two boats go out. We had two groups on our boat (12 divers). The swells were definitely not even close to as bad as they were on Monday, but there were still definitely some large ones. I assume that's part of the reason they ask divers to descend right after they get off the boat instead of waiting for everyone. Of course that means that those that get off the boat first already have some of their air used up before the last people get down there. In other dives we've done, this wouldn't be a big deal. When someone runs low on air (1000 or 700 lbs depending on the preference of the dive master) the dive master sends that person and their buddy (or another diver that is low on air) up to do their three minute safety stop. This company apparently just goes by whoever has the least amount of air... This made for two pretty short dives. We normally do around 45 minute dives, even when our maximum depth is 80 feet. This time, both dives were barely over 30 minutes... So we felt a bit gypped in that regard.
However, the dives were pretty nice. The coral was gorgeous and on the second dive we saw so many nurse sharks, a couple really big ones. One very large Moray Eel was swimming around, right up to some of the divers. It was very obvious it had been fed in the past. Still pretty neat though.
We're leaving tomorrow morning for Caye Caulker, an island just south of here. We'll hopefully do more diving off that island as well.
-Miranda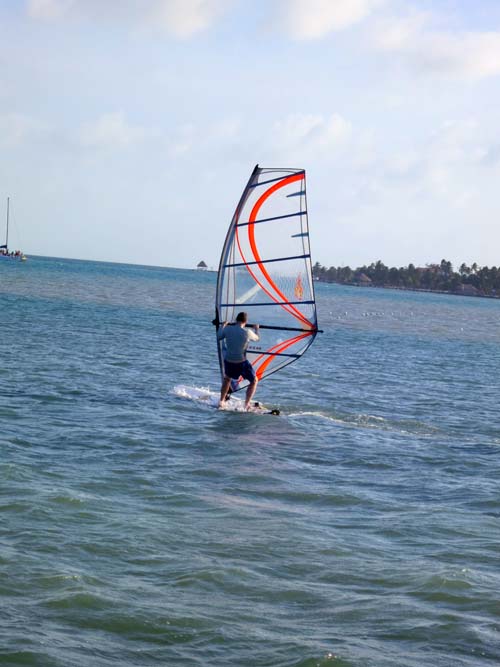 Joe windsurfing.
[ 4 comments ]
( 40 views )
---
we rock jumped about 1/2 mile up it. through a tunnel, and then monkey-bar'd it across the river under a bridge. Later went Windsurfing in the Bay. Far too much wind for my first time out this year, wasn't in shape for it. Roommate Tone's girlfriend Jill came with, but didn't want to try.
-Joe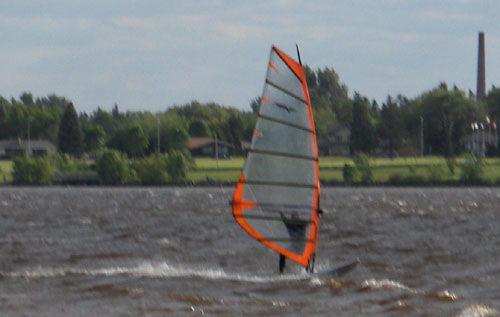 Oooohh I have a wake

[ 2 comments ]
( 3 views )
---

-Joe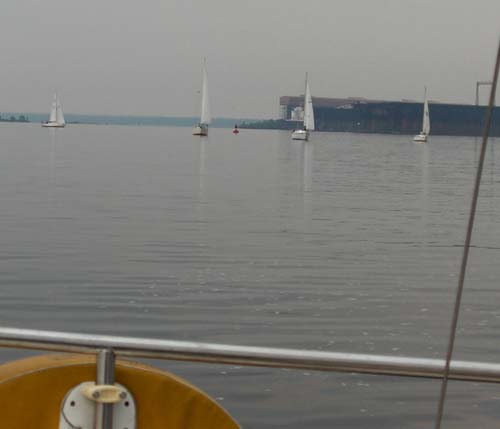 Nice view of the 4 other racers in our very tiny wake...
[ add comment ]
---
We did a terrible show

. We only managed to get the main sail up before the race, and reefed it because of high winds. One minute before the start, we busted the main sail's reef point.. BAD START. Took us a couple minutes to fix, and we were trailing the rest of the time. COLD WINDY DAY... Guess it was fun ??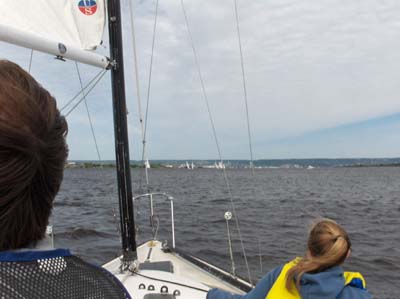 Bad picture of Scott, Amber, and Duluth Harbor.
[ 1 comment ]
---