Think the bridge at Jay Cooke State Park but skinnier and more bouncy. There was a limit of 5 persons.
-Miranda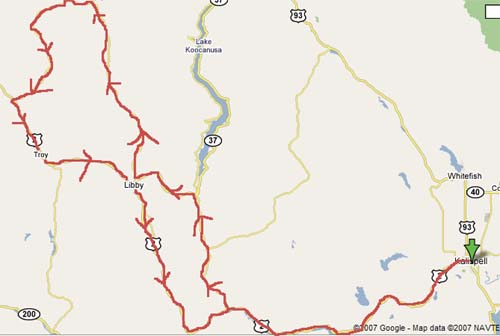 The map. To give an idea of distance, it's a bit over 100 miles to Troy from Kalispell along highway 2.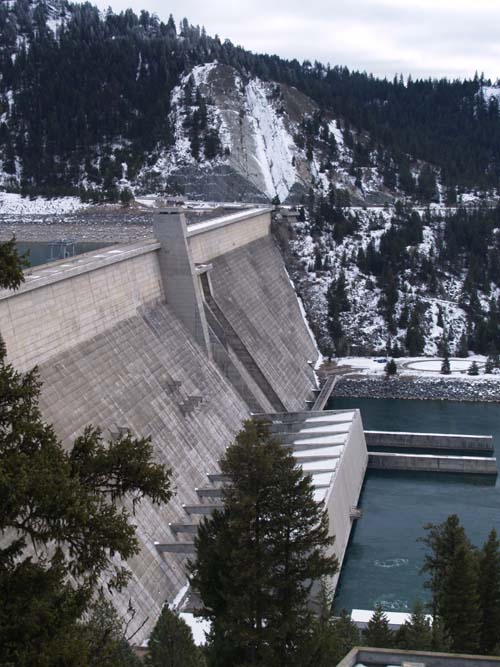 Libby Dam.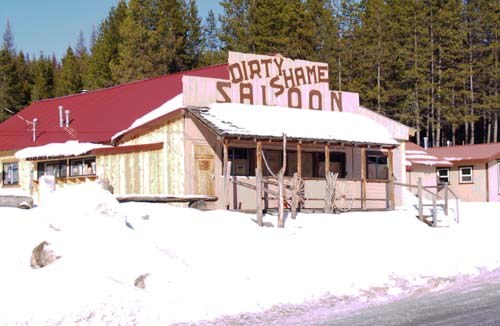 Momma Mary might recognize this.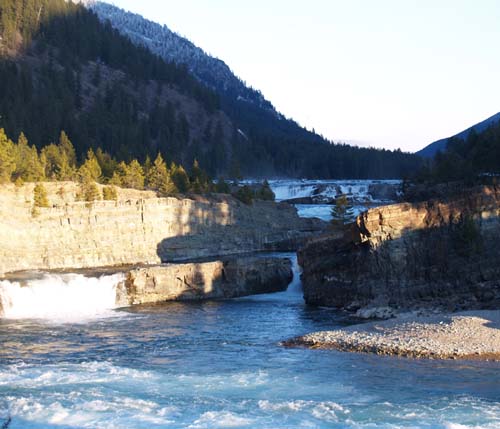 The Kootenai Falls on the Kootenai River. Notice the frost on the upper mountain. There were some neat frost lines.
[ 4 comments ]
( 35 views )
---
Then, not four hours later, I was extending the head out to put a log down in the deck and it wouldn't stop. Went all the way out to the stops. Pat was in the loader at the end of the deck so it was good the head was angled down enough, otherwise he might have had a log through his window. Anyway, then Tom (he was in the yarder) says on the radio, "shut it off. Your pumping oil everywhere." Great. So I blew a big hose on the top of the boom. While Pat worked on fixing that, I drove to the shop truck (it's down the road a ways parked in a wide spot) and got 15 gallons of hydralic oil. There is now oil everywhere. My tacks are super slippery.
So, I'm getting a bit frustrated and I'll be really happy when spring break-up comes.
-Miranda
[ 2 comments ]
( 18 views )
---

Unfortunately, I wasn't expecting them to be there so I didn't bring my camera. Maybe some other time.
-Miranda
[ 2 comments ]
( 20 views )
---
-Miranda
[ 1 comment ]
( 13 views )
---
-Miranda
[ 3 comments ]
( 27 views )
---
Back
Next