Once we were done, we headed back up the hill. So hot. But we made it in one piece and sat and worked for the rest of the day.
-Miranda
[ 2 comments ]
( 11 views )
---
This morning, we got packed back up and headed to the airport. Our flight to the Big Island left at 1:39 without a problem. We arrived and decided to try without a rental car for the couple days we're here before Mary arrives. The bus only stops at the airport twice a day, so we didn't bother waiting and just started hoofing it towards the highway. Once on the highway, it took 10-15 minutes to hitch a ride into town to the Target/Kmart. We did a little shopping at Target then headed up to Kmart where there was a bus stop.
The bus arrived, we got on, and then found out a tire was flat, so we had to get off. We waited 45 for the next bus to come, then took that. Apparently there aren't really bus stops here.... You just know the route of the bus and flag it down when you see it coming. That's our best guess so far. When you request a stop, it stops at the next corner and drops you off. We weren't quite sure where the hostel we were going to stay at was, but we did have the address and it was right along the highway. As soon as we spotted it, we pulled the cord and he stopped soon after.
The hostel is super quiet. The room is big. It even has a couch in it, but the 'bathroom' is outside and the kitchen is in a different building. It's pretty interesting. So far, we've seen the two owners and that's it. I don't even know if anyone else is staying here. The woman running the place seems very nice. At least it will be quiet tonight.

-Miranda
[ 1 comment ]
( 4 views )
---
I brought the idea of heading back together for some thorough investigation and he was game. It was great, we drove back out there, almost to Hana (2hrs) after having bought underwater flashlights and a mask for him. We took our time in the frigid water, searching around for underwater passages, which i wasn't even sure would be there. We found TONS. and it was glorious. He was a great search buddy. A little more comfortable with diving, he led the way most of the time, finding air pockets and then taking turns pointing the lights straight down as a navigation aid, etc. Eventually after finding a giant, completely otherwise inaccessible cavern, we took a long dive down and back up and out a different pool than we had started in!!! It was crazy. I drew a map showing the different areas we explored and routes for others.
-Joe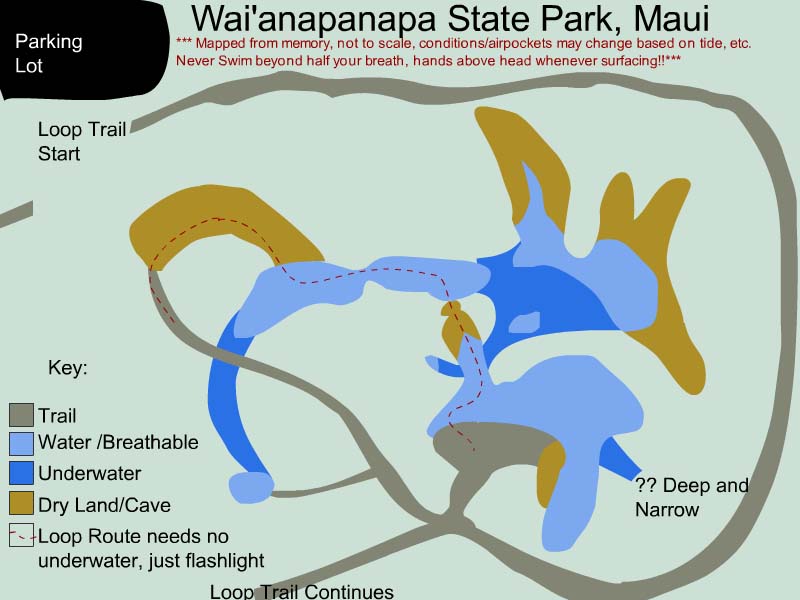 The map (click picture to see it larger.)
[ 1 comment ]
( 12 views )
---
One was from North Dakota and lived in Minneapolis for a while. She's been on Maui for a year this time. The other girl was from Philly and has been on Maui for 6 years. We had a good time chatting with them.
Once into town, we dropped them off, then headed back to Down To Earth, a completely vegetarian grocery store. Their deli options are great, so we had lunch there. Then it was time to head to the airport and drop Laura off.
It sounds like she left and got back to LA without a problem and a nice smooth ride. When we left the airport though, we headed back to North Shore Hostel. We are staying here for a couple nights. We've been mostly working. Tomorrow we'll probably head to the nearby I'ao State Park for a hike. If we want to just have the weekly rate for the rental car, we'll have to return it on Friday, so we may head to the Big Island then. Mary is meeting us there on Monday. It would be nice to get settled a little before she comes.
-Miranda
[ add comment ]
---
We went for a few short hikes to small waterfalls, and along little creeks. They were all nicer than most found scattered all over us, rathen than mile after mile of them.
Stopped for lunch at a roadside bus-cafe 'Cafe Romantico' All Vegetarian, All amazing food, I had great focaccia slice, Miranda had a good samosa and Laura had a quiche.
Afterwords we went to the Waianapanapa State Park. Took a loop trail that visited some freshwater cliff-pools and heard stories of a Water-cave that eventually comes out up the side of the cliff a ways a way!! I just had to try this.. . But i could not get Miranda or Laura on board. After I was already treading water in the pool, prepping to swim into the caves myself, another girl (A stranger) was entering and offered to try out the adventure with me. We swam in, me holding a small flashlight above my head.. After about 40 feet of cool cavern with deeper than can touch cool water, We had to climb out of the water a bit, then slip through a hole smaller than 2ft in diameter. This hole dropped us into another freshwater cave (couldn't touch) so we swam 50 feet in there to a steep volcanic lava tube, after managing to rock-climb a bit out of there we appeared out of a cave exit in the cliff wall about 50 feet up and 100 feet from where we started. This was so much fun, I managed to talk Miranda and then Even Laura into attempting it with me a second time, and they both did well and had fun. Supa Cool. Checked out he black beaches and shore-caves a bit.
Final big stop was the seven-sacred pools area- this was an amazing 4 mile hike, Stupendous bamboo trail walk, super high waterfall, river-pools, bridges, all great.
Aloha cottages in Hana rented us a great 2 bedroom full amenities 70's cabin for $100, so that worked sweet.
We looked for dinner, but only found pasta for $23 a plate... Decided on store-bought dinner, veg burgers,chips and hummus, and ice cream cost $29!! Expensive groceries, but cheap considering options. Was a great big 5-star day.
-Joe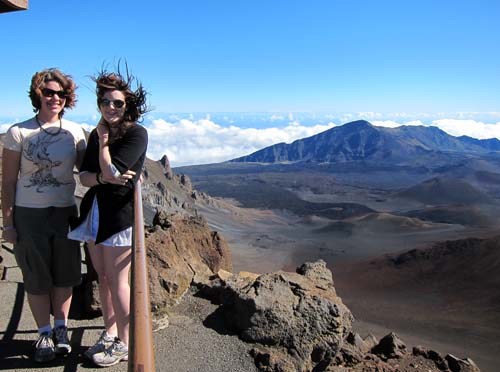 A day late, but Laura and Miranda on top of Haleakala. Super windy!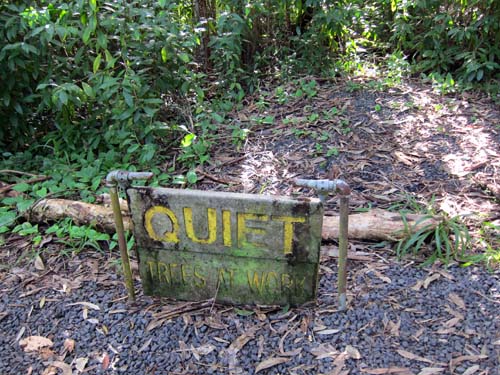 An amusing sign at one of the stops.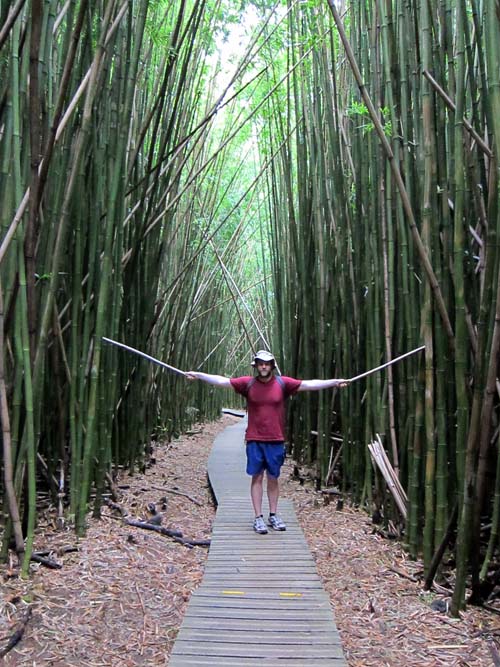 Joe in the awesome bamboo forest.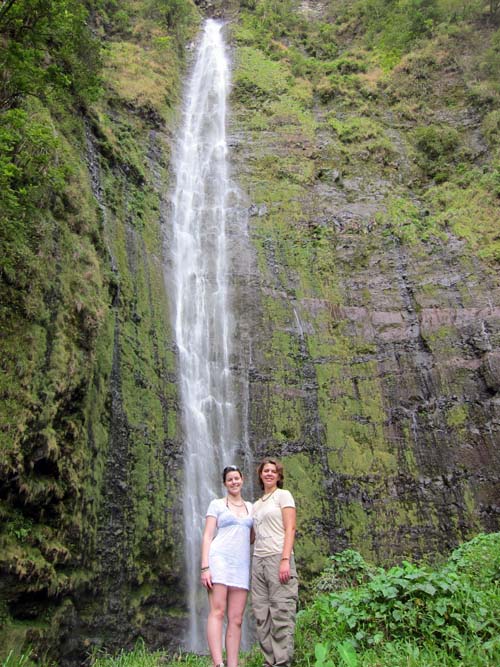 Laura and Miranda in front of the super high waterfall.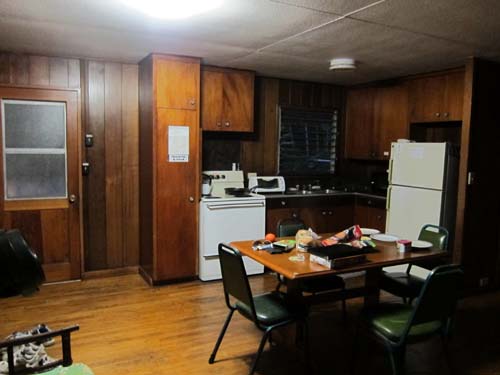 The main room/kitchen of the cottage.
[ 1 comment ]
( 3 views )
---
Back
Next