-Miranda
[ 1 comment ]
( 5 views )
---
Well, today at about 10:30, something with the yarder's upper engine broke. Some housing and something to do with the transmission... Anyway, we had to use the delimber to take the upper engine off after they unhooked everything. I then passed it around so Pat could pick it up with the loader and put it in the pickup. He took that to town while Tom, Brandon and I stayed up there so Tom could work on some other issues and so Dennis could keep clipping trees. Basically I stood around and did nothing until 4:30. Fun fun. But I got paid for it.
Anyway, no work for me tomorrow. Unless I have to do some errand running for Pat. Like picking up a transmission from one of his old machines. We'll see.
-Miranda
[ 4 comments ]
( 8 views )
---
I got the day off for my birthday so I got to sleep in. Also, the neighbors horses were down by the fence so I went to see them. I brought some carrots too. It was raining so I didn't stay out long.
-Miranda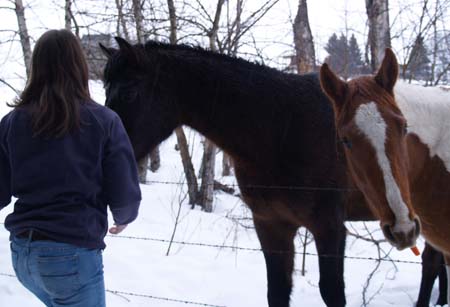 The neighbors horses. The one tended to drop the carrots I gave him.
[ 1 comment ]
( 4 views )
---
-Miranda
[ 2 comments ]
( 28 views )
---

Nancy won. Then we played three games of Pitch, of which Nancy and I won two of the games. Lot's o' fun.
-Miranda
[ 1 comment ]
( 1 view )
---
Back
Next