We only got about 1/2 km through the long cave before we decided to head back. The super neat thing about it, was that there were glowworms. If you shut off your flashlight, it looked like you were viewing the night sky.
We stayed at our first Conservation campsite (DOC site). They are scattered all over New Zealand and average $15/night. This one was next to the beach. The super crazy thing was, you just parked anywhere on the grass, so long as you were at least 10 feet from another camper...
Our second day was mostly driving and gearing up the van a little more. We did stop at some waterfalls that had a 5km trail through a mangrove forest. Joe swung off a rope swing into the water sort of below the water fall before I walked the entire trail and Joe dropped someone off at the other end, and met me half way. The mangroves were very neat.
We are now at another DOC site on KariKari Peninsula. We got here basically at dusk, so we'll probably explore some in the morning.
-Miranda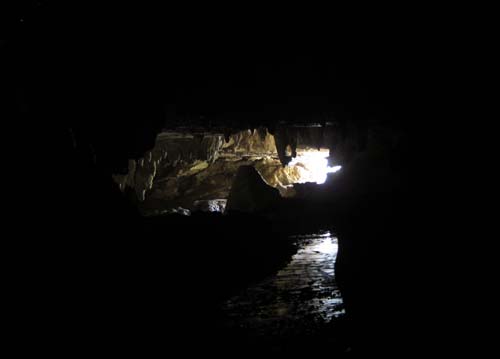 The cave.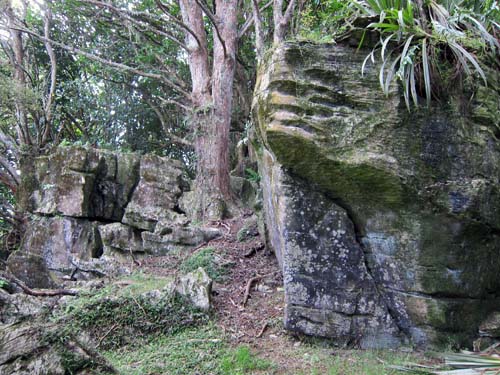 The forest and very cool rocks near the cave.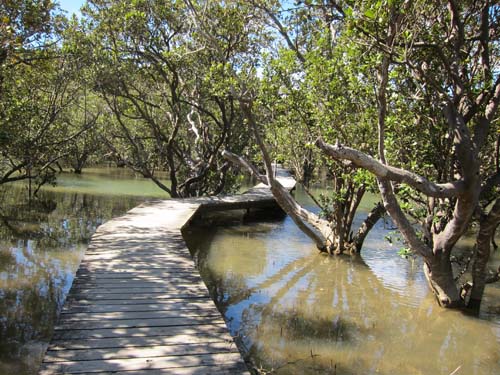 The mangrove forest.
[ 3 comments ]
( 23 views )
---
We got across without a problem and went snorkeling, took a break, then hopped in again. The water was very clear! There were fish everywhere. We had loads of fun. We paddled back to shore by early afternoon. We were pretty tired just from that, so we stayed at the house for the rest of the evening.
The next day, we got up relatively early again and headed out to drive around the island. We started by heading north. We stopped a few places to check out some lava tubes that were marked in the guidebook and waterfalls, which were gorgeous. Akaka Falls had a small bamboo forest that was neat. The bamboo looked very different from the bamboo in the forest on Maui.
We got to Volcano National Park around 3pm. Over half of Crater Rim Drive was closed due to high sulfur concentrations in the air. The crater was spewing out quite a bit of smoke. There was possibly some lava flow, but the road we would have had to go down to get to it would have been an extra 50 or so miles of driving had we gone that way to start. Since we already passed the area, it would have been way too much driving without even knowing we were for sure going to see some. So, we enjoyed the sites, checked out the Thurston Lava Tube, and headed out. Part of the lava tube was developed (basically paved ground and lights all along it), but about 350 meters was undeveloped. We had a flashlight, so we headed down there. It was very neat. Huge! It was a lot longer for the size (standing 98% of the time with lots of head room) than the lava tubes in the California National Monument that we like so much.
Our hope once we left the park was to find dinner. We stopped a few places but were not successful. We ended up getting to the Captain Cook area (about half an hour from home) when Joe spotted a hitchhiking girl, so he stopped to pick her up. She ended up telling us that her wallet and cell phone and been lost or stolen when she was on the bus. We told her we were just going to get some food, so if she wanted, we could buy her dinner, then drop her off at the airport (she wanted to get home to San Diego). She agreed, but then started getting really scared. So, we ended up just going to a plaza type area that is brightly lit and serves pizza. She kept saying she wanted to go to the airport and go home. We kept telling her that we didn't want to leave her stranded at the airport because it might close (which we found out later that it does) and the airport is 8-10 miles away from anything. Also, she can't even get a ticket without money or get on a plane without her ID.
Joe finally called the police (sort of with her permission). They came to help, but she was really fidgety, kept getting offended by odd things and was not being very cooperative even though the police officer was being very friendly and helpful. They finally got a hold of a sibling or friend for her, which I think helped. When we finally left the officer said he would be sure she had some place safe to stay tonight and would continue to help her out. He said she had classic symptoms of PTSD. So, something must of happened while she was on the island recently. We're just hoping that she was able to get things straightened out and get a flight home today.
Today, Mary went shopping while Joe and I stayed at the house resting and getting work done. Tomorrow may be a mostly rest day. We'll see.

-Miranda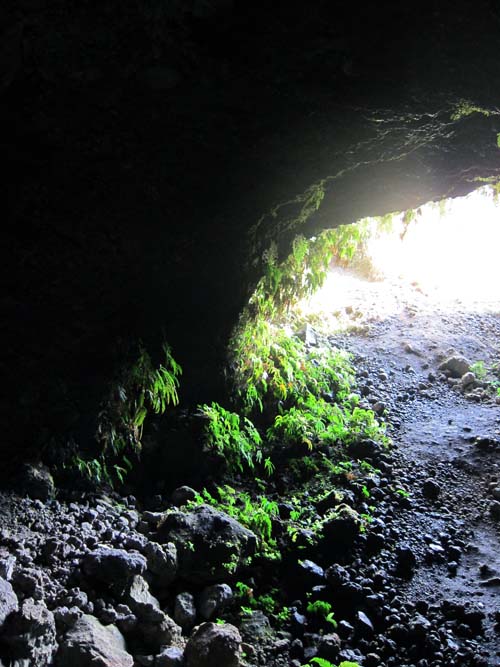 One of the neat lava tubes. Around the outside was so green! Definitely not what we were used to seeing with lava tubes.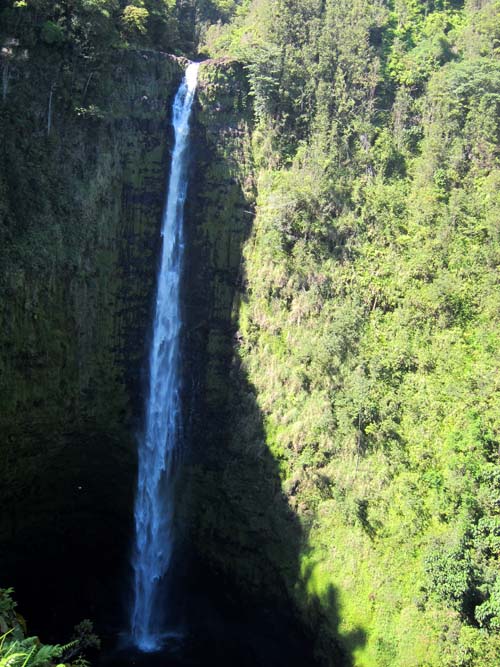 Akaka Falls.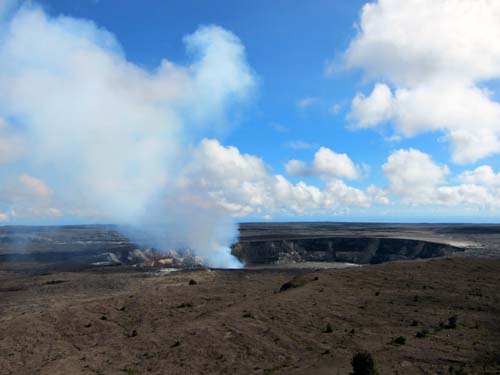 Smoking volcano.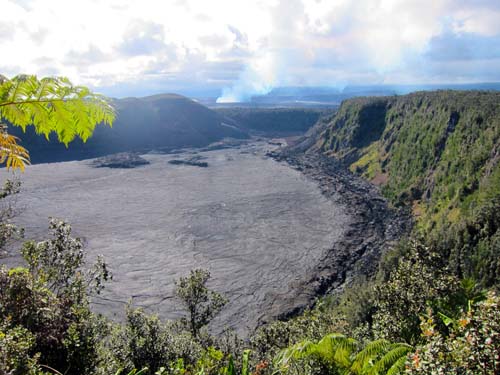 A very neat crater that was once a lake of lava. A hike goes down into the crater. If we had more time and energy, that would have been an amazing hike.
[ add comment ]
---
We got to the airport, then headed to the rental companies to get a car. Budget was sold out, so we headed to the Thrifty. They wanted $400 for a car for the week... Joe had looked online at Budget earlier and it quoted $250. So, we headed to National. While he checked there, I went online and checked the other rental places. Avis wanted about $300, so I reserved a car and we headed over there. Nice that we ended up saving $100 just by checking online quick. :p
We picked up Mary without a problem and got to the place we were staying. It's super cute. It's the middle floor in a house (the house is built on the hillside) and is completely separate from the top and bottom floors.
In the morning, we picked up some snorkel gear and headed north. Unfortunately, a lot of the possible places were pretty choppy. We did end up snorkeling for a bit in one place, but it was a bit murky.
From there, we headed to Hawi to have lunch at the Bamboo restaurant. It was very good. We kept going to Pulolu Bay, which is at the end of the road. The walk down to the water was a little painful, but it was worth it. The beach was gorgeous as well as the forest. There were huge ropes all over the place. It was like a boy scout playground sometimes... So odd.
The drive back was nice and we had dinner at home. The next morning we headed out for some early snorkeling. There is a protected bay pretty much right in town. It was shallow and relatively busy, but there were fish everywhere. We also saw 2-4 turtles. It was great. It was good we got there when we did. It was packed when we were leaving.
From there we headed south to check out the sights. We stopped at a few Kona Coffee places. They provide a number of free samples and one of the places you can watch the coffee getting roasted, etc. The farthest south we went was to Pu'uhonua o Hōnaunau National Historical Park. It was a gorgeous area. From there, we headed back home, dropped Mary off in the touristy shopping area of Kailua-Kona and headed home. Joe will be picking her up shortly.

So, basically lazy day, but still fun.
-Miranda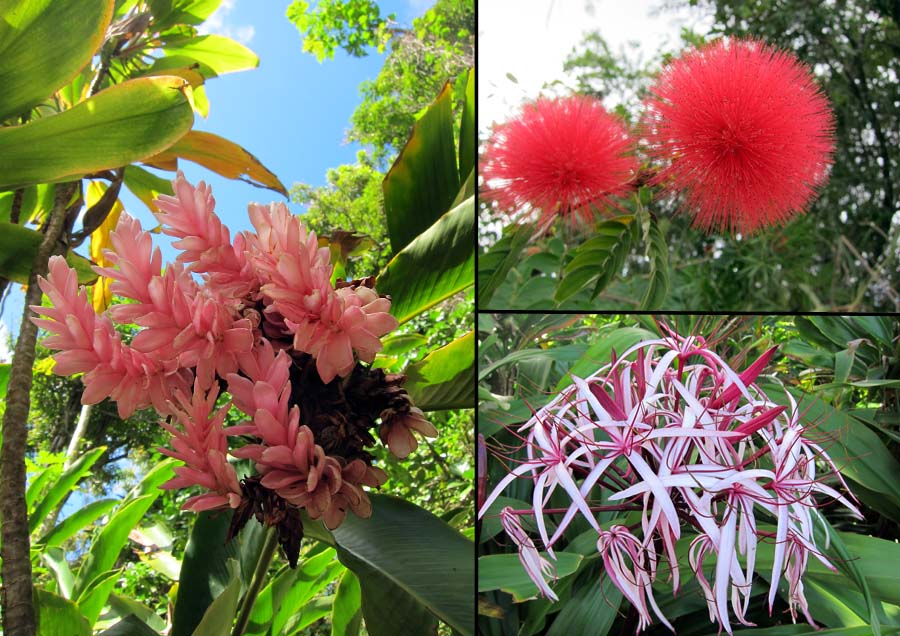 Neat flowers around the isle. (Click on photo for larger.)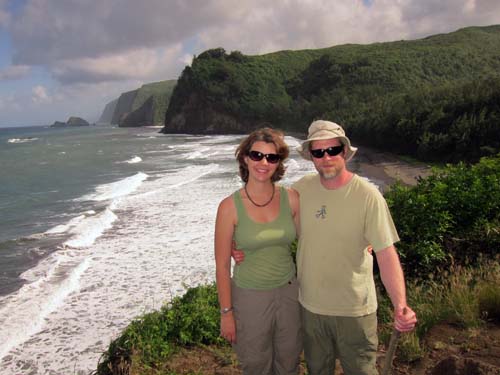 Joe and me in front of Pulolu Bay.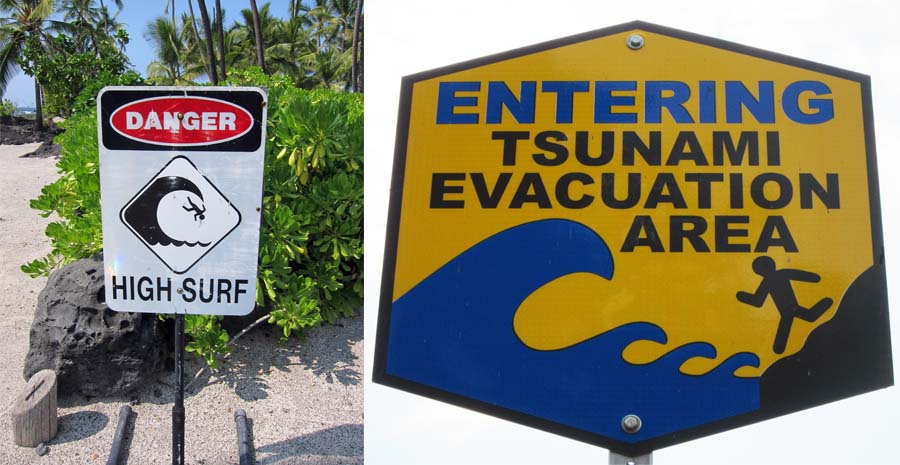 Some amusing signage. (Click for larger.)
[ 2 comments ]
( 18 views )
---
I brought the idea of heading back together for some thorough investigation and he was game. It was great, we drove back out there, almost to Hana (2hrs) after having bought underwater flashlights and a mask for him. We took our time in the frigid water, searching around for underwater passages, which i wasn't even sure would be there. We found TONS. and it was glorious. He was a great search buddy. A little more comfortable with diving, he led the way most of the time, finding air pockets and then taking turns pointing the lights straight down as a navigation aid, etc. Eventually after finding a giant, completely otherwise inaccessible cavern, we took a long dive down and back up and out a different pool than we had started in!!! It was crazy. I drew a map showing the different areas we explored and routes for others.
-Joe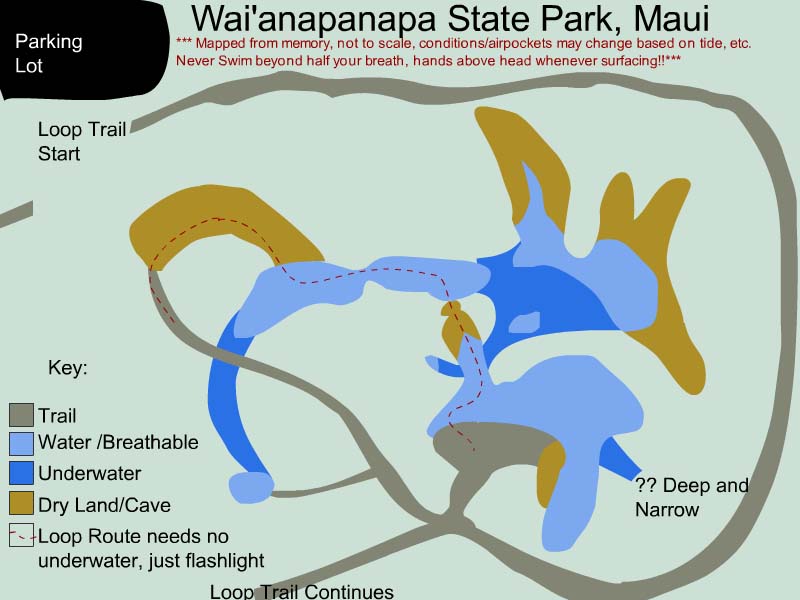 The map (click picture to see it larger.)
[ 1 comment ]
( 12 views )
---
One was from North Dakota and lived in Minneapolis for a while. She's been on Maui for a year this time. The other girl was from Philly and has been on Maui for 6 years. We had a good time chatting with them.
Once into town, we dropped them off, then headed back to Down To Earth, a completely vegetarian grocery store. Their deli options are great, so we had lunch there. Then it was time to head to the airport and drop Laura off.
It sounds like she left and got back to LA without a problem and a nice smooth ride. When we left the airport though, we headed back to North Shore Hostel. We are staying here for a couple nights. We've been mostly working. Tomorrow we'll probably head to the nearby I'ao State Park for a hike. If we want to just have the weekly rate for the rental car, we'll have to return it on Friday, so we may head to the Big Island then. Mary is meeting us there on Monday. It would be nice to get settled a little before she comes.
-Miranda
[ add comment ]
---
Back
Next