This morning, we headed out to get breakfast. Unfortunately, the house is up quite a hill. We walked a mile down and found a small grocery store and a cute cafe. We had breakfast at the cafe, walked around a little bit, then headed back to the supermarket, back up the hill in the hot sun, and home.
We were due for our second Twinrix shot (Hep A and Hep B shot in one) so I called a travel clinic that was a little under 2 miles away. They could get us in at 2. We headed back out and hoofed it down there. We each got our shot and decided to walk around and explore some. We walked down to the beach and over to Waikiki before starting to work our way back, finding dinner along the way. We ended up walking around 13-14 miles today total. We're hurting pretty good.
-Miranda
[ add comment ]
---
Once we were done, we headed back up the hill. So hot. But we made it in one piece and sat and worked for the rest of the day.
-Miranda
[ 2 comments ]
( 11 views )
---
From there, we headed down the highway to check out a hike that is supposed to have a couple swinging bridges on it. We weren't quite sure where to find it. We eventually did though. It was on a plantation, so we had to pay $6 per person.... Seemed a bit steep, but the hike was gorgeous and fun. At the end is a pool you can swim in. We didn't bring our suits, but it was still a great hike.
Our general plan was to head to Paia afterwards to play in the waves and have a good dinner. It ended up being too late, so we worked our way home and stopped in Lahaina again. The hope was for pizza, but we were not impressed with the menu. We ended up finding a Vietnamese place that was very good. We just headed home after that. Very fun day.
-Miranda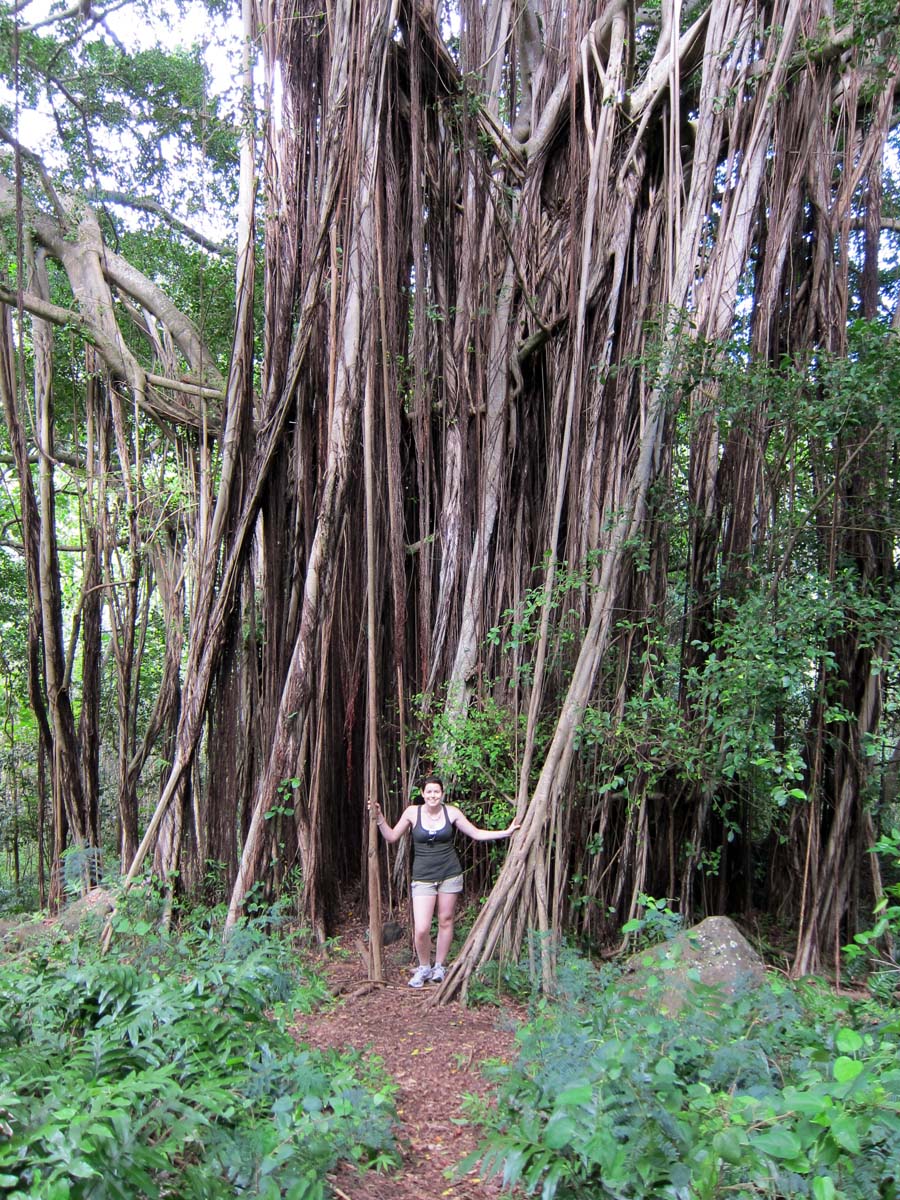 Laura in front of a Banyon Tree. These trees are super neat. Their branches let out 'feelers' that are roots and will basically create a whole nother tree trunk. There is one in Lahaina that you would swear is multiple trees.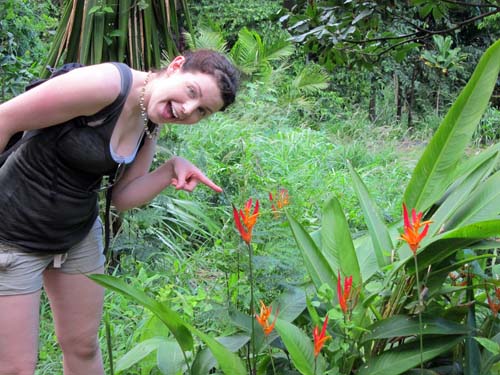 Laura by a super pretty flower.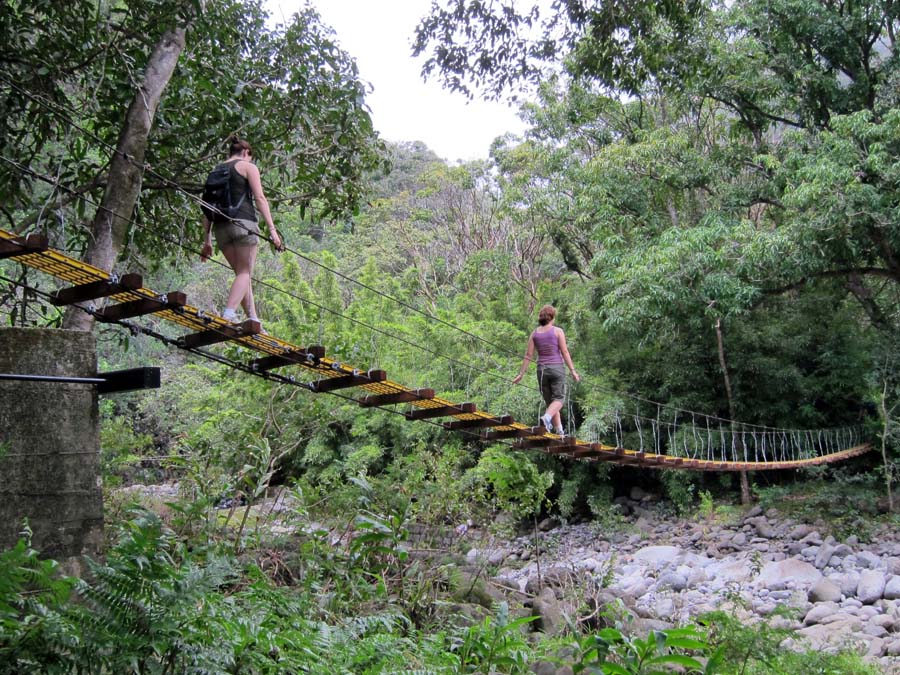 Laura and I walking across one of the swinging bridges. (Click on photo to see it larger.)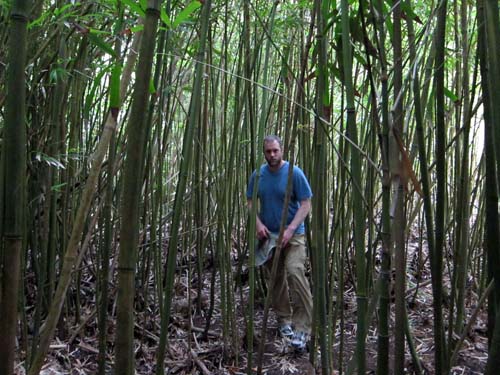 Joe in the bamboo forest.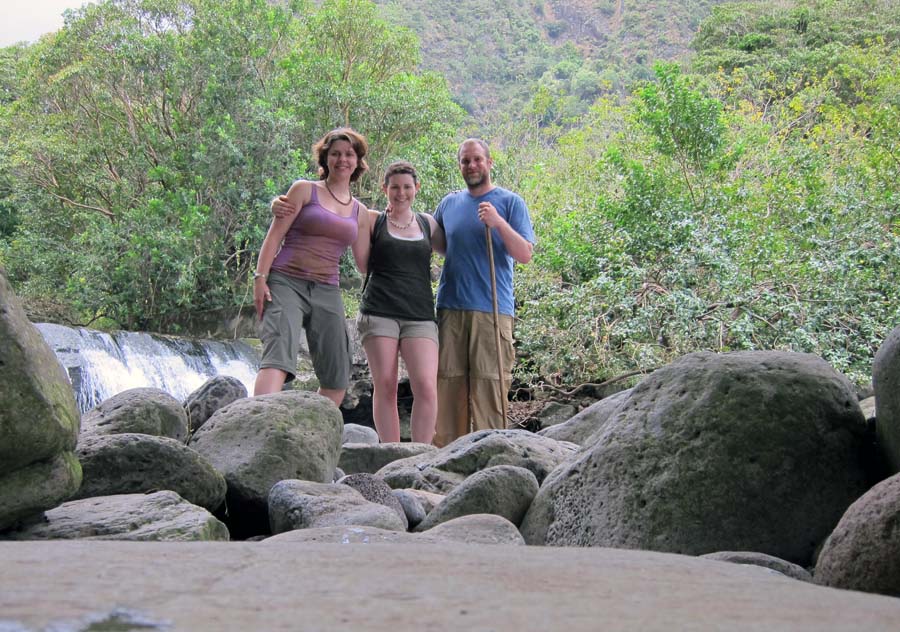 The three of us at the pool at the end!
[ 2 comments ]
( 12 views )
---
[ 3 comments ]
( 23 views )
---
The hike was 3.2 miles with a 2900 foot gain in elevation. The first couple miles were absolutely gorgeous. The forest floor was covered in needles from the pine trees and the trail continually switched back up the mountain, but didn't get too steep, for the most part. Once we started getting higher, it felt like we were walking through a jungle. There were trees a bit off the trail, but mostly smaller ones, and the sides of the trail were very overgrown, enough so that they practically covered the trail. When we finally got out of that, we started heading up a steep slope. We finally got to the top and noticed a group sitting there, so went over to chat. They were with the forest service and were up there to work on a section of the trail. They claimed the trail kept going, so we headed off.
We kept hiking up the mountain, crossing snow, until we got to a steep slope. We could see the trail up the slope, so kept heading up. A section of the trail was washed out from a mudslide. We scrambled up to the next section of trail and kept going. There was another section that was washed out! We decided to just call it good from there. That's the point where I took the first photo. It was super steep! We walked down the trail until we got to where it was washed out again, then went straight down the mountainside to the lower trail and kept going from there.
We eventually learned that the technical end of the trail was the lookout where we saw the group of forest service workers. Though on our walk down, they were working on one of the steep sections of trail. It was a huge mud pit. I just about fell in trying to balance on the rocks they were putting there. They were working on diverting the water off the trail and putting rocks on the trail.
We made it back and the RV was in the shade... Of course. We did get enough power for another day or so though, so we headed back to where we stayed for those couple days earlier in the week. The cats were happy to get to go out again.
This morning, we heard thunder, so knew a storm was probably coming. We got everything packed up in case we had to leave, but let the cats run around outside still. Now it is pouring and poor Curly and Pickles are under the RV because they're too afraid to get in the RV. Once the rain lets up a little again I think I'll try to get them again.
-Miranda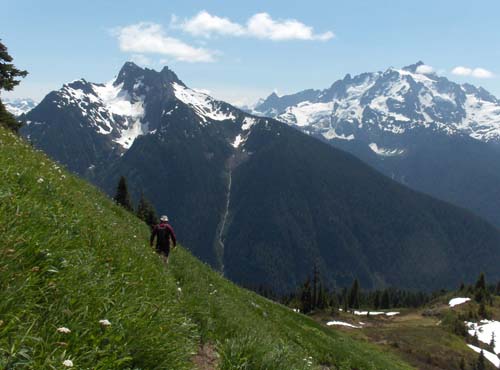 The top of the hike.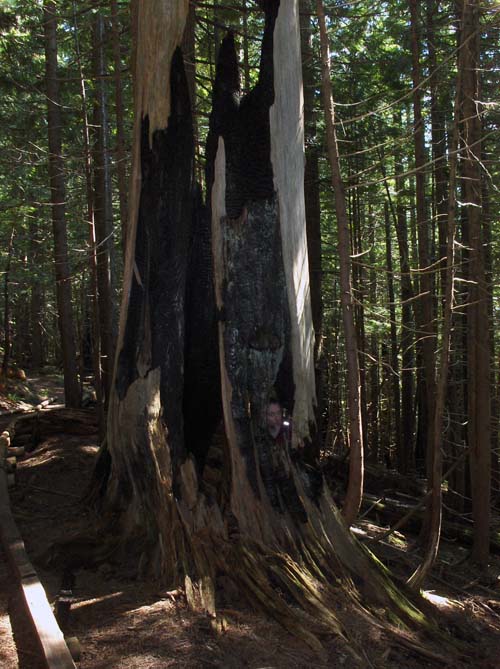 Joe in a very cool looking tree along the side of the road.
[ add comment ]
---
Back
Next