Friday we made plans to go snorkeling and leave early in the morning. Well, it rained all night, so Donald figured the water would be too stirred up to really see anything. We went back to bed and ended up heading out later in the afternoon to a different, closer area. The rain started up as soon as we went over the mountains. It was pouring! We stopped at the beach and decided to go into the water anyway. It was kind of neat to snorkel with the water hitting your back. The visibility was pretty awful though.
We didn't stay long, but the main problem was, Megan and I didn't really have much for dry clothes. We got some stuff sorted, warmed up a bit, and found a restaurant that had very good food. We then found a creperie called Le Crepe Cafe that was amazing. We had very good dessert crepes before dropping Donald and Megan off and heading back to the house.
The next day, we got some stuff prepared before calling them again to try for a new snorkel adventure. This time we went to a place nicknamed 'Electric Beach' because it is right outside a power plant that shoots warm water (it uses sea water to cool its pipes). Apparently fish congregate around there. We headed out and definitely found some warm water. You can see it bubbling to the surface.
It was a very neat area. There were fish everywhere, some we hadn't seen yet. We also got to see an eel. When we started heading in, Joe spotted an octopus! So, that's our second one. Very fun.
This adventure went much better than the previous one. We headed towards an Indian restaurant for dinner, but ended up going to a Hawaiin-Southern restaurant? The food was good, it was just a bit interesting. Afterwards, we all agreed that Le Crepe Cafe was amazing and we should head back there. We were hoping to be home by 8 to get a load of laundry done, but we ended up chatting for quite a while and didn't get home until 9. All worked out fine though. It was a blast to get to know them.
-Miranda
[ add comment ]
---
From there, the plan was to go to Turtle Arches, to see some turtles. Apparently the surf was pretty high in that area, so we went to a different spot instead. On the way, we saw two adult whales breaching off in the distance. Very neat!! They breached at least 3 times.
The spot we went to for snorkeling was amazing. It was probably half a mile off the southwest coast of Maui. The geography was great and the visibility was really good also. We saw quite a few turtles and lots of fish.
Once we were done with the snorkeling, we did a little whale watching. We saw a whale calf practicing breaching. Once we were in shore, we decided to check out Paia for surfing/boogie boarding opportunities.
The water ended up being a bit messy, but Joe and Laura went out anyway and had a lot of fun. Afterwards, we had a yummy dinner at a Mexican restaurant there in Paia, then headed home to conk out for the night.
-Miranda
One of the turtles I saw
CLICK FOR VIDEO:
TURTLE
One of my favorite fish, the Black Triggerfish. Apparently known as the Hawaiin Parana because when they used to allow the feeding of the fish, it would bite fingers trying to get the food faster. Fortunately (for a number of reasons) they don't allow the feeding of fish anymore.
CLICK FOR VIDEO:
BLACK TRIGGERFISH
[ 3 comments ]
( 8 views )
---
By the time we got out, the beach was getting pretty busy. We headed for Kihei to have a yummy lunch at Joy's Place (again). From there we headed farther south to the lava flows. Laura and I went for a short hike before we got back in the car and headed back across the lave to another popular snorkeling spot, the Dumps.
The water was pretty clear, but the water was a little choppy. We still saw lots of neat fish. Some we hadn't seen yet. On our way back in, Laura spotted an octopus!!! It was awesome! We didn't have the camera with us, unfortunately. :( But it changed color at least 3 or 4 times. Super neat.
After snorkeling, we headed to an Indian restaurant in Kihei for dinner. It was pretty good.
Our first full day with Laura went really well and was super fun. We're all bushed though and heading to bed early.

-Miranda
[ 3 comments ]
( 18 views )
---
The road was super windy with a lot of blind corners, but there was little traffic. We found the spot, got out and climbed down the rocks. Olivine is apparently a semi-precious mineral. It was all over in the rocks. Pretty neat. Some of the pools were super muddy. I'm assuming it was just because of the massive rain storm a few days ago. The pools farther from the rock wall were really clear though. There were even some fish in there! Very fun to watch them.
Once we left there, we decided to stop by some of the sights along the way back. One was the "Blow Hole", which a hole that water comes shooting out of when a wave comes up. It was pretty neat.
From there we couldn't really decide what to do. We were both super worn out. We've been basically running around since we got here. We decided to go snorkeling in Kaanapali Bay, which is in the area. It wasn't as clear as Makena, but there was coral all over. The currents pushed us around a bit more also, but we finally remembered to bring the underwater camera with to test out. It did pretty well. We saw a lot more fish varieties I think, but it was not a place I would expect to see turtles, and we didn't.
We were both pretty tired, so we headed back to the house after that and have basically just been getting some work done and resting. A nice, relaxing, fun day.
-Miranda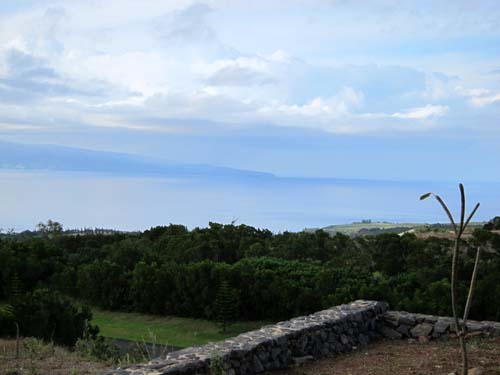 The view from our room.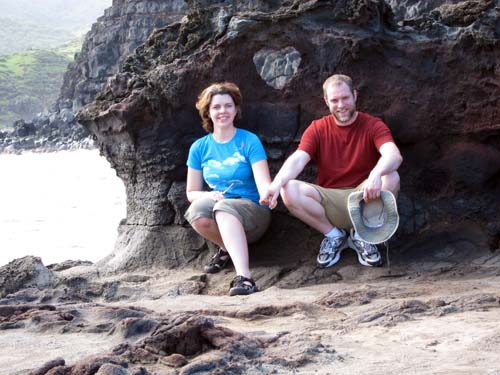 Joe found a heart hole in the rock and there just happened to be someplace I could set the camera up.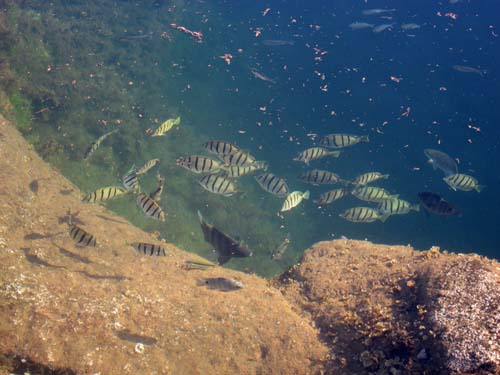 Neat fish in the clear pool.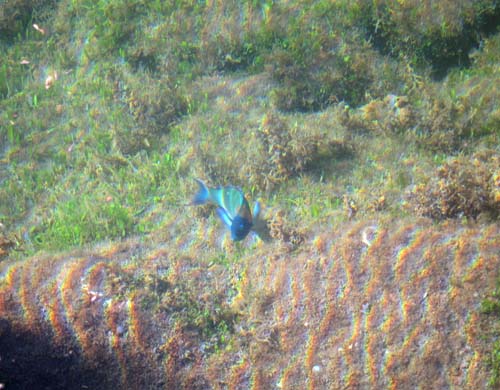 I liked this fish. I only saw one in this pool and he was hard to get a decent photo of.
[ add comment ]
---
Today, we decided to head out snorkeling. There was a place just north of where we are that was supposed to be decent snorkeling. All we had were goggles, but we figured that was a good starter. It was a bit freaky getting in, but once we got comfortable, we realized the water was super clear! As we got a little farther out from the sandy beach, we spotted coral and a lot of different kinds of fish. They were everywhere! At one point we even spotted a Green Sea Turtle! It surprised Joe. :D It was a little tough with just goggles, but it was still tons of fun.
We headed to Kihei after that, which is supposed to have some great snorkeling areas. We had lunch and headed farther south to the end of the road. On the map it showed snorkeling, but it looked like you had to go for a bit of a hike. It was through an old lava flow from 1790. The area was very neat, but all the little alcoves weren't quite protected enough and it was really rocky to actually get into the water. So we just hiked in, looked around some and hiked back out.
Since the sun was still in a great position for snorkeling, we stopped at Makena Landing. Notes on that said it was a great post so long as the waves weren't up. It looked really calm, so off we went. It was great! We saw a ton of fish and about 5 sea turtles. The first one we saw was pretty small. The second one came out a cave heading straight for me! When I swam a bit off to get out of its way. Totally freaked me out. This turtle had to be at least 4 feet long. It was huge!
After that adventure, we found some dinner and headed back to the house. Now we're just getting some work done and heading to bed. One problem with this place is there are windows everywhere. In the bathroom, in the bedroom, etc. No blinds or shades at all. So, we have to shower in the dark and people can see in the bedroom, which is kind of weird. The owner said he's going to get some shades at least for the bedroom in the next couple days, which would be nice if we're still here then. One pretty cool thing is two of the windows/doors are actually disappearing doors. We haven't been around during the day yet to really utilize them though.
-Miranda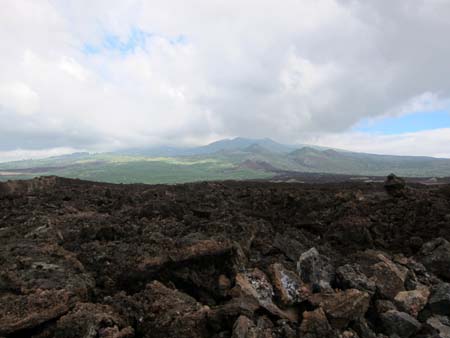 The lava flow.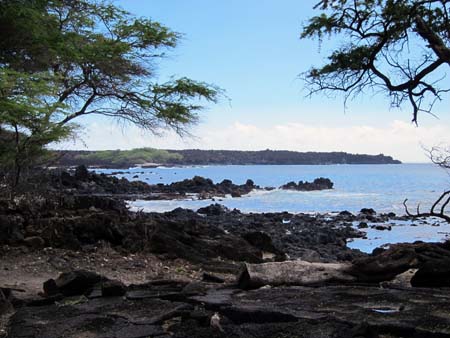 A section of the beach on our walk. I believe the white stuff on the rocks is old coral.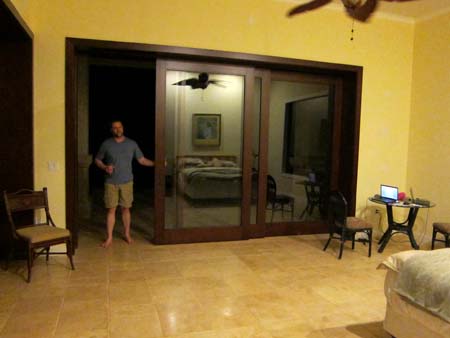 The disappearing door.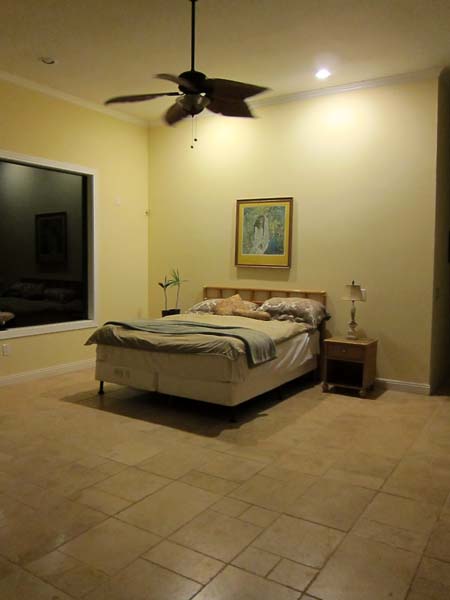 The bedroom.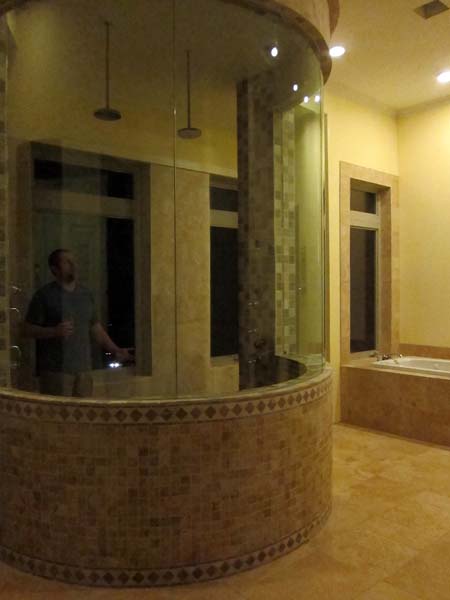 The bathroom. Crazy shower! Nice windows, huh?
[ 1 comment ]
( 7 views )
---
Back
Next