Our plan for the day was the Tongariro Alpine Pass. It's a day hike that typically takes 7-8 hours. It's 19.4 km (12 miles) with about 2500 ft up and 3600 feet back down. When we arrived at the parking lot, there were a lot of people there. Some shuttles (read buses) pulled up not long after us, so we tried to get started before them. The train of people was pretty crazy, but through the hike, we did manage to space out a bit.
We definitely saw the inspiration for Mordor and got to see 'Mount Doom' up close. The walk back down was quite painful on the knees, but the hike was great. There were beautiful sites along the way, including some 'emerald lakes'. Unfortunately, my camera's battery was basically dead, so I didn't get to take nearly as many photos as I wanted to, but maybe that was a good thing in the end. Now we can say that we have walked through Mordor. :D
Here's a link to a map of the hike:
http://www.tongariroalpinecrossing.com/
-Miranda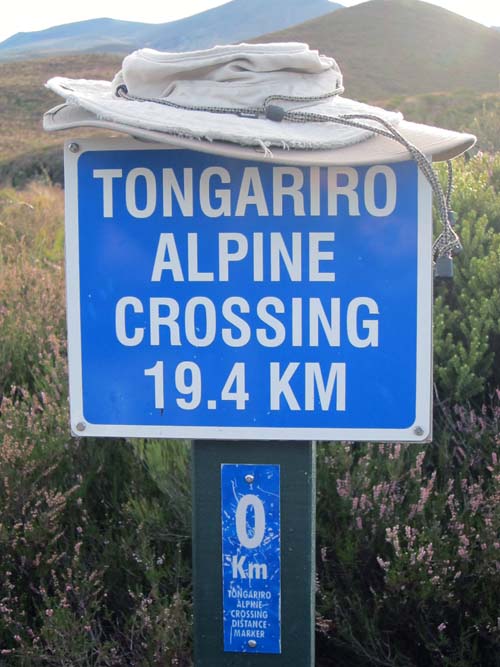 Start of the hike.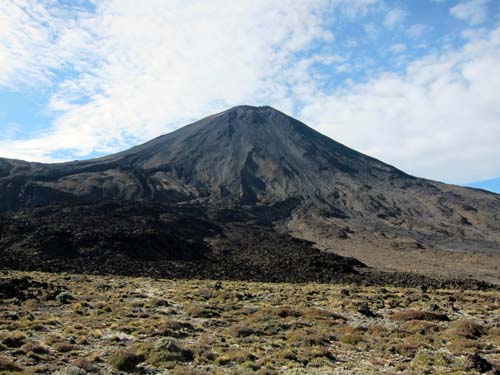 Mt Ngauruhoe ('Mount Doom')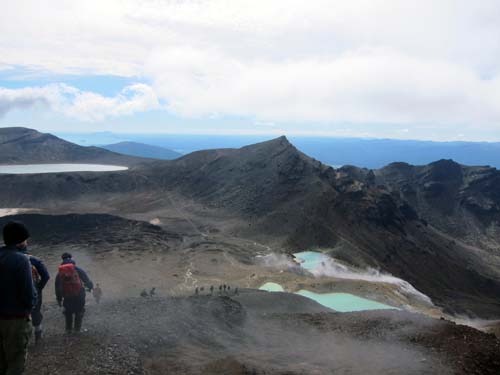 Emerald Lakes.
[ add comment ]
---
The next morning, we shot off to Taupo, where we checked out the Huka Falls. This is a relatively short falls, but the neat thing about it, was the 100m river all of a sudden gets pushed into 15m wide, 10m deep rock channel. This makes it thrash like crazy and the falls apparently couple fill 6 olympic sized swimming pools within one minute. Afterwards, we went to New Zealand's Craters of the Moon. It was a bit less awe inspiring than the US National Park. It was basically a walkway around some steaming vents and a couple mud puddles.
The best find ended up being the Spa Thermal Park. It was a heated river emptying into a cooler, larger river. The hot river was probably just over 100 degrees Fahrenheit. You could sit in the stream, or just below the falls where it mixed, quite unevenly, with the cooler water. After that, we noticed the city park had a confidence course. It is basically everything the US considers dangerous. Everything is built of wood and metal. There are balance beams, monkey bars, and all sorts of other things. This one had a 300 foot long zip line type contraption. You sat on a T-bar and rode it down. It's too bad we don't really have stuff like this in the US. Joe and I were talking about how a full workout would be jogging to a place like this, doing the course, then jogging home. Lots of fun.
From there we drove to the Tongariro National Park (Mordor) to look for someplace to stay the night. We stumbled upon a DOC site, or maybe a national park campground. It was only $8, but it was packed! The tent area was just a parking lot with people in any spot they could be. The campervan area was also all occupied. There were even two people out by the pay box. We ended up parking behind one of them for the night.
-Miranda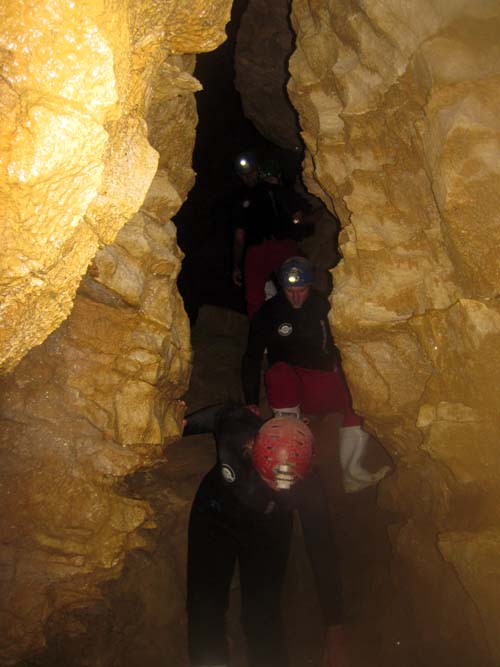 Joe and I going through the cave. I'm in front.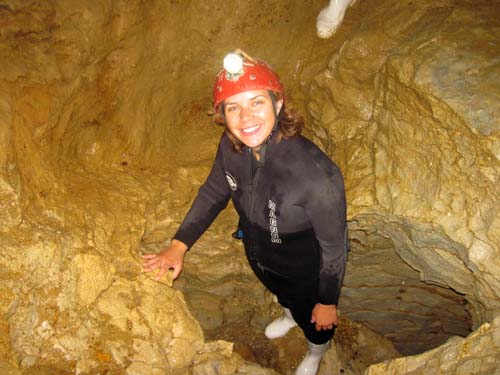 Right after I came out of a hole.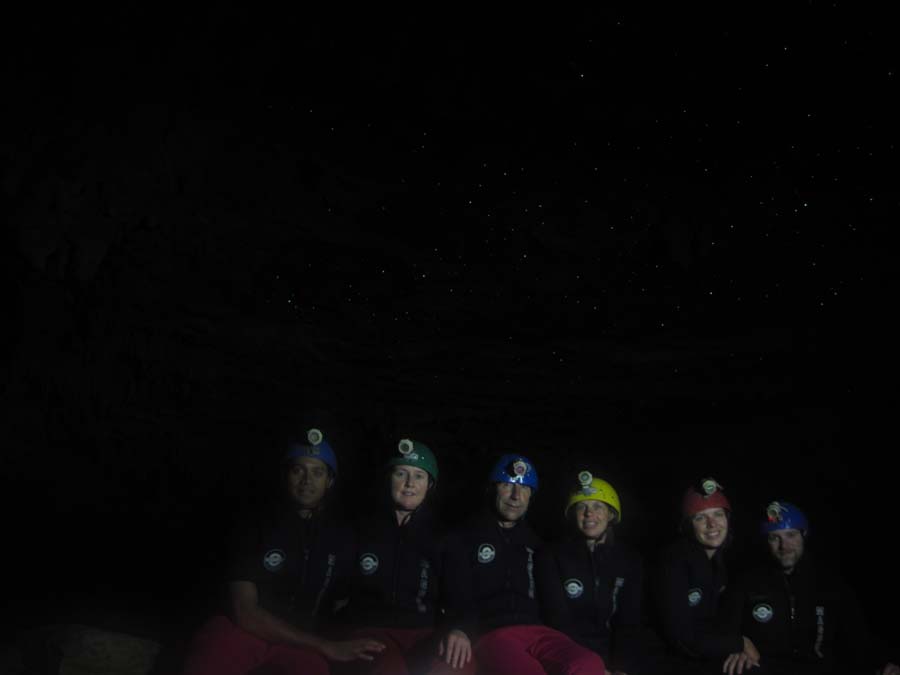 A group photo with glowworms above us. (Click on photo to enlarge.)
[ 1 comment ]
( 10 views )
---
The second one we did was a 'glowworm' cave. The cave had a super tall ceiling, but was relatively short in length. Unfortunately, they just grab whoever is ready to go (and has a ticket) every half hour, plus there were a number of tour buses. It was packed in there. Normally the boat is able to go through the cave, but due to the heavy rains, the cave was getting flooded, so the water was too high to go the normal way. We just went under the glowworms then turned around. It was kind of neat, but we saw a lot of glowworms in the previous cave, so just the sheer number of people made that cave more annoying.
The last cave, Aranui, was pretty neat. It was short, but there were lots of formations. Afterwards, we took a British couple to the cave along that bush walk we went to earlier. They both thought that was neat, though the girl was definitely freaked out by the cave wetas on the walls.
Our plan today is black water rafting, then we'll be back on the road again.
-Miranda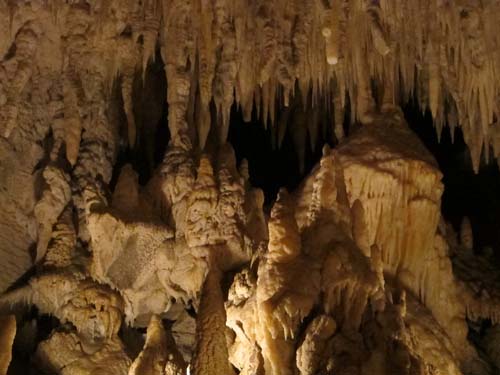 Cave formation.
[ 1 comment ]
( 11 views )
---
The next day, we headed back up to Cathedral Cove because it wasn't raining anymore and we decided to swim around the point to the cove. The water was pretty murky, which meant visibility wasn't great (we had the swim goggles on). We made it without incident, though we're not positive it was worth it.
We actually had a schedule to keep, so we headed for Matamata, which is near where Hobbiton is (where the Shire was filmed for the Lord of the Rings trilogy). The tour was very neat. It started with a sheep show where a guy sheered a sheep, then they brought some lambs out to feed. It is a working sheep farm, so they wanted to show people some of that side. hen we headed for the set. Because The Hobbit is in production right now, the actually had the set all set up and ready for filming, which was supposed to be happening now. The filming was delayed for some reason, so the film company is allowing the family to continue with the tours. Because of that though, we all signed confidentiality agreements and are not allowed to post any photos online anywhere. I don't know if it would have been worth it if it was just what the tour normally is/was, which is just 7 (or 17, now I can't remember) white boards that framed some of the hobbit holes that were left when the weather got too bad for the crew to keep demolishing.
After the tour, we headed to Otorohanga. Here we are staying in a small park next to a Kiwi House. In the morning, we checked out the Kiwi House which has a number of native bird species and a very nice nocturnal house for a couple kiwis.
Nearby by are the Waitomo caves. There are just tours by companies to go deep inside them to varying degrees. Some companies even do 'black water rafting'. It took us a while to figure out exactly what was going on, but apparently 3 (or so?) separate companies own different caves. So you have to decide what type of experience you want and then pick the company. Seems a little odd, but we went with something that seemed to include the neat things without getting super pricey. We'll see how it goes. There's one company that has just one guide go with you and you get to explore and do, basically whatever you want. Sounds like it would be a neat thing, but would be super dependent on your guide.
Anyway, there were a few free things to do around there. It's been raining all day, but the walks were still pleasant. There was a Natural Bridge that was gorgeous. Our favorite walk was the Ruakuri Bush Walk. The trail went through tunnels in the rock. There was even a crevice in the rock up from the trail a bit. Joe went to check it out and it just opened up inside. It ended up overlooking the stream down below from inside the cave. Also inside were a lot of weta, which are a large, grasshopper like insect that is endemic to New Zealand. All in all, a fun couple days.
-Miranda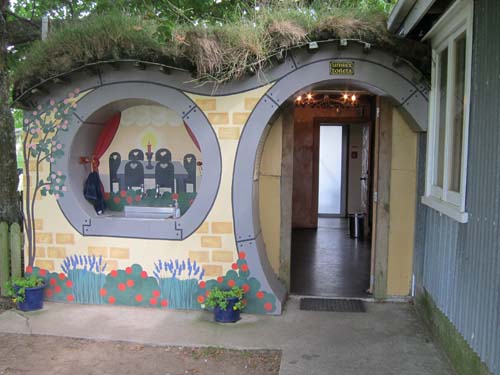 The amusing 'toilets' at the Shire's Rest Cafe where we started our Hobbiton tour.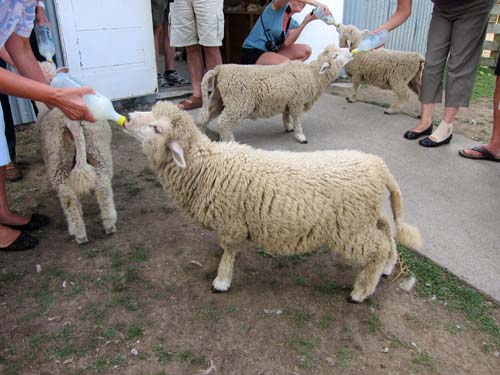 Lambs being bottle fed.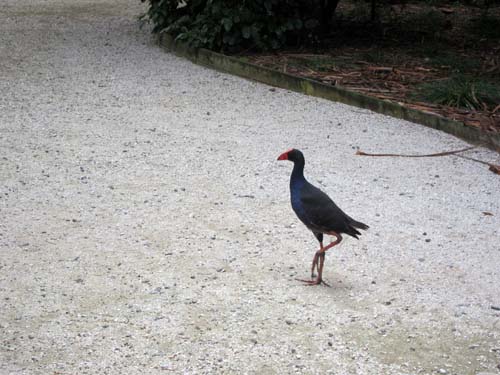 Pukeko. A New Zealand flightless bird.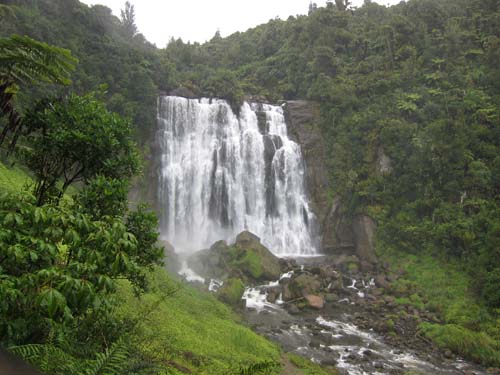 Marakopa Falls. This was apparently a common backdrop for the Hercules series.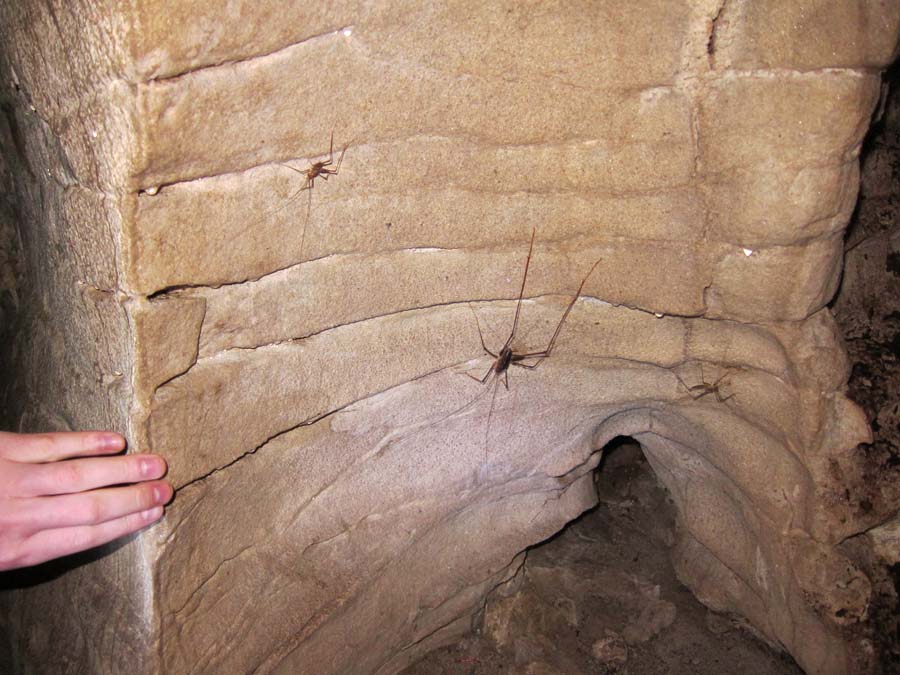 Weta. See Joe's hand for size reference. (Click on photo for larger.)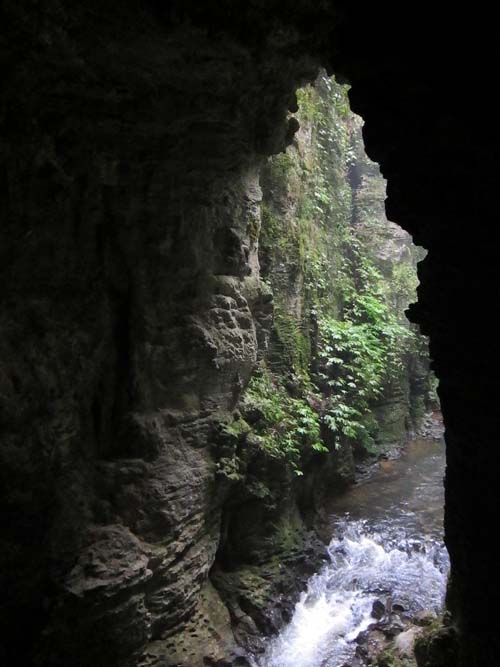 A neat part of the natural tunnel during the Ruakuri Bush Walk.
[ add comment ]
---
From there, we continued south and went through the Waipoua forest. It was very cool. The highway was super windy (of course all the roads are pretty windy). We stopped at a couple, relatively short hikes to see Kauri trees. We saw the largest and the second largest Kauris. They're pretty impressive. It looks like an entire garden is growing in their branches. They're pretty short though.

That night we stayed at another DOC site. There were only two other vehicles there. One thing I was super excited about is we were in kiwi territory! The communal kitchen (most DOC sites don't have one, but this one was fancy) mentioned that you could go right at the start of night to possibly see on. So, we headed out to the trail with a flashlight.
It was looking pretty grim to start, but then something ran a bit off right next to the trail. Joe shined the flashlight over and saw something, but kept insisting it wasn't a kiwi. Then we heard another one just a little farther up the trail on the other side. I got a look at that one briefly (only saw its body) and it was definitely a kiwi!! We sat there for a while listening to them (they sound like clumsy people walking through the woods, just without the above branch breaking). Then we continued on since they were too far from the path.
Farther down, we heard one near the path up ahead. After some 'stalking' we saw it run across the trail a ways in front of us. So, that was our kiwi siting. We didn't get any really good views, but I'm just excited that we got to see any at all. It sounds like it's not super common.
The next day, Tuesday, we just headed for Auckland and made it to a town just north of the city. We stayed there and got a little work done.
Today, we got back to driving. We got south of Auckland and aimed for Cathedral Dome Cove. Unfortunately, it was a 2 hour walk and the driving took a lot longer than we expected (again, super windy). We probably would have had just enough time, but a sign said the area was closed and then it started raining. There were two other shorter hikes, so we did those instead. By the time we got back, we were completely drenched.
The other adventure in the area is the Hot Water Beach. A low tide, you go dig yourself a hole, or a 'spa' as they call it, and sit in it... Apparently the water that comes up is really hot. We're sitting now waiting for low tide, which is supposed to be at midnight. Should be interesting.
-Miranda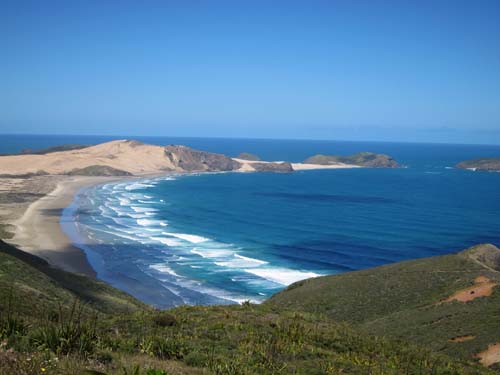 View from Cape Reinga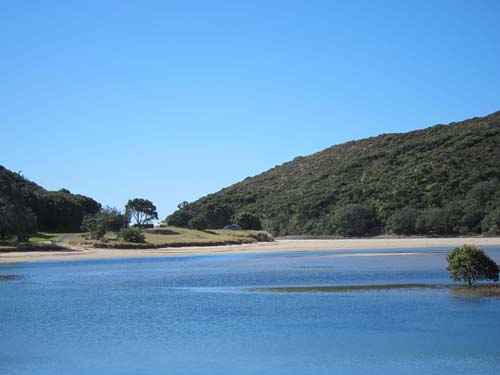 Our RV parked near the pretty river side at a DOC site.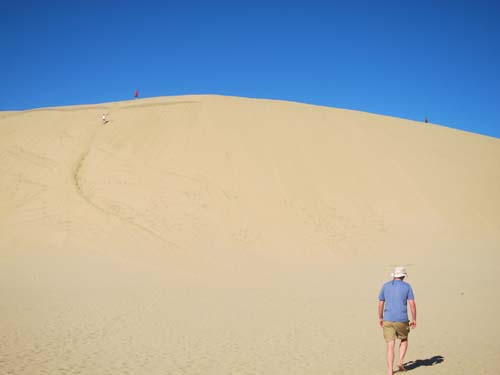 The crazy huge sand dunes.
[ 1 comment ]
( 9 views )
---
Back
Next