From there, we continued south and went through the Waipoua forest. It was very cool. The highway was super windy (of course all the roads are pretty windy). We stopped at a couple, relatively short hikes to see Kauri trees. We saw the largest and the second largest Kauris. They're pretty impressive. It looks like an entire garden is growing in their branches. They're pretty short though.

That night we stayed at another DOC site. There were only two other vehicles there. One thing I was super excited about is we were in kiwi territory! The communal kitchen (most DOC sites don't have one, but this one was fancy) mentioned that you could go right at the start of night to possibly see on. So, we headed out to the trail with a flashlight.
It was looking pretty grim to start, but then something ran a bit off right next to the trail. Joe shined the flashlight over and saw something, but kept insisting it wasn't a kiwi. Then we heard another one just a little farther up the trail on the other side. I got a look at that one briefly (only saw its body) and it was definitely a kiwi!! We sat there for a while listening to them (they sound like clumsy people walking through the woods, just without the above branch breaking). Then we continued on since they were too far from the path.
Farther down, we heard one near the path up ahead. After some 'stalking' we saw it run across the trail a ways in front of us. So, that was our kiwi siting. We didn't get any really good views, but I'm just excited that we got to see any at all. It sounds like it's not super common.
The next day, Tuesday, we just headed for Auckland and made it to a town just north of the city. We stayed there and got a little work done.
Today, we got back to driving. We got south of Auckland and aimed for Cathedral Dome Cove. Unfortunately, it was a 2 hour walk and the driving took a lot longer than we expected (again, super windy). We probably would have had just enough time, but a sign said the area was closed and then it started raining. There were two other shorter hikes, so we did those instead. By the time we got back, we were completely drenched.
The other adventure in the area is the Hot Water Beach. A low tide, you go dig yourself a hole, or a 'spa' as they call it, and sit in it... Apparently the water that comes up is really hot. We're sitting now waiting for low tide, which is supposed to be at midnight. Should be interesting.
-Miranda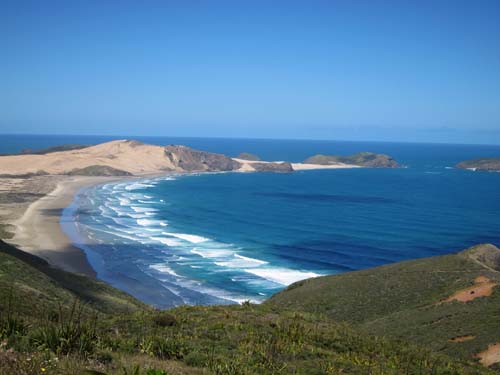 View from Cape Reinga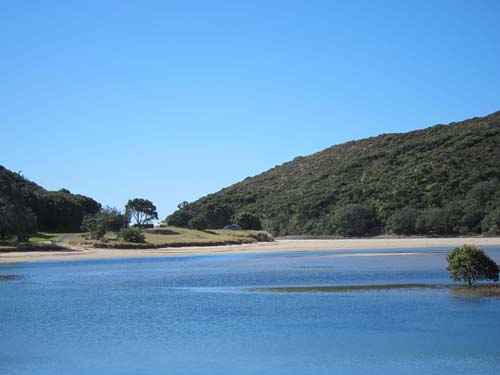 Our RV parked near the pretty river side at a DOC site.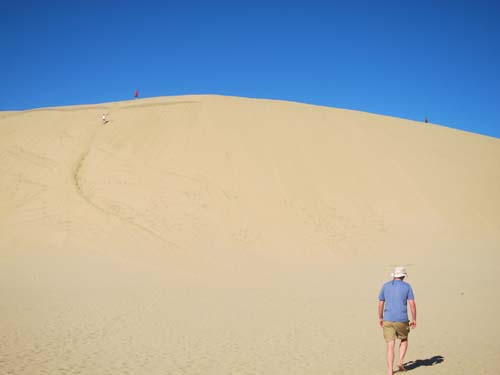 The crazy huge sand dunes.
[ 1 comment ]
( 9 views )
---
Making dinner has been interesting. We only have a single, small camp stove, so it's basically impossible to cook two things at once. He crammed everything into the saucepan to cook. It was good, but the bottom did get a little burnt since it was too full to stir.
The mosquitoes were terrible last night! I don't know how they were getting in, but they must have been somehow. We managed to sleep anyway.
-Miranda
[ 2 comments ]
( 8 views )
---
We only got about 1/2 km through the long cave before we decided to head back. The super neat thing about it, was that there were glowworms. If you shut off your flashlight, it looked like you were viewing the night sky.
We stayed at our first Conservation campsite (DOC site). They are scattered all over New Zealand and average $15/night. This one was next to the beach. The super crazy thing was, you just parked anywhere on the grass, so long as you were at least 10 feet from another camper...
Our second day was mostly driving and gearing up the van a little more. We did stop at some waterfalls that had a 5km trail through a mangrove forest. Joe swung off a rope swing into the water sort of below the water fall before I walked the entire trail and Joe dropped someone off at the other end, and met me half way. The mangroves were very neat.
We are now at another DOC site on KariKari Peninsula. We got here basically at dusk, so we'll probably explore some in the morning.
-Miranda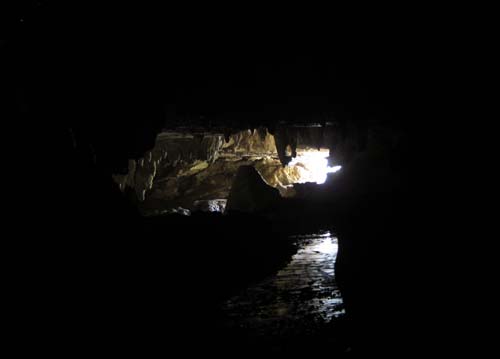 The cave.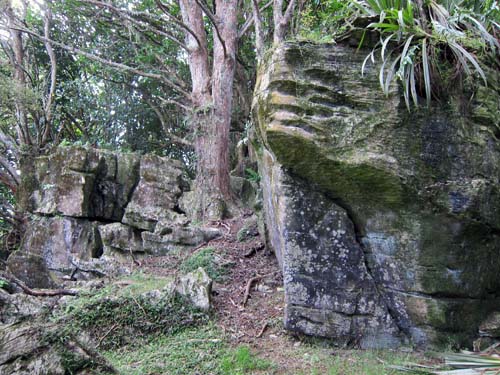 The forest and very cool rocks near the cave.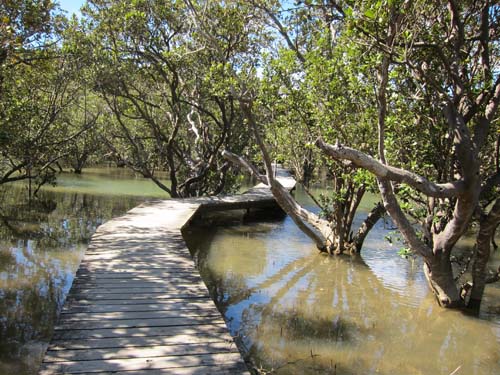 The mangrove forest.
[ 3 comments ]
( 23 views )
---
Tomorrow is my first day of driving on the left!
-Miranda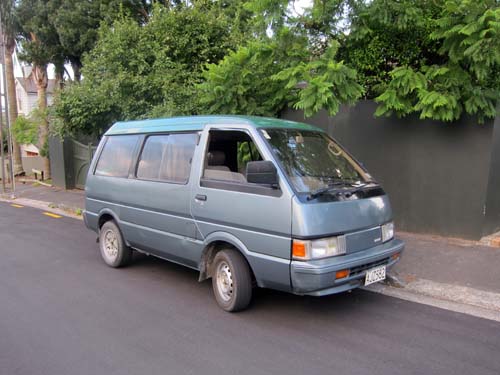 [ 3 comments ]
( 32 views )
---
On that note, we haven't really been doing anything but working and going for short walks. We have decided to buy a van that is outfitted with a bed and some camping gear. After talking to numerous people in the hostel, that sounds like the best, and cheapest, way to go. So, that's our main goal right now.
-Miranda
[ 4 comments ]
( 47 views )
---
Back
Next