We got to the site and there were some snorkelers around still. Everything was pretty deep and the waves were getting pretty big. There was also some confusion with the guide, so the second part definitely didn't seem worth it. It started raining as we were getting out of the water. By the time we got back to the place where we were to eat it started pouring. We ate some food then decided to just take a cab back instead of riding back on the wet boat.
It was an ordeal to get changed into dry clothes since we checked out of the hotel, but we figured it out and bought ferry tickets. Our plan being to head to Vallodolid this evening. The ferry was packed! It's a holiday for Mexicans so there were so many that were headed back off the island after their weekend vacation. We're now on the bus on our way. Hopefully it's not too much trouble finding a place once we arrive.
-Miranda
[ 4 comments ]
( 136 views )
---
After another short break from the sun for a drink, we went to a nearby place where we could snorkel. The water ended up being really rough so we did see some fish but it was really stressful and ended up scaring Dani pretty well. We then got back to the hotel where we found some super yummy Italian food before heading to sleep.
-Miranda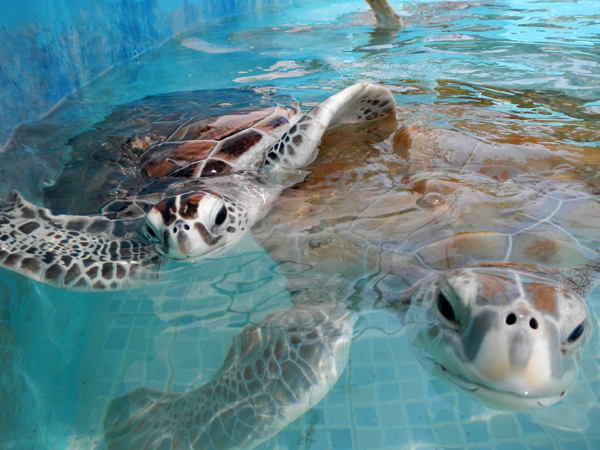 Tortugranja. A turtle farm/sanctuary where turtles have a safe place to lay eggs.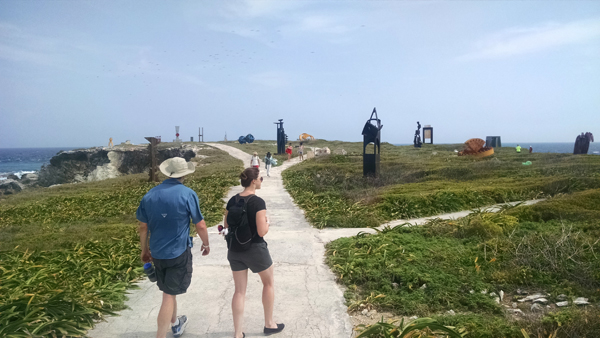 The southern tip of the island where there are a bunch of large, metal sculptures.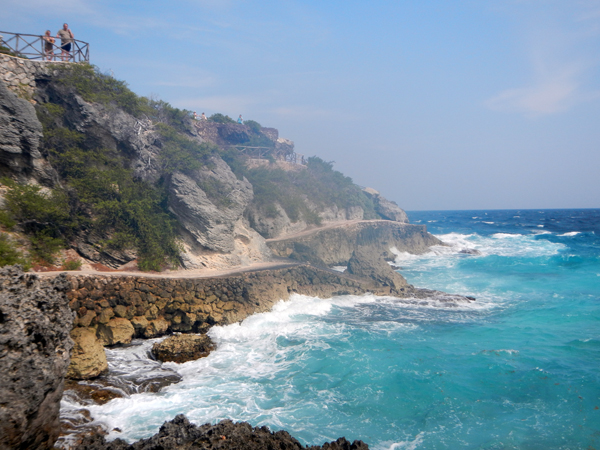 The walkway around the southern tip.
[ 1488 comments ]
( 2965 views )
---
After snorkeling, we had an amazing dinner at Lola Valentina's. Hibiscus empanadas, cactus tacos, jerk platter (it was veggies and tofu in a yummy sauce) and veggie chorizo potato balls. During dinner, Dani had a cockroach crawl up her that got all the way to her chest. That was pretty creepy.
After dinner and some street food desserts, Dani wanted to go salsa dancing. There was a place near our hotel that had a dance floor and live music. I went with and someone did ask her to dance, so she was pretty excited. While I was watching her, someone asked me as well. I tried to say no, I couldn't dance, but that didn't work. I attempted to not make a fool of myself for a song then hid in a corner so no one would ask me again. Dani danced again and had fun. She then taught me the basics, which was pretty awesome.
-Miranda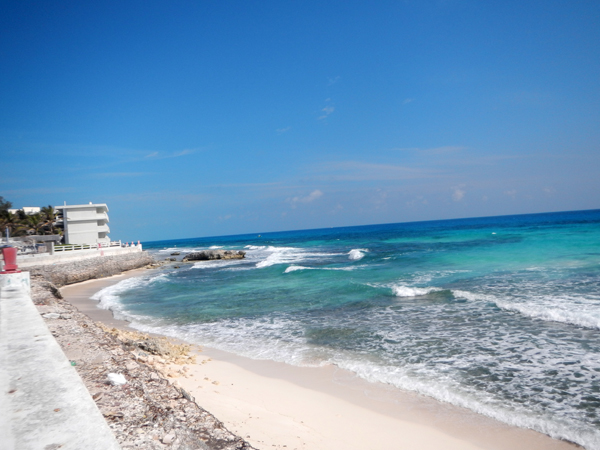 Pretty coast.
[ 8 comments ]
( 121 views )
---
After shaking that incident off, we headed to Don Ojos Cenote. It is definitely a popular cave diving spot but it's pretty awesome to swim around with goggles also. Watching the lights from the divers in the cave was awesome and let us see more of the underwater portion of the cave than we would have otherwise seen. Once we were done, Joe dropped Dani and me off at the hotel so we could get packed up and checked out while he returned the car. There were no issues with the return so that's good. We found a yummy lunch and then hopped on the bus to get to Isla Mujerus.
Upon arriving, we looked around for a hotel. The one Joe had in mind was a bit pricey so he went to look around some. We ended up back where we started though. We found some yummy Thai food for dinner and then crashed.
-Miranda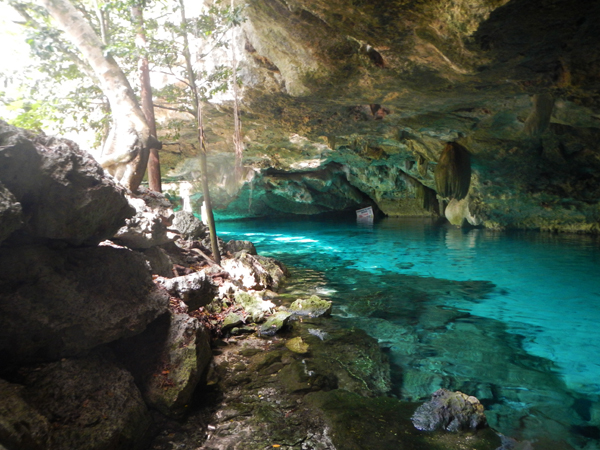 One part of Dos Ojos. It was pretty big and very pretty.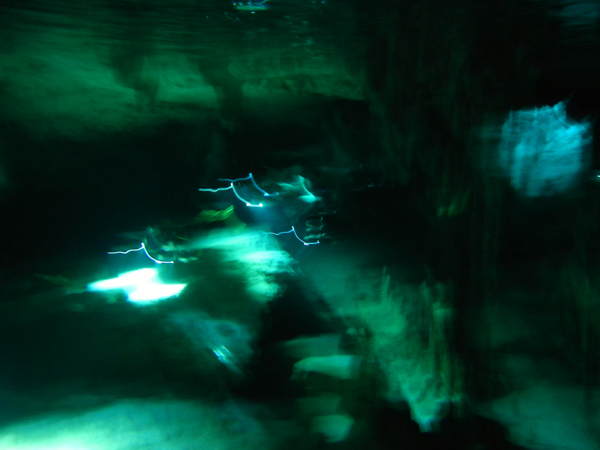 So many divers. It was neat to be able to see farther into the caves underwater because of the divers' flashlights. This photo isn't great since you can't really hold still floating in water, but I thought the lights looked neat.
[ 5 comments ]
( 48 views )
---
After the ruins we rented a car so we could try to get to at least a couple cenotes. We quickly realized that Joe left his license and credit card at the car rental place and we definitely didn't have enough cash to pay for entry. Fortunately we figured something else out that worked. We decided on Akhumel first, which was Yal-ku Cenote. It felt pretty similar to Casa Cenote but larger. The water wasn't super clear so that was unfortunate. It was still really neat though. Lots of fish. There were also statues randomly near the water such as an iguana and random women statues. We left there right around closing and ended up having trouble finding the key to the car. Dani went back to the desk and they had it. Apparently it fell out of Joe's pocket when he took his wallet out to pay.
That fruit that Dani really wanted to try the previous day? She saw someone selling them on the side of the road so when we stopped to get gas for the rental car she ran over and bought one. I wasn't a huge fan, but Joe and Dani were pretty happy. It tasted like a combination of sweet potato, brown sugar, persimmon and ginger.
It was too late to go to any other cenotes so we got dinner at El Vegetariano. It was still good but different than when we ate there a couple years ago year. Joe wanted to take us down to the beach after dinner so we did and watched some pelicans until it was dark. Our plan was to keep going South a little a farther but then we realized our headlights weren't working. We had to drive with the brights on (with the permission of the police) being jerks.
-Miranda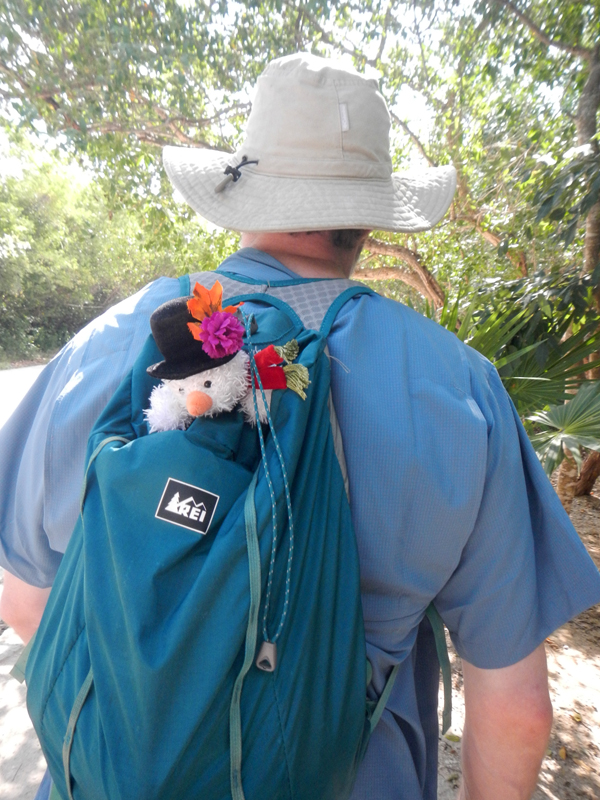 Dani has Stanley, a stuffed snowman that we decided to bring with on the trip. He came to the ruins with us.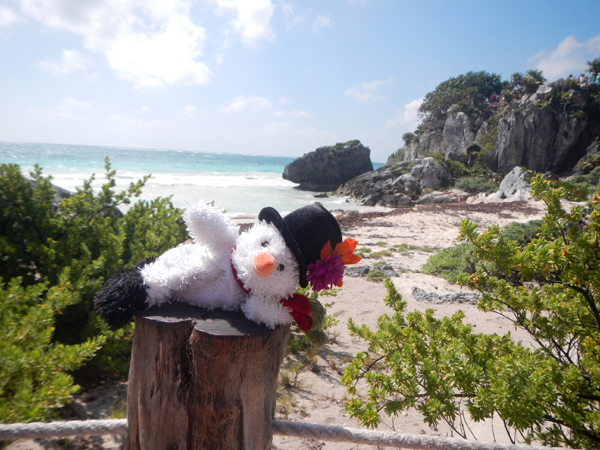 And got his photo taken.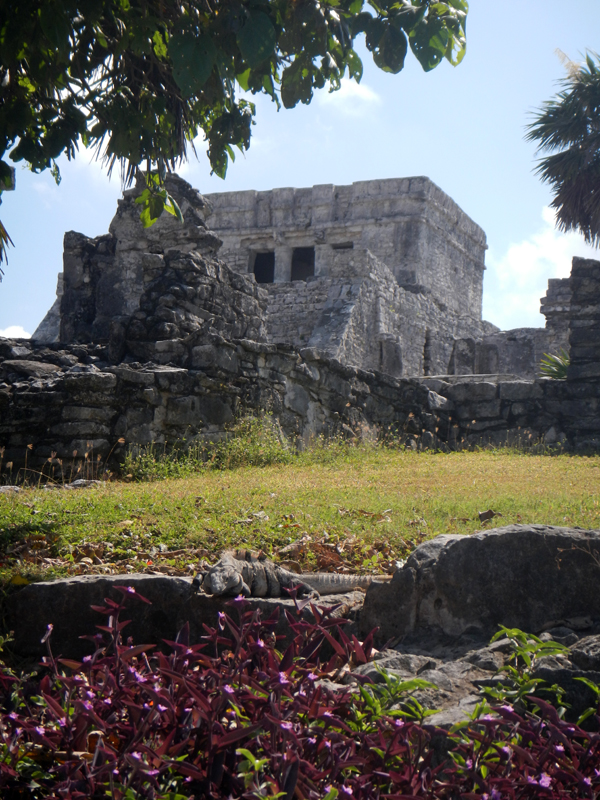 Lots and lots of iguanas sunning around the ruins.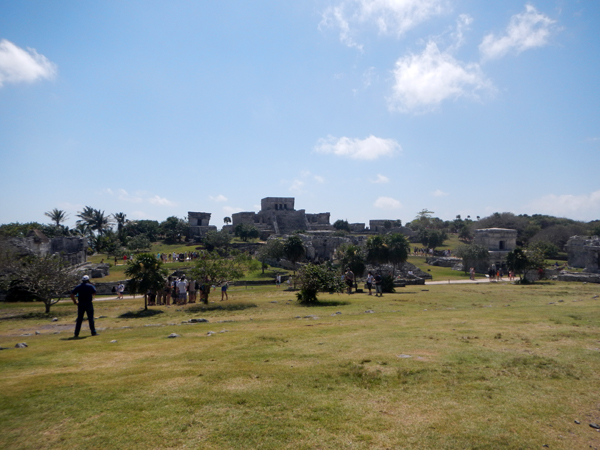 Lots of tour groups and people there.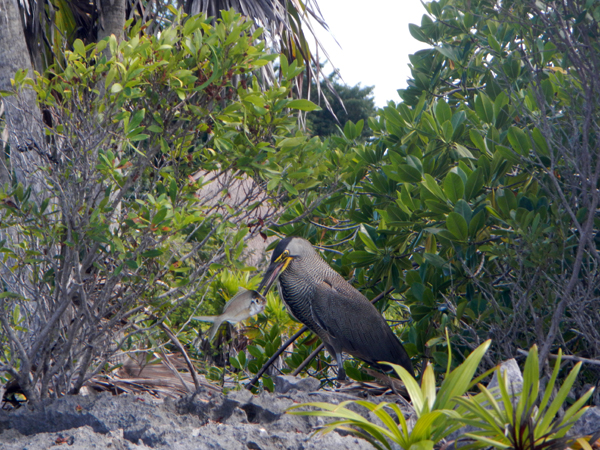 A Tiger Heron eating a fish at Yal-ku Cenote.
[ 5 comments ]
( 63 views )
---
Back
Next