We hopped on a bus to Cancun. From there we found a bubble tea place, sat down for a drink then got a cab to the ferry to Isla. The line for the ferry was crazy! It was so long. It didn't take us too long to get on a boat. Unfortunately that had me worried that we were going to have issues finding a place to stay. This did end up being the case. I tried about 5 places before setting Mary down with our bags at a juice place and wandering around myself. I finally found a place that had one night available. I took that and we proceeded to look around for a place for the weekend. Our plan was to stay at least until Monday. I ended up only finding a couple places that had one room available with only one double bed.... That would be pretty uncomfortable for the two of us. One of those options was not only expensive but only had wifi in the lobby. I was hoping for something to be available where Mary and I would actually be able to sleep.
We did one more loop together to try and catch some that I hadn't tried yet (there weren't many) and found each place that I remember Joe, Dani and I had looked at (after we already had a place) because it was painted super cute. It was pretty pricey. Mary and I stopped in and it was the same guy. I asked and he seemed pretty sheepish and said that he did have a room available. I expected a single bed or something similar and he opened the door to an adorable room with two double beds and a refrigerator. He said they have wifi throughout the hotel, a pool on the roof, a community kitchen and water available to refill bottles. It is expensive but we took it since we were obviously not having luck anywhere else. Mary is so extremely happy.
Once we could chill out a bit, I went back to the room while Mary went shopping. After she came back we found some yummy dinner then walked around a bit before heading to bed.
-Miranda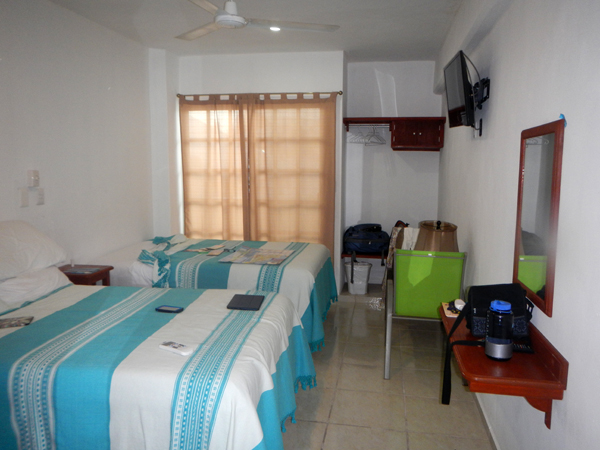 The first room.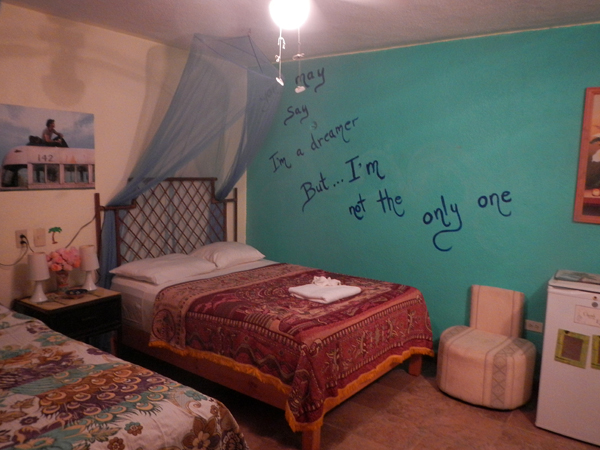 Our upgrade.

[ 126 comments ]
( 483 views )
---
We went right to the ferry and over to Playa to drop off her bag. We then went out for some falafel for dinner and a little walking around before heading back to the room for rest and sleep.
-Miranda
[ 16379 comments ]
( 190473 views )
---
We found a hotel and went out to find our last adventure. We took a taxi to Chaak-tun where Joe had read that it is a cave Cenote where you need a flashlight and it's pretty cool but a bit freaky. Once we arrived we learned that the info on the site he had found was a few years old. The place had been purchased by a company and now you had to do a guided tour plus it was twice as expensive as we though it would be. Since we had come that far anyway we decided to do it. The caves were gorgeous and I enjoyed our guide. Unfortunately, we were with all Spanish speakers so our guide had to say everything in both languages. I felt a bit bad for him. After the first part of the cave he dropped us off at a second part where we could jut snorkel around and explore on our own. Joe and Dani found a little area that looked like an old entrance that obviously hadn't been used in quite a while.
Once we got back we took off the hunger edge a little with some street food. We wanted to explore the possible restaurants and didn't want to be rushed. We ended up walking almost to the end of the pedestrian area (where Joe and I had a yummy falafel meal once a couple years ago) and found a Thai restaurant that had super yummy my food. The massaman curry was especially good.
Joe and Dani leave tomorrow and Mary comes!
-Miranda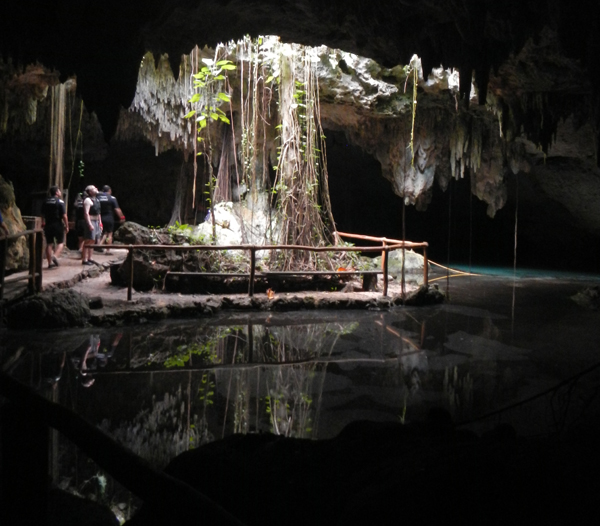 A very pretty spot in the cave.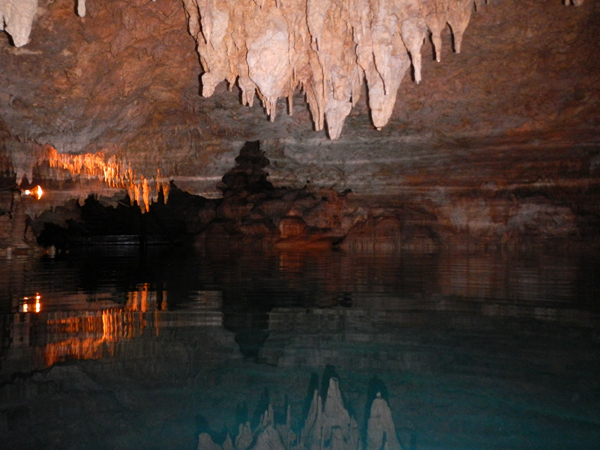 The area of the cenote we were able to snorkel around by ourselves.
[ 5 comments ]
( 118 views )
---
The next morning we were trying to pull money out of the atm and none of our cards would work, including Dani's. We called our respective banks and continued to have problems. We were going to head to cenotes that were a bit out of town but since we weren't sure on our money situation, we started with Cenote Zaci, which is located basically downtown. We didn't expect much but it was actually pretty neat. Joe jumped off from pretty high up which got everyone's attention and encouraged a few others to do the same. We swam around a bit then headed back to the room to see if the banks had our cards figured out yet. Ours worked so we were feeling a bit better about the money situation.
Dani decided she should really go to Chichen Itza. We put her on a bus while we took a taxi to a couple cenotes outside of town. Our cenotes were pretty but a bit of a let down, plus pretty confusing. Our cab driver dropped us off at a back entrance or something so a lady asked for our tickets and we didn't have them but then we didn't know where to get them. We eventually figured it out. We just checked out the first one but swam in the second one.
We met Dani back in the cafeteria. She had quite the experience. Who knew she was heading to Chichen Itza on the most important day of the year, the spring equinox! There were people that had probably planned that trip for months and she just went on a whim.

The reason it's such a big deal is because the shape and orientation of the main temple creates a serpent on the side at sunset on that day. Dani said the grass around that temple was completely packed and the line to get a ticket to even get in was crazy long. It took her about an hour jut to get in the park. However she was able to see everything else pretty easily and quickly since everyone was in the center.
She left a little early to be sure she could get on the bus so she wouldn't have seen it, but it was cloudy, so no one got to see it. The bus was crazy though. She got on the last bus and was the within the last 5 people on. She had to stand for the entire 45 minute drive squished up next to people. She said she was glad she went though.
That night there was a ceremony of sorts in the road next to the town center. We watched that for a bit then found a yummy dinner. The waited made guacamole right in front of us using 1.5 avocados! There were also quite a few vendors set up in the town square that we checked out before heading to sleep.
-Miranda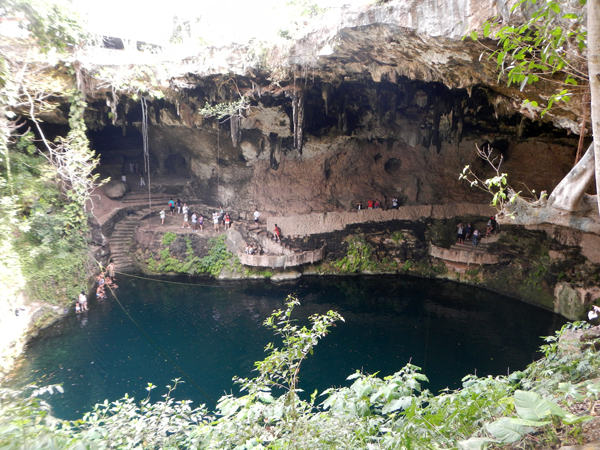 Cenote Zaci in the center of town.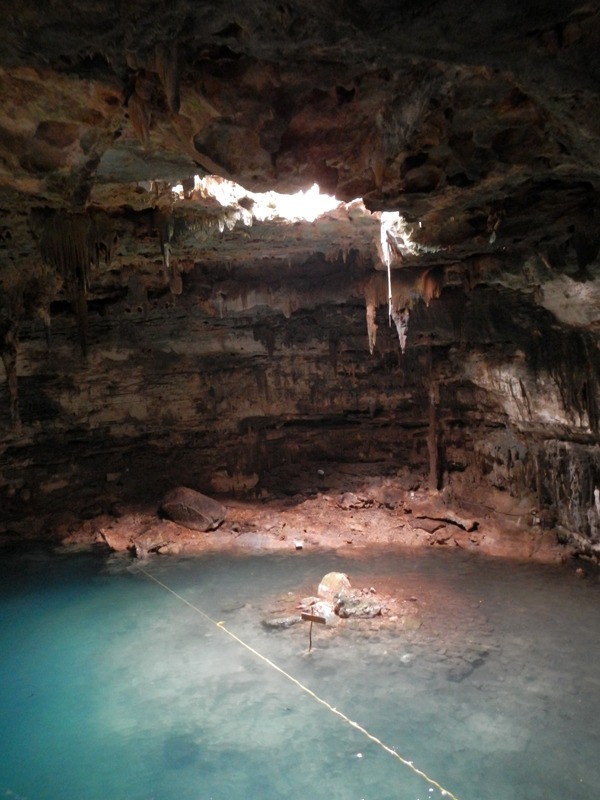 One of the cenotes. We didn't bother swimming in this one.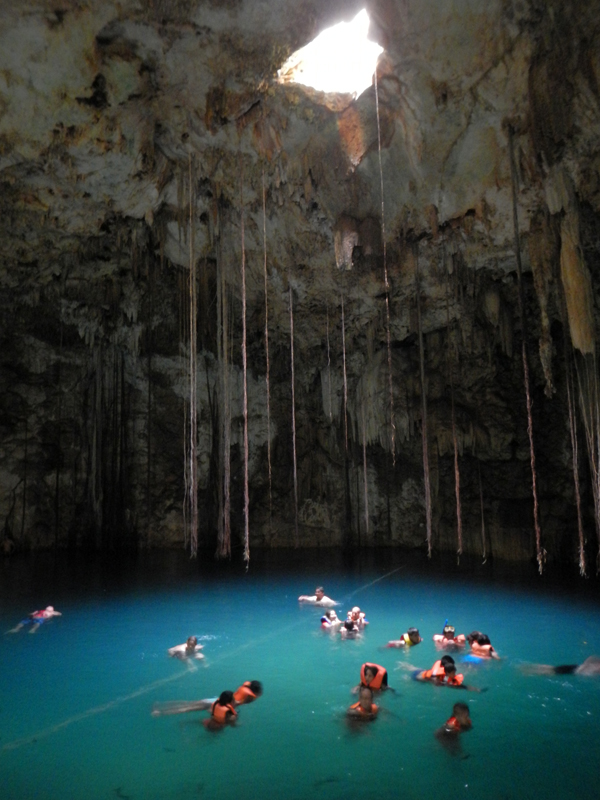 The other one was packed with people swimming.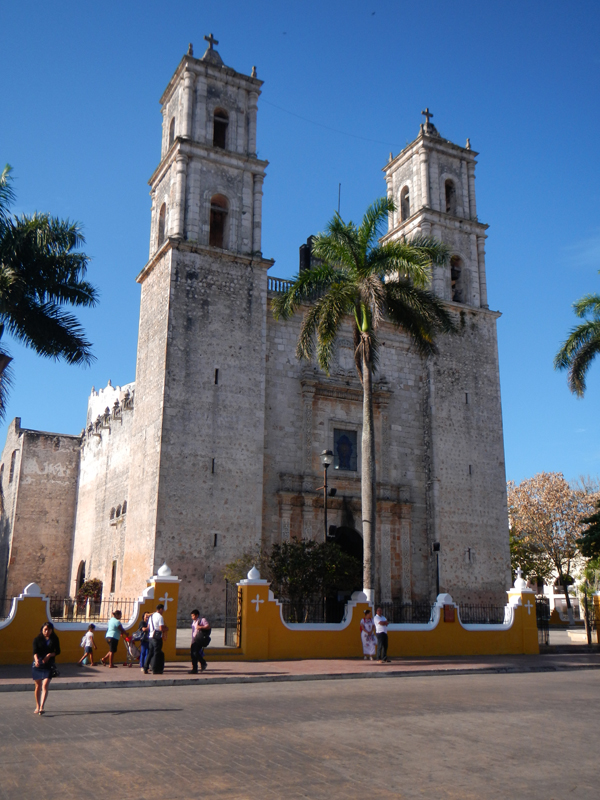 The church at the center of Valladolid
[ 5 comments ]
( 121 views )
---
We got to the site and there were some snorkelers around still. Everything was pretty deep and the waves were getting pretty big. There was also some confusion with the guide, so the second part definitely didn't seem worth it. It started raining as we were getting out of the water. By the time we got back to the place where we were to eat it started pouring. We ate some food then decided to just take a cab back instead of riding back on the wet boat.
It was an ordeal to get changed into dry clothes since we checked out of the hotel, but we figured it out and bought ferry tickets. Our plan being to head to Vallodolid this evening. The ferry was packed! It's a holiday for Mexicans so there were so many that were headed back off the island after their weekend vacation. We're now on the bus on our way. Hopefully it's not too much trouble finding a place once we arrive.
-Miranda
[ 4 comments ]
( 136 views )
---
Next