We arrived in Airlie Beach, found our hostel and started figuring out what trip we were going to do. Joe and I wanted to do a bit more snorkeling. Sandra was more excited about seeing Whitehaven Beach, so we split up for our trips.
We left at 8am and headed to the beach. There was a short hike up to a lookout, then down to the beach. Joe and I just walked around some before heading back to the boat for lunch. Next we went to a snorkel spot. The snorkeling was all right. The coral was neat, as were the fish, but the visibility was awful. So, that was a little disappointing. It was a fun trip though.
We left early this morning for Townsville. We'll be heading to Magnetic Island and spending a few days there. Hopefully it's relaxing.
-Miranda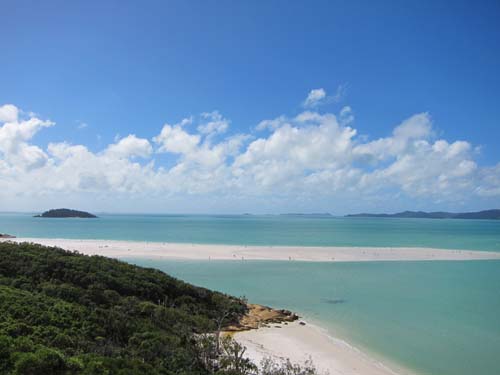 Whitehaven Beach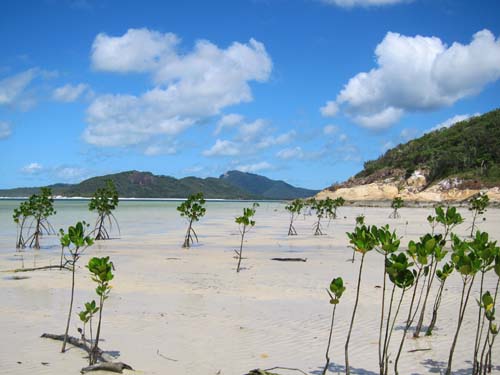 Mangroves growing in the intertidal zone.
[ 2 comments ]
( 5 views )
---

I'll put the updates up by each separate activity just to help prevent some confusion.
We met up with Sandra in Hervey Bay, got to the hostel we had booked and started trying to decide what we were going to do for Fraser Island. After looking over prices and such, we decided to rent our own 4x4 vehicle that included the camping gear, permits and ferry ride. We picked up the truck on Tuesday morning and headed to Fraser. The driving was pretty crazy. The roads are all sand and some were in pretty bad shape. It took a little getting used to what you could do with the truck. Our first plan was to get to the beach. The driving on the beach was pretty good. We had tide time tables that let us know the space of time we could drive on the beach. We stopped and saw a few things, then found a place to camp just off the beach. It started out as a nice spot until it started raining.... Once the three of us were in the tent, the wind kicked up. So, Sandra kept getting hit in the head by the tent pole, plus it would rain once in a while. Basically, we did get some sleep, but we all woke up with wet feet from the rain. When we pulled the pads out, Joe was actually sleeping in a puddle. Fortunately, the pad he was on didn't let the water soak through.
We put everything back in the truck and were on the beach by 6:30. The beach was a little sloppy driving, but we got to see the sights we wanted to see and never got stuck in the drier sand. That night we decided to just head inland and try staying at a campground. After some hassle we got a spot, set up the tent, had a yummy dinner and were back in the tent by 8:30.
The last day on Fraser, we had quite a bit of time to kill. We had a relaxing breakfast and tried to let things dry off some, but of course it started sprinkling again, so we packed everything up and headed for Lake Makenzie. The lake was gorgeous. We had lunch there and went for a swim before heading to the ferry to go back to the mainland.
In all we had fun, but the weather was a bit of a pain.
-Miranda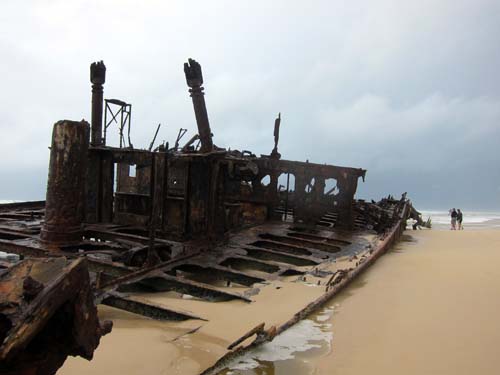 The Maheno Shipwreck.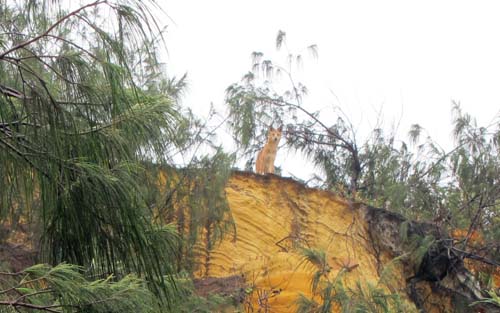 The dingo we saw!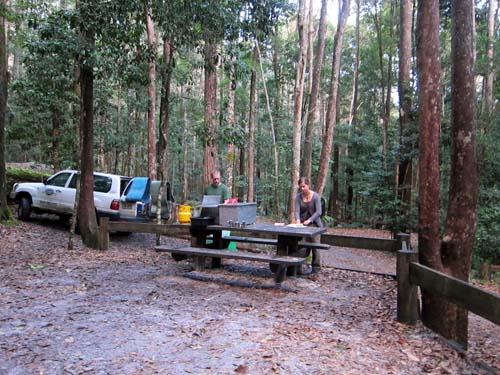 Joe and Sandra getting dinner ready at the campground.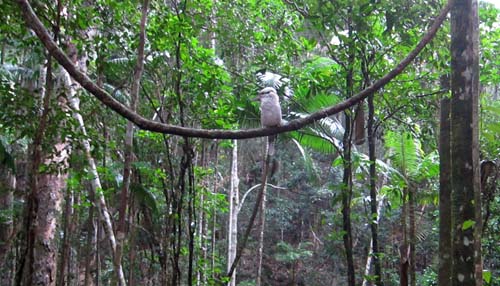 Kookaburra
[ 1 comment ]
( 3 views )
---
When we checked out the bus schedule to get to Gympie (where we'll catch the Greyhound to get to Hervey Bay) it was almost 4 hours of travel, transferring 4 times. Dee, a friend of one of the people we were staying with, offered us a ride to Gympie. He took us on a slightly scenic route and even drove through an area known to have a lot of kangaroos. Unfortunately, now is the worst time to see them. They normally come out in the morning or evening.
So, we're currently hanging out in Gympie at the bus stop waiting for Sandra and the bus.
By the way, the photo I took of the koala did not turn out at all. I could post it, but I'd have to circle the koala and you probably still wouldn't be able to see it. Haha. Oh well.
-Miranda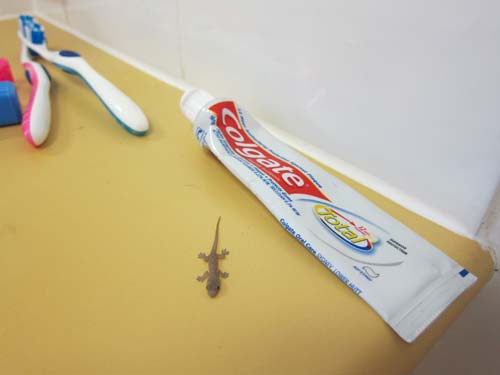 Super cute lizard that was in the bathroom one morning.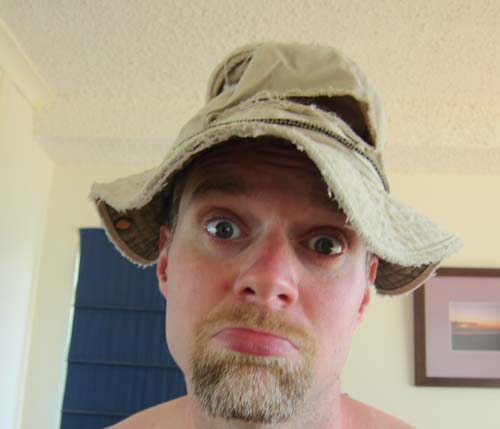 We finally threw Joe's hat away. We had been using it to hold the ice (in a plastic bag, but still) for my ankle, and the moisture apparently made the holes worse.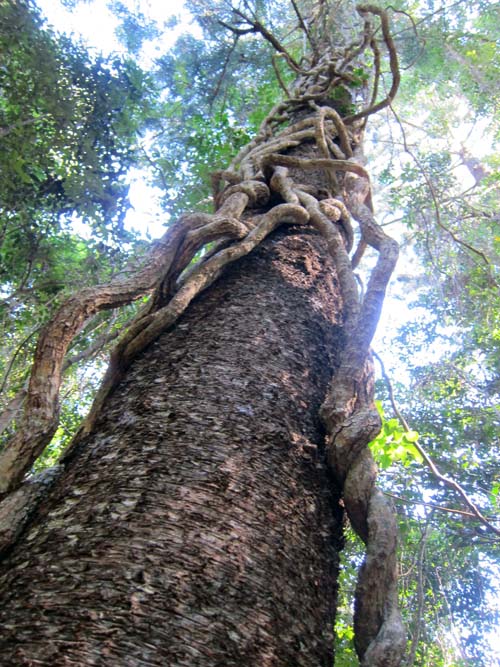 Very neat looking Strangler Fig.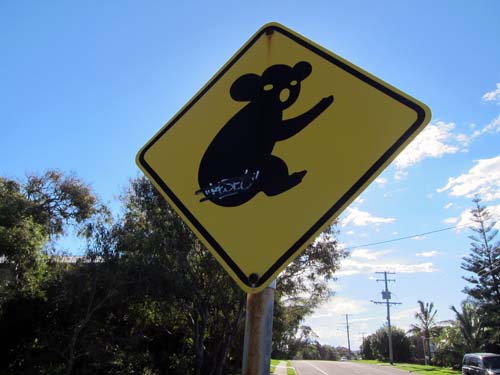 A koala sign!!!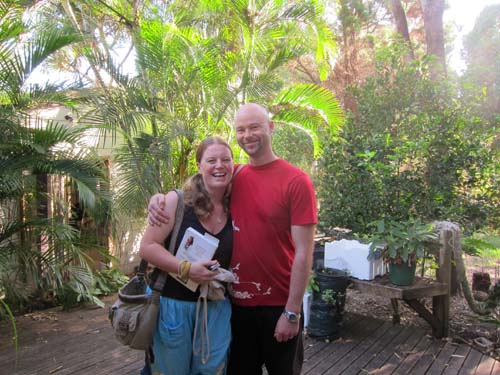 Baz and Tasha.
[ 4 comments ]
( 33 views )
---
We made it to Noosa Heads and found a great place for lunch, Quenchers. There was a backpackers nearby, so we booked a room for the night. I hung out and worked some while Joe went to the beach to check out the surf. Unfortunately, the waves were tiny, but at least he got some time in the water.
The next morning, we asked about staying another night and they said they were all booked up. We left and headed back to Quenchers for breakfast. We started looking for someplace to stay, but everything Joe checked was completely booked. We started even looking at the possibility of renting a camper van, but the caravan sites he checked were booked.. .. . He even checked inland more. They were booked. Basically it was looking like, sleep on the beach or go back to Brisbane.
He ended up striking up a conversation with the owners of Quenchers (we shared a small breakfast, hung out, then had an early lunch) and they ended up offering for us to stay in their campervan. We took them up on it. I really wanted to check out Noosa National Park and maybe see a koala, so we headed there. They had a board with a koala sighting on it! :D It was close by even, so we got to see a koala up a tree. First koala sighting, not in a zoo.
We did a short, 1km hike around a nice loop, then Joe wanted to do a longer, coastal hike. He left me in the park to read and hang out some. We met back up again later, had dinner, then headed to their house.
We chatted for quite a bit before heading to sleep. It was quite comfortable. We'll be back there again tonight. Hopefully we'll find a place for Sunday night by looking today though.
I'm using Joe's computer, so I haven't uploaded any photos to the computer yet. I'll post any, if there are any good ones, later.
-Miranda
[ 3 comments ]
( 22 views )
---
We left Saturday morning to head back to Brisbane. I had looked up places where I could possibly see a koala (not in a zoo) and Noosa National Park was one place mentioned. Joe found a lady that was renting out a room south of there, so we booked a night.
There is a great vegetarian place in Brisbane where you get a lunch plate of yummy food, a drink and dessert all for $12. On our way back to the train station to start our trip north to the Sunshine Coast, I managed to misstep off the curb and sprain my ankle.. . . . Joe got to carry both packs while I hopped the 5 blocks or so to the station. We then road the train and bus for almost 4 hours to get to the place we're staying.
The apartment is great, the lady is really nice. She's already been super helpful. She has a pseudo ice pack and is letting me use her hiking stick to walk around. We have through Tuesday night paid, so I guess I'll just be getting work done. :p
-Miranda
[ 5 comments ]
( 18 views )
---
Back
Next