We had a fun time walking around. We went to the seal show and saw a lot of babies. They currently have 3 baby elephants, young chimps, a baby gorilla, baby and young wallabies, all sorts of fun animals to watch.
We were pretty tired after walking around the zoo all day, but we found some sushi and gelato on the way home from the ferry.
-Miranda

The Opera House from the ferry.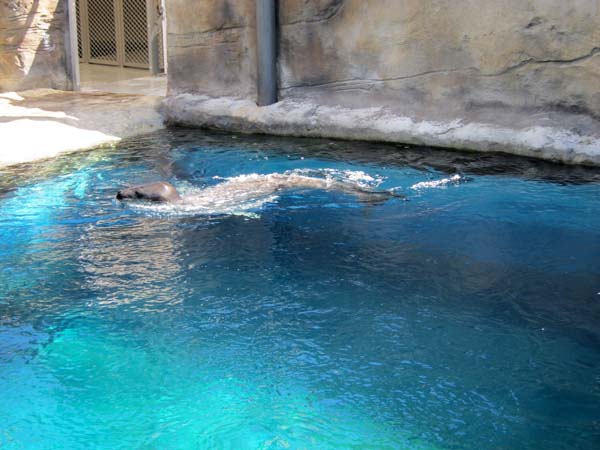 Leopard Seal. Apparently they are the only zoo to have them in captivity.
[ 2 comments ]
( 12 views )
---
For our first full day we decided to check out more of the city. Our hostel is near the Botanic Gardens, so we headed that way. Unfortunately, I forgot to grab my camera, but I can't see what I'm taking pictures of anyway.

The gardens are where the fruit bats 'sleep'. I put sleep in quotes because they don't really appear to be sleeping. They super noisy and crawling between the branches. It's super crazy. When the sun goes down they're flying everywhere.
Anyway, we headed towards the Opera House, since it was nearby. Not quite as many people around there as I expected, but it was pretty neat looking. We stopped to have some fancy sushi nearby before heading off. From there, we basically just walked and looked around. We were going to get another Vodafone broadband card for internet, but apparently we needed two forms of ID or our passport. Since neither of us had our passport on us, that had to wait until the next day.
For dinner we found a completely vegan shop. It was very good. Fortunately, there is one closer to where we're staying, so we had lunch there this afternoon.
We're spending this evening working and trying to figure out what we're doing while in Australia.
-Miranda
[ 2 comments ]
( 12 views )
---
The next flight to Sydney was the next morning, so we had to decide what to do for sleeping that night. We weren't sure if you could sleep in the airport until we stumbled upon the site "A Guide to Sleeping in Airports"
http://www.sleepinginairports.net/.
So funny. Anyway, we stayed at the park we were at until around midnight. We then got a ride from the guy that bought our van. There were so many people in the airport! It was crazy. People sleeping everywhere.
We tried sleeping for a bit, but realized it wasn't going to happen, so we just watched some stuff on the computer until the airport opened up at 4am. We tried to sleep on the plane, but that wasn't overly successful either.
If we booked with the hostel we found for at least 3 nights we got a cheap shuttle ride from the airport, so we decided to go for it. We hung out at the airport for another few hours and then called for the shuttle. We made it without a problem and are in a room with two other guys. Fortunately they are both pretty quiet.
-Miranda
[ 4 comments ]
( 19 views )
---
Yesterday morning, before leaving, we went to Cadbury World with the same German couple (we woke up to them parked across from us at the holiday park). It was fun. It was basically a tour around the chocolate factory. From there we headed out of town. We didn't really stop much along the way. We found the DOC site closest to the road and Christchurch and stayed there for the night.
We woke up this morning and headed out again. We were still 250km from Christchurch, so we have a bit of driving to do today. We're currently in Timaru having lunch. The plan is to get to Christchurch then start the process of trying to sell the van before we fly over to Sydney.
-Miranda
[ 6 comments ]
( 18 views )
---
We had dinner at a food court, oddly enough. They had Nepalese food. It was mostly Indian with some different spices. For the night, we stayed at a DOC site not far out of town. The next day, we headed to Te Anau. We got there close to dinner. Unfortunately, there wasn't much variety there, so we ended up with a yummy pizza. For the night, we stayed at the first DOC site north of town.
The next morning, we drove halfway to Milford Sound and stopped at "The Divide" which is the dividing point for which way rivers flow. The hike there was a 2.5 hour one up Key Summit. It ended in a great 360 degree view of the area. We decided not to keep going all the way to Milford Sound because the van has been acting up and we really didn't want to end up broken down out in the middle of nowhere. For how popular this destination apparently is, there was very little traffic.
The next day, we met back up with Sandra. She is Swiss and spent a month in Thailand and really loved it. Since we're thinking of heading there, we were hoping to learn more. We did a 3 hour lake hike with her and then spent the rest of the day chatting and learning more about Thailand. After talking with her, we're pretty excited about going there except for the heat and mosquitoes.
Wednesday was spent heading towards the south coast. We stopped in Invercargill, another decent sized city, and stopped in Queens Park. The park is huge and very pretty. They have a 3.4km fitness loop, where there are 'stations' that you are supposed to stop at and do whatever excercise the sign tells you to do. We walked over half of that, doing most of the excercises. From there, we headed towards the animal park and aviary they had. It was very well put together. There was a huge rose garden we walked through. There were probably hundreds of types of roses labeled throughout a couple different gardens. We stopped and smelled quite a few of them. Turned out, one with "Joey" in the name was one of the best smelling.

For dinner that night, we found some quick, take away sushi and a Turkish place. Turkish kebabs are basically wraps, not what we think of when you hear 'kebab'.
Along the southern coast lives the Yellow-eyed Penguin, which is the world's rarest penguin. There are a couple bays where you can possibly see them at dusk, so our aim was to head that way. We made it to Waipapa Point, where some Sea Lions sometimes are, and ended up stopping there. It was too close to sunset, so even if we hurried to Curio Bay (where the penguins were) we wouldn't make it. Since this place had a bathroom, and no 'no camping' signs, we slept there. During our walk along the trail above the beach though, Joe did spot a sea lion hopping up the shore and headed for the grass. So, we did get to see one, even though it was a ways away.
This morning, we headed to Curio Bay. There is a petrified forest in rocks which was very interesting. We walked around a bit checking that out. On our way back up the steps, Joe happened to notice something odd along the bush line. It was a penguin! It walked out to a water puddle, drank for quite a while, then headed back to, what we assume was, its nest. Normally you only see them at dawn and dusk, so we felt pretty lucky. One couple that was there at the same time (the woman actually almost walked right up to it not realizing it was there before she saw us waving at her) said they watched for them last evening for a couple hours and never saw any.
Now we're just making our way towards Dunedin. The van has been starting up worse and worse every morning. We may try heading out of New Zealand from there, but we're not sure yet.
-Miranda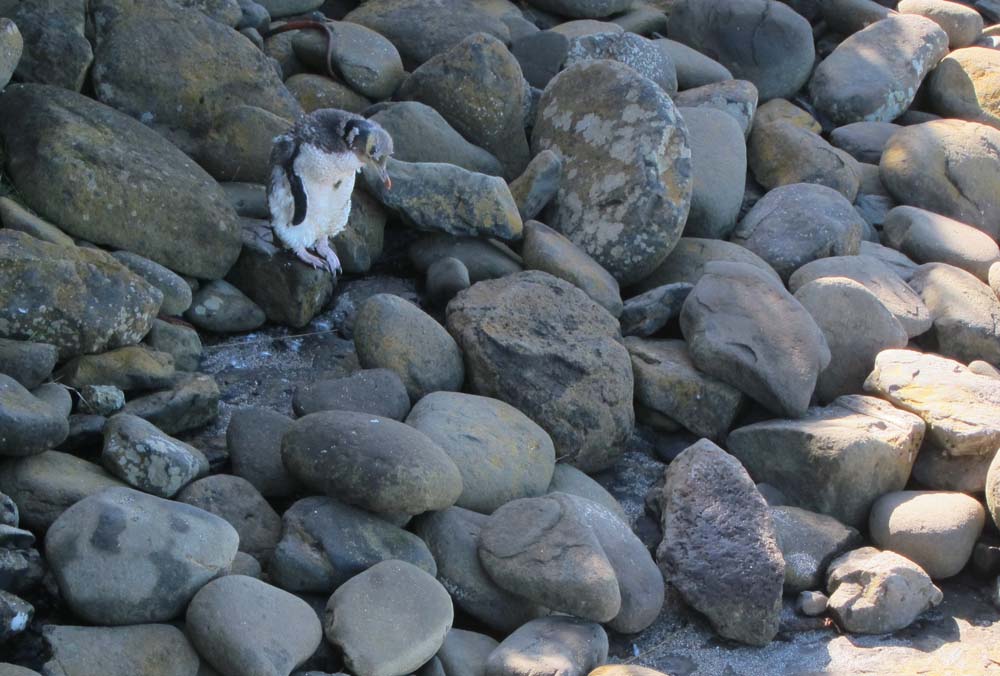 Yellow-eyed Penguin. It's molting right now, so, pretty ugly. (Click on photo to enlarge.)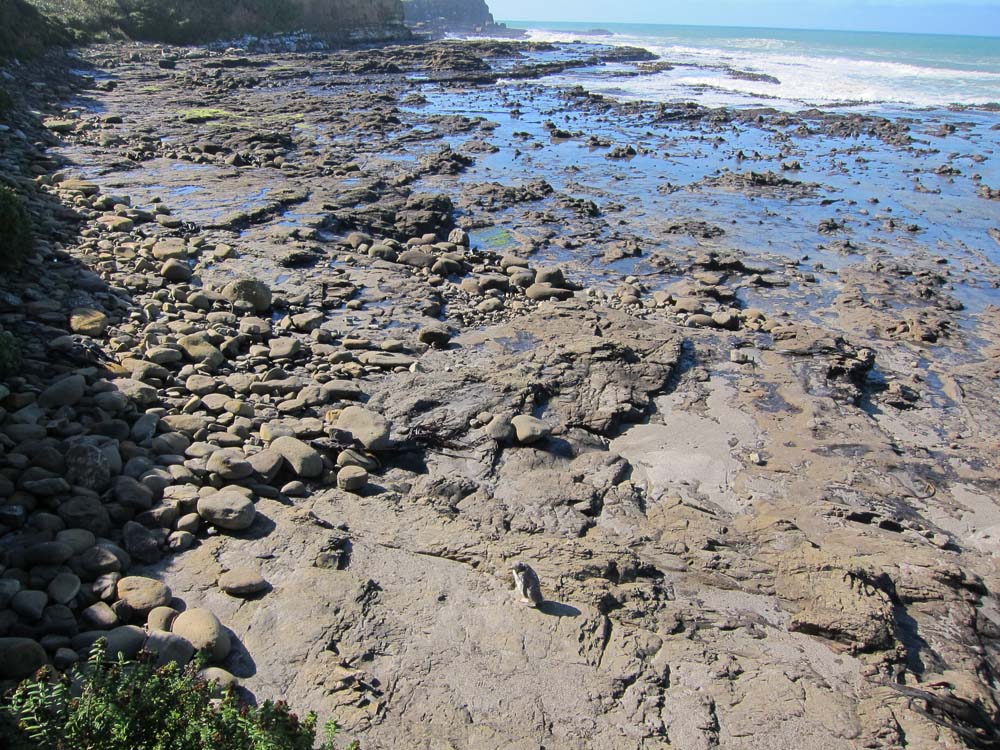 (Click on photo to enlarge)
[ 1 comment ]
( 5 views )
---
Back
Next