After much thought and debate, we decided to just take the RV home. We had to leave immediately though because the tabs expired March 1st. So, we left Friday evening, drove until 3am and stayed that night in a rest stop near Bozeman, MT. We left in the morning and got on the road again.
North Dakota was crazy! Not only was it super cold, but it was foggy and everything was covered in frost. A gas station was creepy with how much frost there was.
We ended up running out of gas about 3 miles from exit that had gas. We might have been able to get there, but it was about 1am, so we thought it best to just stop at the rest stop that we were just passing. It was 16 when we got up in the morning (9am) and that felt warm, so I don't think I want to know how cold it was while we were asleep.
Joe talked to a guy that worked there and he just happened to have some gas in his pickup. So, we made it to the exit with the gas easily. We basically drove straight home from there and got back around 7pm.
We'll probably stay for a couple months. Once it warms up we'll most likely be heading out again.
-Miranda
[ 10 comments ]
( 55 views )
---
We left by heading over the Golden Gate bridge. Not only was it sort of necessary when you're in San Fran, but it turns out that was the best way to avoid having to pay any bridge tolls!

It was already pretty late, so we didn't get very far. We were super tired, so couldn't make it to a rest stop. We found the first exit that looked pretty dead and stayed on the on ramp. It was cold! We left right away in the morning, had breakfast out (just a quick Subway/Starbucks stop) and found a little place in Grants Pass for a late lunch. We made it to about 50 miles south of Portland. We could have gone farther but any east of Portland, the weather was saying super cold. We left right away in the morning, only to hit the beginning of Portland's rush hour traffic. For some dumb reason, we drove through town instead. We needed gas and breakfast anyway... we found gas, and ended up getting milk for breakfast there.
While stopped at one gas station (around Spokane) we noticed there was coolant dripping out from the truck. When Joe checked it, it was really frothy. Upon looking that up, he found out that there was a high chance the head gasket was going. Since there was nothing we could do about it, we just kept going. We made it without a problem. The roads were mostly good. It's snowing lightly today and it sounds like it's supposed to snow this weekend, so apparently we have good timing.

Since we're in Kalispell now, just working, we probably won't be updating the blog very often. Just for a heads up.
-Miranda
[ 2 comments ]
( 36 views )
---
On Thursday, Laura had the day off, so she drove out to us to spend the day. We drove to a national forest nearby and climbed around on some really neat rocks. We then drove a bit farther to a man-made lake. Laura had to gt back to LA that night because she had to work early, but it was a blast having her come see us.
We left Connie's the next morning to start working out way towards San Francisco. Connie and her mother were wonderful hosts. We felt very comfortable there and had a good time being able to visit and work. That night we just found some place on the side of the road to sleep.
On Saterday we left and had decided we would just drive along Highway 1 to see the coast. We had missed that section the coast the last time we went this way because we were inland checking out the national parks.
We stopped in a cute little town for breakfast. We stopped at the Hearst Castle in San Simeon and looked around the small museum type area they had. We were too cheap to pay the $48 it would have cost for both of us to go on the tour. However, there was something much cooler down the highway. There was an Elephant Seal viewing area. We figured the chances of there actually being any around were pretty slim. Boy, we were wrong! There were a ton, everywhere! It was very neat. I took far too many photos.

One of the males was enormous! There were lots of other, smaller males that were sparring. Apparently this time of year is when they are on the beaches sparring for practice and dominance.
Not long after leaving that area, we saw a couple hitchikers and stopped to pick them up. The next section of Highway 1 was following the mountainous coast. So lots of winding and hills. The views were amazing.
We stopped at one neat spot to look around. We then continued on our way and started looking for some place to stay the night. Once State Beach cost $65 per night!!! Apparently it was just a parking lot on the beach too. So crazy. We knew there was one more place just down the road, so we crossed our fingers and hoped that it was $35, which is more standard for state beaches. It was. So, we stayed there lst night.
Sam and Daniel were going to just leave from there, but it was already dark. They left, and were back within 10 minutes. Apparently they just walked in a circle and decided it would be better to just stay in the site (as Joe had offerred they could do). We spent some time chatting with them, which was fun.
This morning we stopped at Home Depot to buy them a tarp to help keep their sleeping bags from getting soaked during the night. We then found a place to drop them off in Santa Cruz. We drove around a little and ended up going to the Saturn Cafe, which is a completely vegetarian restaurant. It was quite good. Far too many options.

Our plan for the day has been to work our way towards "The City" and find a park to stay at outside of it. We drove along this awesome, windy road through Big Basin Redwoods State Park. The town before the park, called Bonny Donn is a super neat looking community. A small road winds through the very forested area, filled with Madrosa's and Redwoods. There was a girl dancing on the side of the street with an elf hat on, holding a sign, so we stopped and bought 2 cookies and hot cocoas. The state park was gorgeous! It was so nice seeing Redwoods again.
We are now in Half Moon Bay State Beach. We expected it to be expensive. The only sites that are pricey are the ones closest to the beach, otherwise they are the normal $35. Also, there's barely anyone here, so we're excited.
-Miranda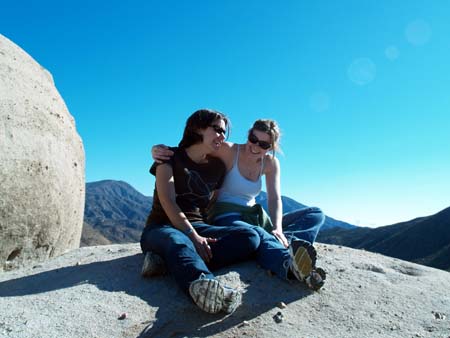 Laura and I at the top of the rocks we climbed.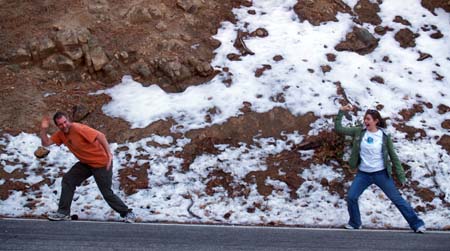 Laura and Joe throwing snowballs. In CA!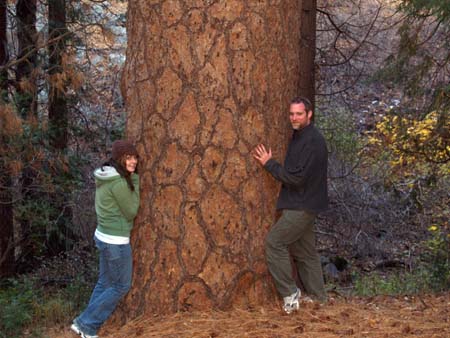 A very large pine tree.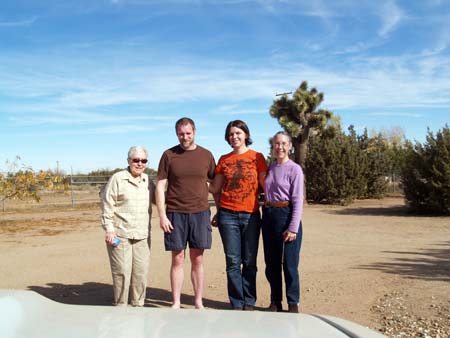 Fran, Joe, Connie and I right before we left.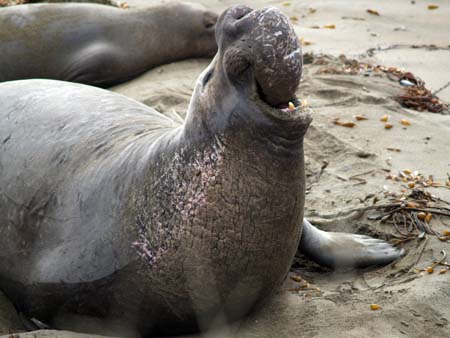 A large, male Elephant Seal. There was a larger one, but the pics aren't very good.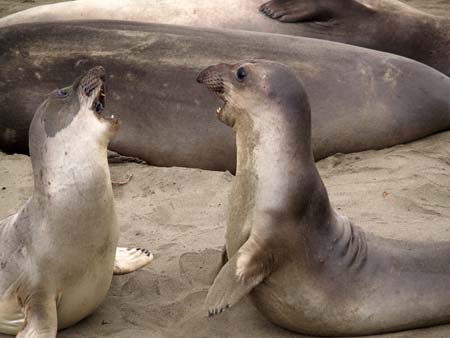 Two young males sparring.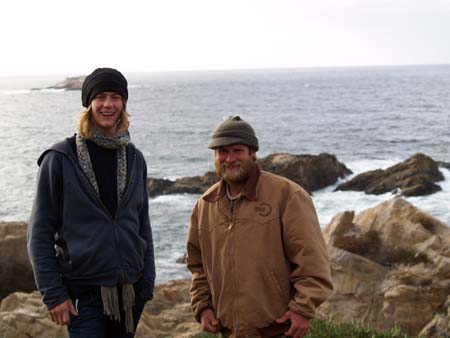 Daniel and Sam. The hitchhikers we picked up.
[ 1 comment ]
( 5 views )
---

I'm impressed and happy she actually got up. It was actually her idea. We left and headed to Ventura to pick up Jenny who was down from San Fransisco to visit her sister. We had lunch with her then spent some time at the beach.
After we dropped Jenny back off at her sister's place, we headed inland some to Connie's place. Connie works on the game and we had never met her before. She and her mother have been very welcoming and great. It's pretty chilly at night, so tonight we're probably going to use the heater that they have to keep it a bit warmer.
-Miranda
[ 3 comments ]
( 16 views )
---
We got into San Diego then headed for the zoo. David went riding around downtown on his bicycle to see about finding Cindy a cheap bike. The zoo was awesome. We were in there for 4 hours and still didn't see it all. I have tons of photos. I'll probably just post the best ones on facebook. There are too many to try and post them here.
After the zoo, we headed to Goodwill, picked up a bike for Cindy, then went to a really neat, completely vegetarian restaurant. The food was excellent!
We couldn't really decide what to do from there. We ended up heading up the coast a little ways in hopes of finding a state park with an available spot for us. We tried two and both were booked solid. So, we found a place on the side of the road where there were no signs. And, the next morning we found a $50 ticket on our window. Apparently, RVs are not allowed to park in the street anywhere here overnight. . . Yep. We were supposed to know that.
David and Cindy loaded up their bikes this morning and took off. So, hopefully they have fun.
-Miranda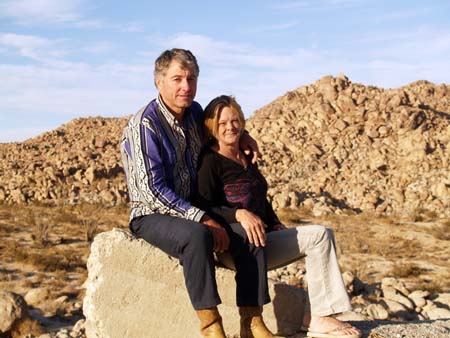 David and Cindy.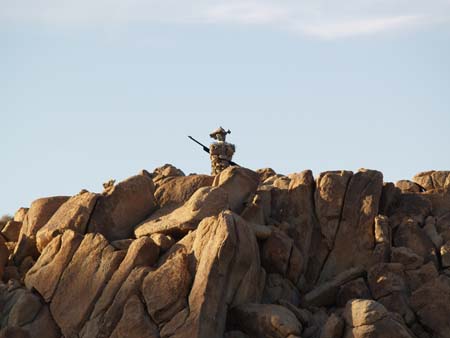 A crazy statue made of rocks on a nearby mountain...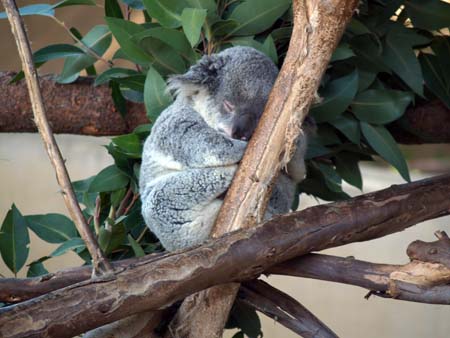 A super cute koala.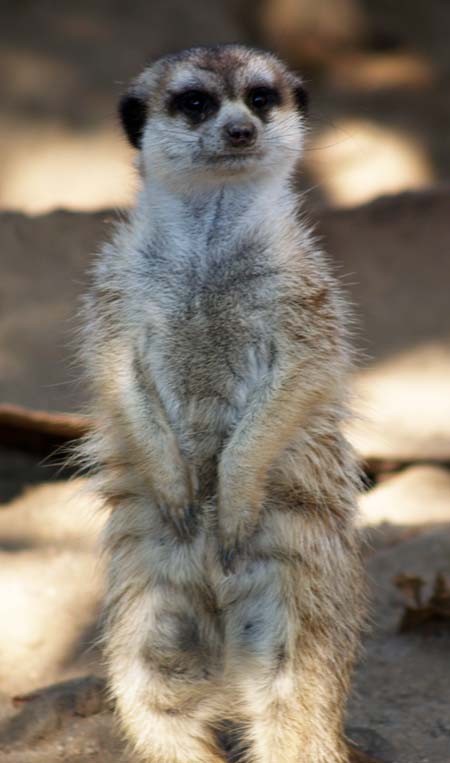 Meerkat.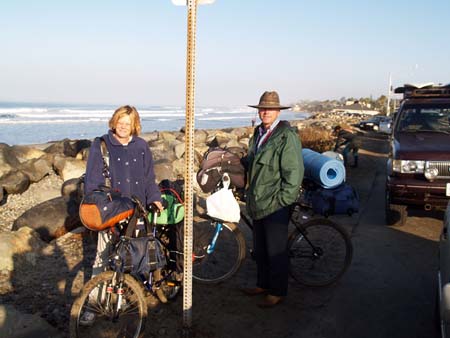 David and Cindy heading off.
[ add comment ]
---
Back
Next