-Miranda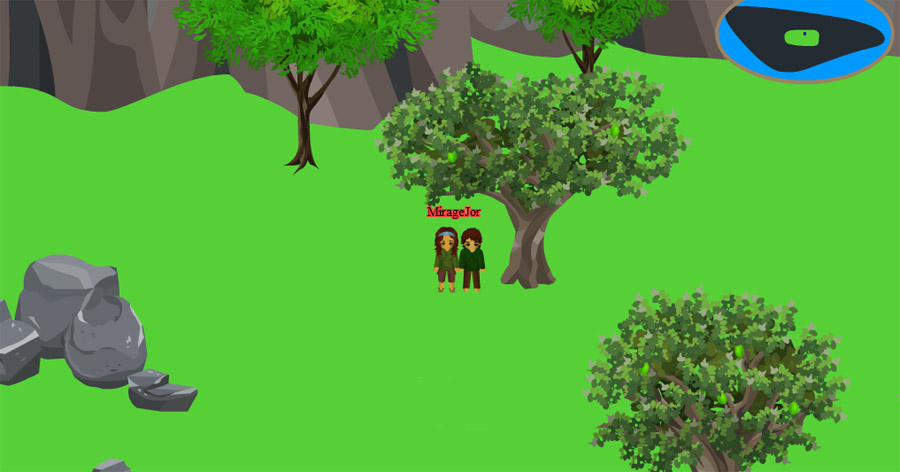 A screenshot and Joe and I in the game. (Click to enlarge)
[ 3 comments ]
( 36 views )
---
A couple weeks ago, the weather was perfect, so Pat and Tom took Joe and I downhill skiing. Neither one of us had been skiing in many many years. It was really fun. We mostly stayed on a pretty easy hill. Pat and Tom wanted to try taking us on a more difficult hill to see how it went. Joe ended up missing the turn so Pat went with him and Tom stayed with me. My hill was hard. I didn't fall at all, but I went as slowly as I could and was stressing myself out the whole time. Joe said his hill was really hard (steep) and he fell at least 8 times. We both went back to the easy hill.

There was another one that was slightly harder at the bottom of the hill we had been going down. We tried that one and loved it. Just a little more challenging, but still possible. Of course they closed it by the time we got back to the top since it was an hour from closing time.
Around that same time, it was warm and there was fresh snow, so Pat and Joe made a snow bunny. It was sort of creepy.... While I was out taking pictures of it, Curly decided to climb up one of the posts that holds the roof over the porch area. Joe had to help him down. He probably would have figured it out eventually, but might as well be nice.

Other than that, it's just been work and more work. The cats are doing great. They can be pretty annoying, but, for the most part, they behave.
-Miranda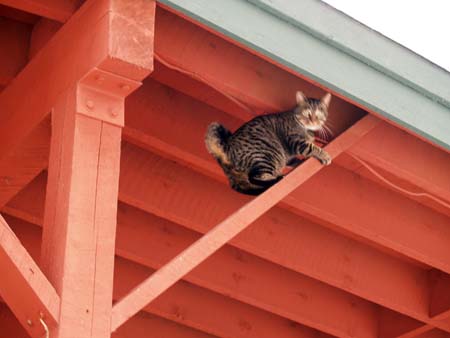 \
Sorry for the out of focus photo, but that's the best one I had of him up on the post.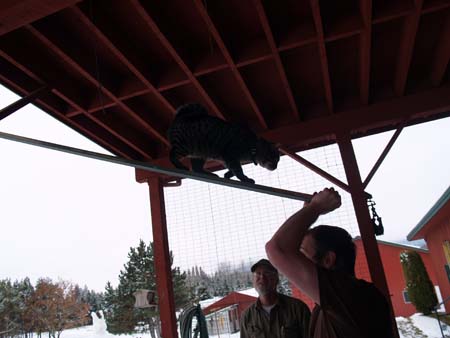 Joe helping Curly down.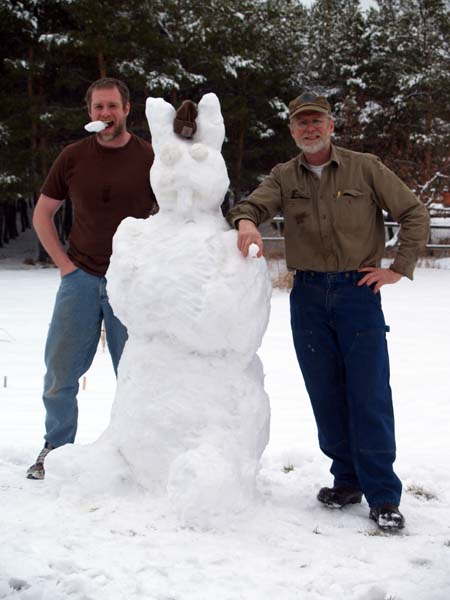 The creepy bunny.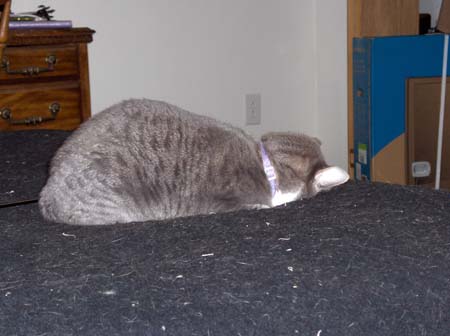 How I found Pickles sleeping one day on the bed.
[ 7 comments ]
( 57 views )
---
On a side note, it's been snowing for two days here and it's absolutely gorgeous! It's so dark though. We've been getting up around 8:30 and it feels more like 6:30. We also spent Friday checking out some of the gyms around town. One was tiny, no pool, and really fancy, but not too pricey. It was pretty busy though. We did come during the lunch time work out though, I guess. We then checked out The Summit, which is the massive gym that is associated with the hospital in town. It's huge! Has a lap pool, climbing wall, track and lots of other stuff. It is pricey though. The last place we checked out ended up being really cheap (they were having a special for this month). They have a small therapy pool, so not good for lap swimming, but they have a hot tub. Also, the couple times we've been there, it has not been busy at all, which we both really like. So, hopefully we keep up with this. The plan is to go basically everyday for an hour or two.

-Miranda
[ 3 comments ]
( 57 views )
---

Laura has been working in the mornings, so Joe and I are able to work as well. We did have sushi the first night here. The place we found had 6 different veggie-type sushi rolls, which were very good. The next night we went to see New Moon and then had dinner at a vegetarian Ethiopian restaurant. It was a different experience and very good as well.
We made Thanksgiving dinner when Laura got home from work yesterday. That was fun. Don't really know what are plans are from here. We'll be playing it by ear for a bit, as usual.
-Miranda
[ 2 comments ]
( 9 views )
---
The next day we drove to pick up Stacy, one of the original beta testers of Horse Isle. We all had an Indian buffet and went to the San Diego Natural History Museum. There was a Darwin exhibit that was very interesting along with some fossil exhibits.
Joe and I really wanted to go back to that vegetarian place again, so we headed back that way. Oh my gosh, parking in this city is impossible! You can park on the streets for free (at least in that area) but even all the residential areas were packed. We finally found a place and went in. The food was very good again.

We stayed in front of Stacy's house last night and, yay for no ticket.

-Miranda
[ 2 comments ]
( 18 views )
---
Back
Next