There is a family of foxes living in Pat's woodpile out back. One morning we saw them out playing, so I went out, got a bunch of photos and took a video. The cats stay pretty close to the house, so I don't think they'll bother them. They pretty much stick around the wood pile. Curly's the only one that really wonders, and I'm not too worried about him. The hope is to head out within a couple weeks, but we'll see how work on the RV goes.

-Miranda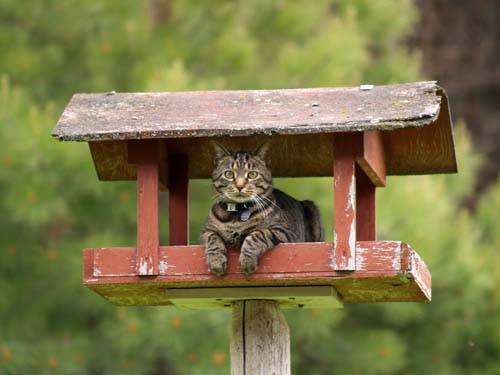 Curly in the bird feeder....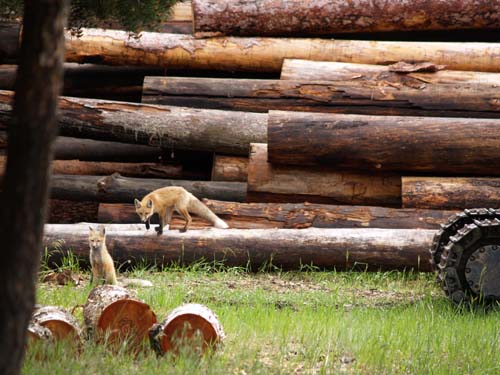 A couple of the fox kits.
Here's the video of them.
http://www.youtube.com/watch?v=c6Dx4VlokJU
[ 3 comments ]
( 12 views )
---
There were oil derricks everywhere, but we finally found a road that didn't have one at the end. We found a spot and pulled over, then let the cats out. The day was gorgeous, so we worked for a little bit, then decided to go for a bike ride farther down the road to see how it looked. The road ended at a large field that overlooked the nearby river. We walked down the hill to the river, then worked our way back up the hill to the bikes and back to the RV. Unfortunately, during that time, I got quite a nice sunburn on my back. Apparently I'm not used to that part being exposed now that I have short hair... Ooops.
The cats were super happy that they got to hang out outside a lot, so we stayed there the night. We left the next morning and kept working our way down Highway 2. We got to Havre, MT and stopped for dinner. After leaving there, Joe noticed some little girls standing outside on the sidewalk and realized it was an ice cream shop, so we stopped there and got some ice cream. We then continued on our way and made it all the way to the continental divide between East and West Glacier on the southern border of Glacier National Park. We stayed at a rest area there. The hope was to check out some of the forest this morning, but it was pouring last night and still pouring today, so we just drove on through and made it to Kalispell around 11.
We don't know how long we'll be here, but we have some work we want to do on the RV, so at least until that is done.
-Miranda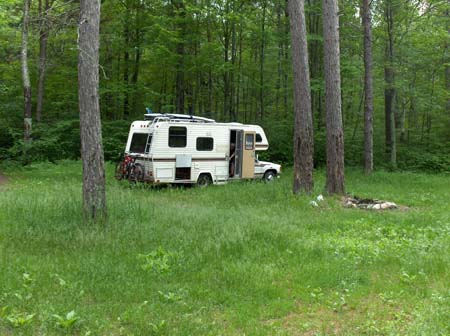 The spot we stayed at in the national forest in Minnesota.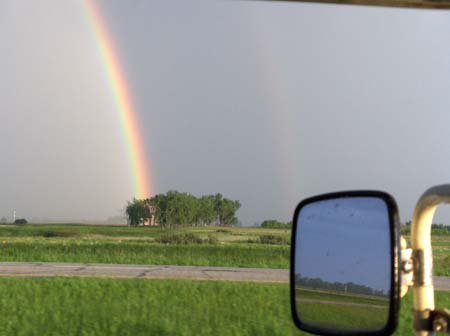 A double rainbow we saw while driving through the rain.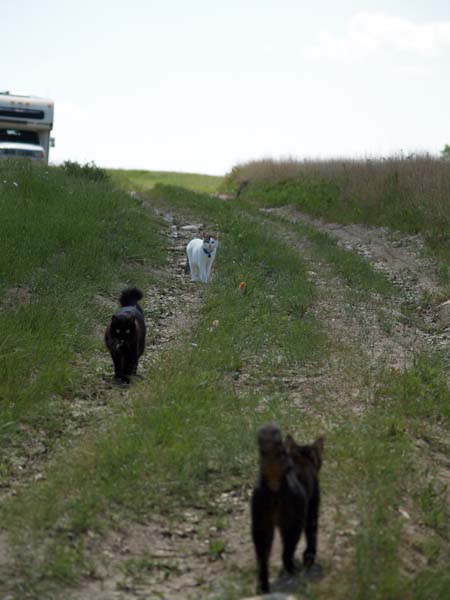 The kitties following us outside at the national grassland in North Dakota.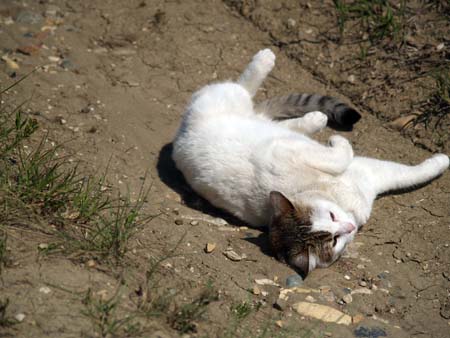 Happy Lucy.
[ 3 comments ]
( 20 views )
---
Our aim yesterday we for the Chippewa National Forest. There looked like there were probably lots of spots we could have stayed. We picked a road and went down it. At the end, it was close to the lake in the area and a nice clearing that even had a fire pit. Unfortunately, there was also some garbage there, but not terrible. It's probably a popular place on the weekends. The cats had fun playing outside and we even used our little triangle chairs we bought at REI last year, to eat dinner down by the lake.
This morning, we left by around 10ish. We stopped in Bemidji and had a wonderful lunch at a cafe in, what I assume was, downtown. The food was excellent. They even had a homemade veggie burger, which is not always easy to find.
We're on our way again now and hope to make it to a patch of National Forest in North Dakota, but don't know if we'll make it. My allergies have been acting up a lot, so my eyes are heavy and Joe can't drive too long anymore. Who knows, we may end up at a rest area tonight. We'll see.
-Miranda
[ 3 comments ]
( 4 views )
---
Joe really wants to leave tomorrow morning, but considering we haven't even started packing, I can't see that happening. We'll see. Who knows.
-Miranda
[ add comment ]
---
During our last trip we were having lots of issues with the power. We aren't really sure if it was the battery, the solar, the fact that it was winter or the laptops. Possibly a combination of everything. Joe's going to pull the solar panels off the old RV and put them on this one since there is room on the roof for them. We also really want to bring the surf boards. It would be far too frustrating to be on the coast and not be able to surf. So, he's trying to figure out the best way to get the surf boards on the RV and the solar panels mounted. We also decided to pull out the fridge. We only used it a couple times, so the space that will be created by removing it will be really nice. Also, we're probably going to get a DC cooler which will hopefully be more efficient and smaller for when we do want some cold things.
-Miranda
[ 1 comment ]
( 3 views )
---
Back
Next