The class consists of 5 chapters or theory from a book (4 quizzes and 1 final exam), confined water skills (typically done in a pool) and 4 open water dives. This normally takes 4 days, but some often do it in 3. The guy that I ended up doing the course with, needed to complete it in 2 days. He only had the weekend. So, the first day we did all five chapters spread throughout the day, the 4 quizzes (really short and easy), the confined water dive skills for chapter one and our first open water dive.
For the second day, we went out and did the rest of our confined water dive skills, then headed out for our second open water dive, which was at a small boat wreck. We saw a Frog Fish! So crazy! I highly recommend looking these things up. They are nuts. I never would have spotted it if my instructor, Darta, hadn't pointed it out. We also saw a decent sized cuddle fish, some lion fish, a scorpion fish and quite a few blue spotted rays. Very neat area. After lunch, we went out on the boat and did two more dives. They were also very fun and interesting. Once we got back, we took the final. I got only one wrong. :D So, I am now certified! Woohoo!
Today, Sandra, Joe and I went for a dive trip to Tulamben (http://www.aquamarinediving.com/sites_tulamben.html). It was very cool. It's an old WWII wreck. There were fish everywhere. A huge school was right by the wreck when we were approaching it. There were also some large tuna not far off. We did one dive around the wreck before coming up for lunch. After about 50 minutes, we went back in and this time went inside some areas. We saw Humphead Parrotfish, which was really big.
The diving has been amazing. So much fun stuff to see.
-Miranda
[ 2 comments ]
( 20 views )
---
After ubud, we traveled to Pandang Bai. A small coastal town hosting some of the best scuba diving Bali has to offer. Today Miranda completed day one of her intensive 2 day scuba certification classes. (Most people spend 4 days

go Miranda!) Sandra and I rented a little scooter and tracked down "Hidden beach" and it was well worth the hike. Very Paradisical, with quaint little restaurants right on the beach. (Sat 6ft from high-tide level.) The beach was very quiet.
Every restaurant we look at has several vegetarian options, many have half their menu vegetarian. It's been great fun eating, and It's usually very healthy food. Lots of Gado-Gado (fresh veggies in peanut sauce with rice) for usually $2.25. Fresh, real juices are often for just a bit over $1 (carrot ginger, Banana, mango, all great and 100% fresh fruit made right then.)
Our massive hotel room is on the 3rd floor looking out above most of the village. Between the limited ocean view, the constant colorful kites flying in the sky, and all of the artwork,sculpture and clay-tile rooftops, it's a wonderfully different view

Accommodation is roughly $36/night including internet and fancy breakfast (banana crepe,coffe/tea and fresh fruit). We were worried Bali would be too touristy, but it has been a very welcome relaxing break. No stress here. Everything is easy and cheap. The Indonesian island retains loads of character, and the people are nice.
-Joe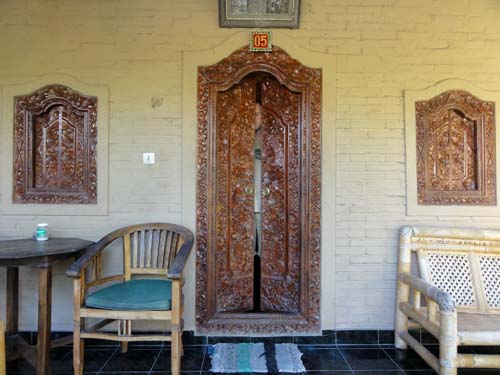 The front of our "cottage".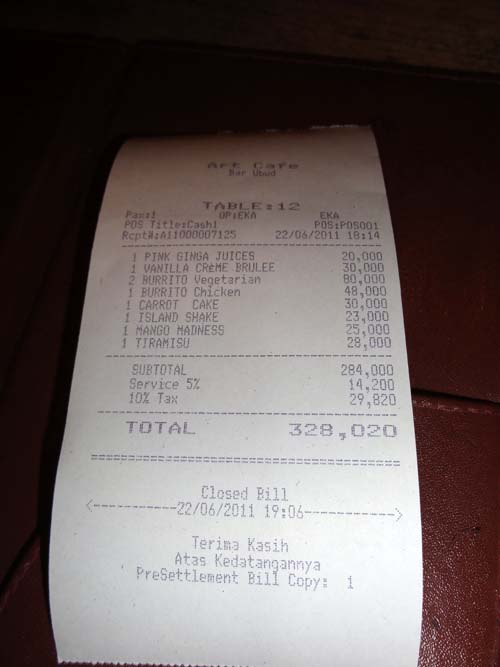 The bill for our first dinner in Bali. The big numbers make it very amusing. 8500 = $1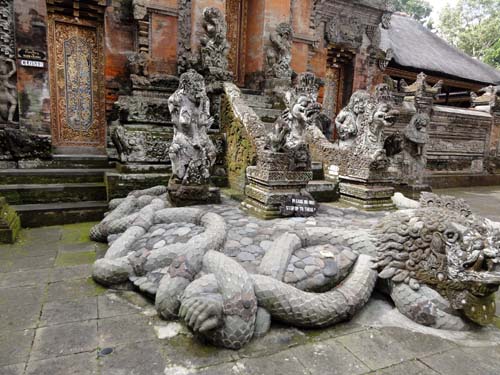 Some of the stone work in front of a temple in the Monkey Forest.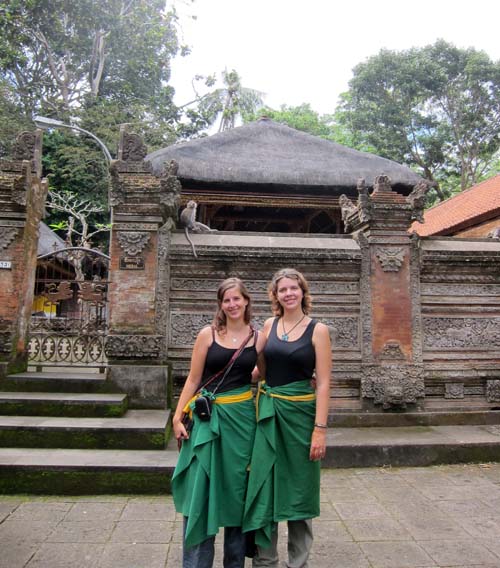 Sandra and me in the temple.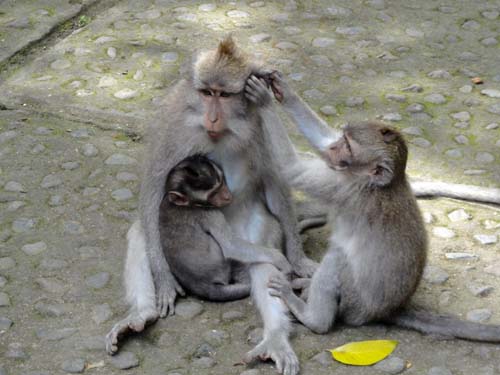 Monkeys!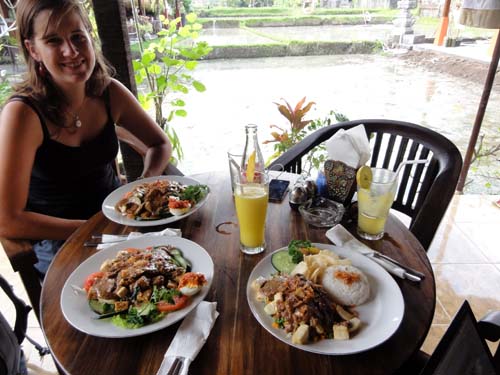 Our super yummy lunch the day we left Ubud. Notice the wonderful muddy rice parries in the background.
[ 3 comments ]
( 9 views )
---
Yesterday we went to the Batu Caves to check them out. It was pretty neat. We climbed the stairs and ende dup inside a huge cavern. Temples were scattered around and once we got to the end, there were monkeys everywhere. Many of the people were feeding them bananas, etc. Pretty crazy. My camera's battery was dead, so I didn't get any monkey photos.
That evening, when we went to find dinner, I stopped at a shop in the Central Market to get a henna tattoo. My first one.

-Miranda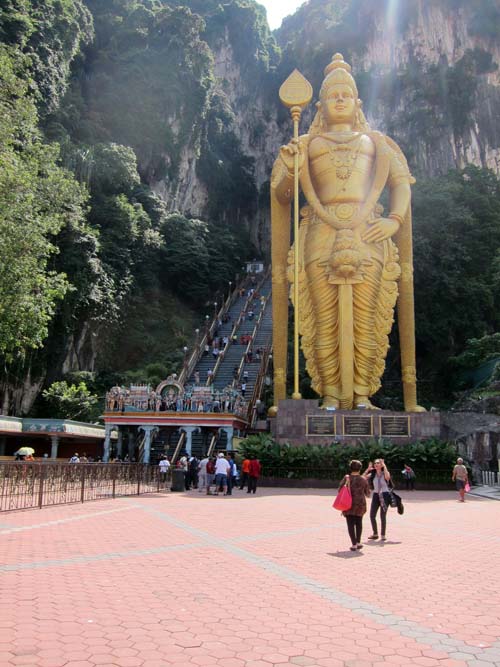 Apparently the largest statue of Lord Murugan. It was definitely huge. See stairs to the left. Those were tall also.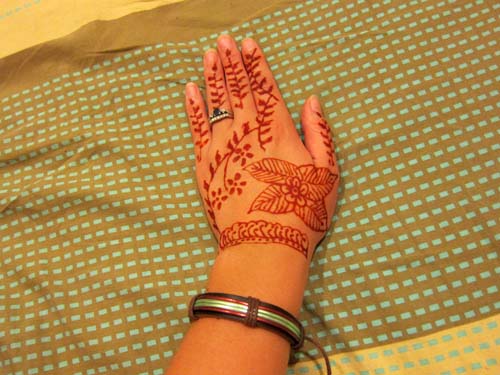 My henna tattoo.
[ 3 comments ]
( 11 views )
---
Anyway, the trail took about 45 minutes, all downhill, to get to Batad. A small village that appears to only be reached by trail. There were little shops and restaurants there. The terraces were gorgeous. After a short break, we started the hike through the terraces. We got to actually walk through them, which was very cool, though a little freaky at times. You would be walking along an edge that was only about a foot wide. Muddy rice patty on one side and a 20 foot drop off on the other side into another rice patty. The stairs were skinny and really tall. Let's just say there could have been twice as many stairs everywhere on this trail. So hard to take such huge steps.
We made it to an upper lookout where we then started going down a lot of steps eventually to a little hut. Sandra decided to stay there while we went farther to the waterfall. That turned out to not be the best idea. Super steep to get to it and we were already pretty tired and super sweaty by this time. Joe and I did go swimming, which felt amazing. Unfortunately, we were so hot and sweaty again by the time we got back to Sandra that it really negated the whole waterfall swim. It was still pretty neat though.
We were going to originally go through the village (you can see in the middle of the terraces near the bottom) but we asked the guide if we could just take the 'middle road' which would have the least amount of elevation change.
We ended up getting back to Banaue around 4pm. Our overnight bus was leaving at 7, so we paid for a shower (which we severely needed), had dinner then got on the bus.
The bus was awful. Since we were in the mountains, it was constantly going back and forth, which was annoying anyway, but then they were randomly picking people up until at least midnight. It got to the point where people were standing in the isle, which, when you're trying to sleep, is annoying. They keep bumping the seat, or are standing right next to you, which is sort of creepy. I had gotten maybe a few hours of sleep. Joe and Sandra got barely any though. We got to Manilla at around 5am. From there we eventually found a bus that would get us close to the airport. We hopped on that, where Joe managed to get another hour of sleep. We got off in Dau where we got a tricycle to a jeepney area. Then we took a jeepney to the airport. We were about three hours early, which wasn't too bad.
The flight was just under 4 hours, but we ended up having to circle for about 15 minutes because of too much air traffic. We finally landed, then got to immigration, where there was an insanely long line. Unfortunately, they had two lines (which is weird, inefficient, and kind of dumb) and of course we picked the wrong line... We ended up waiting in line for an hour and a half. We got our luggage, walked through customs, and caught a bus to Chinatown. We finally made it to the hostel in Kuala Lumpur at about 7pm. Yes, that means we traveled for 24 hours....
-Miranda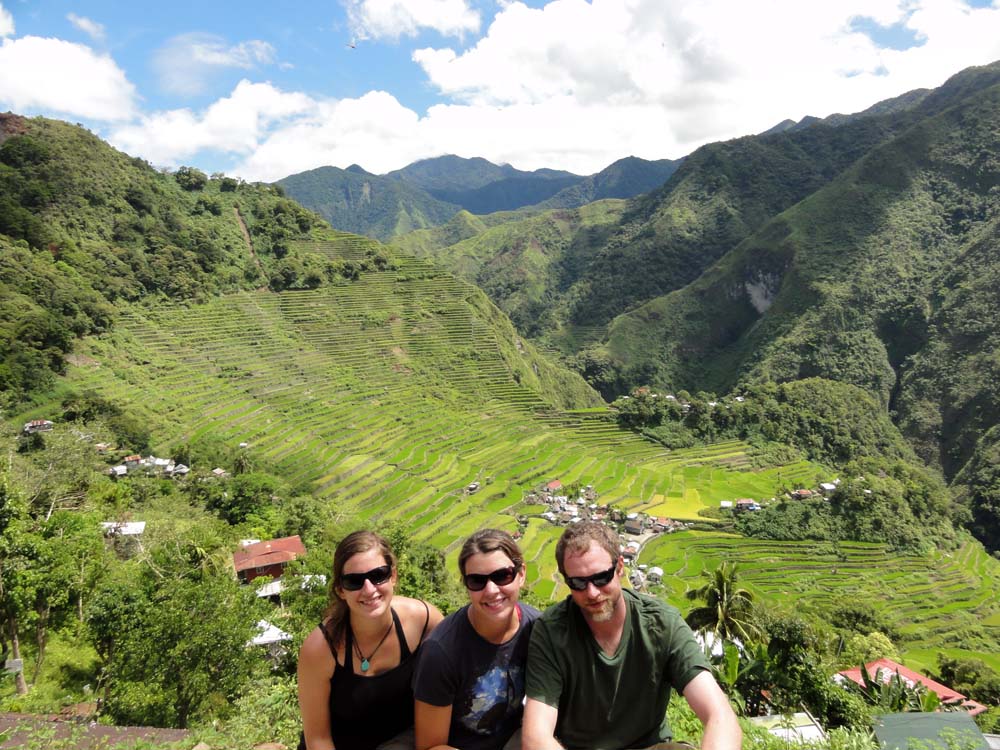 Joe, Sandra and me in front of the Batand Rice Terraces. (Click to enlarge.)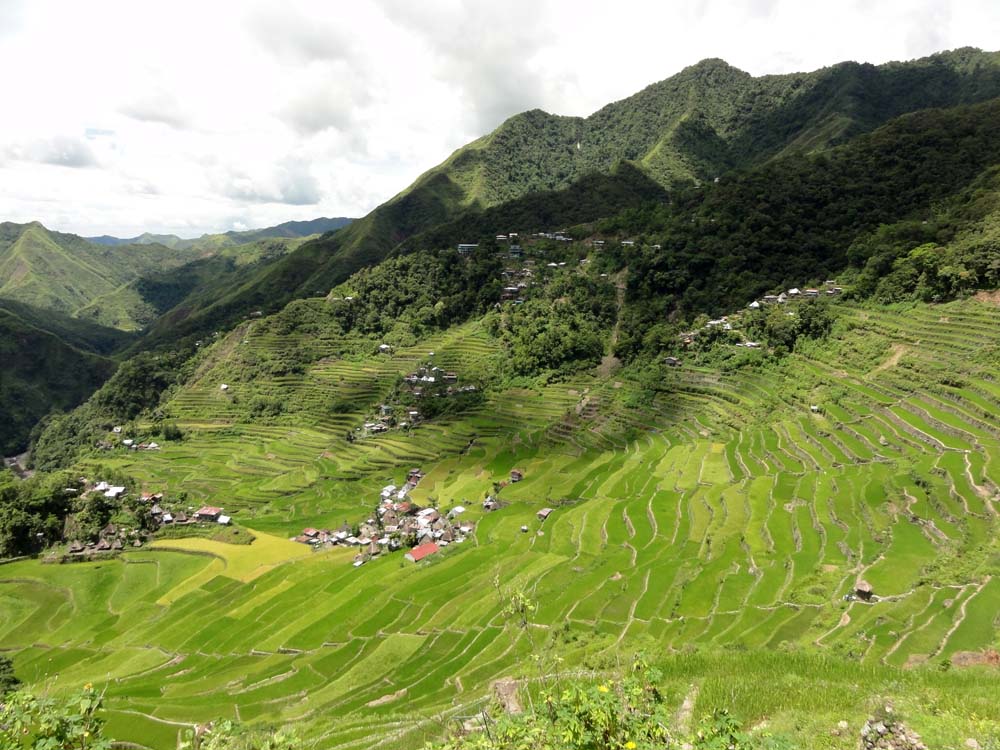 View of the terraces. (Click to enlarge.)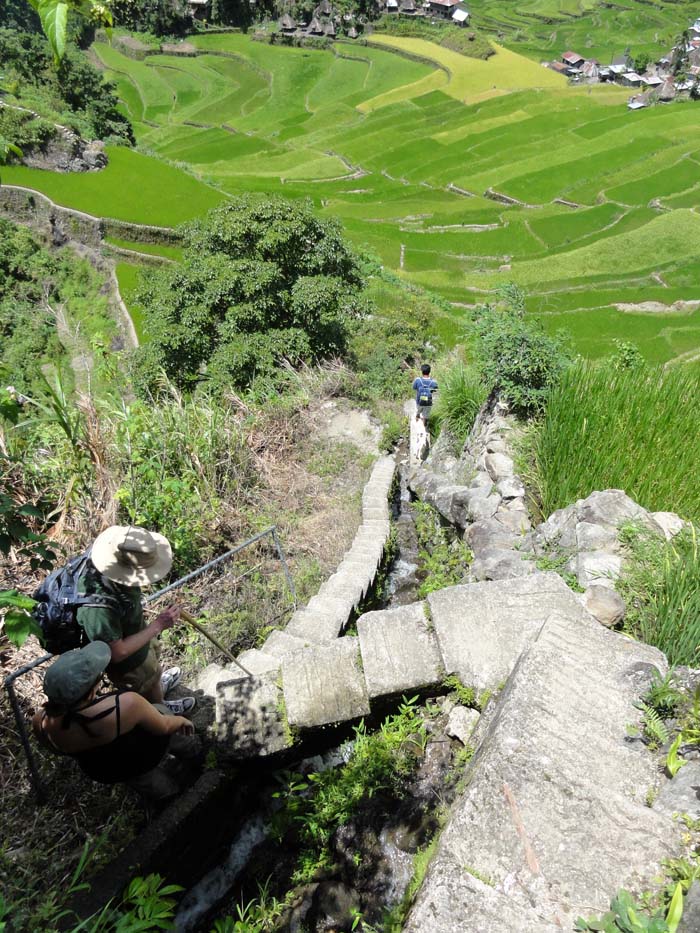 Some of the stairs down. (Click to enlarge.)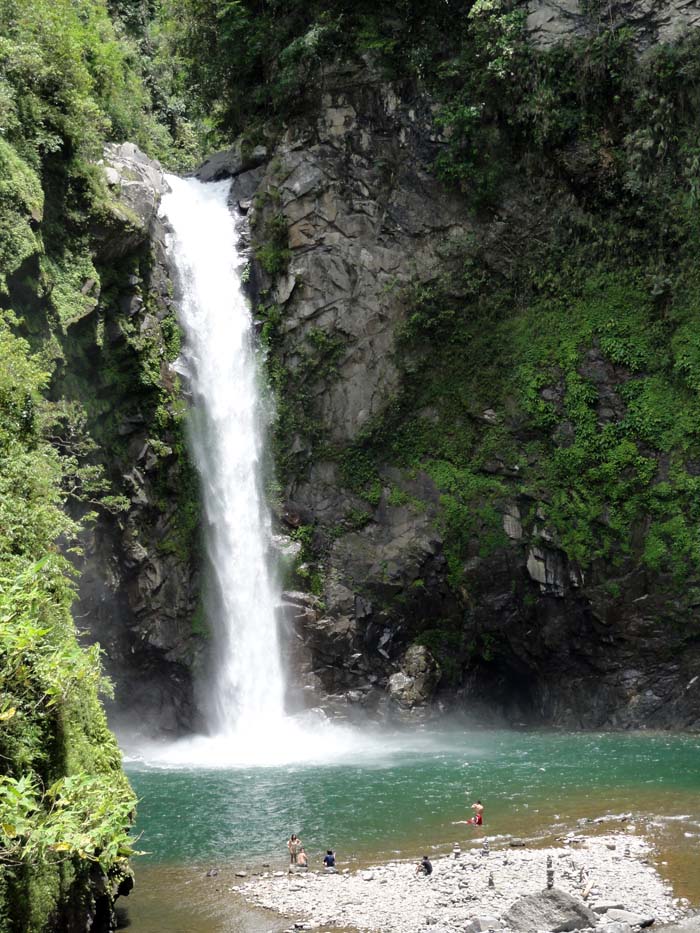 Waterfall at the end of the trail. (Click to enlarge.)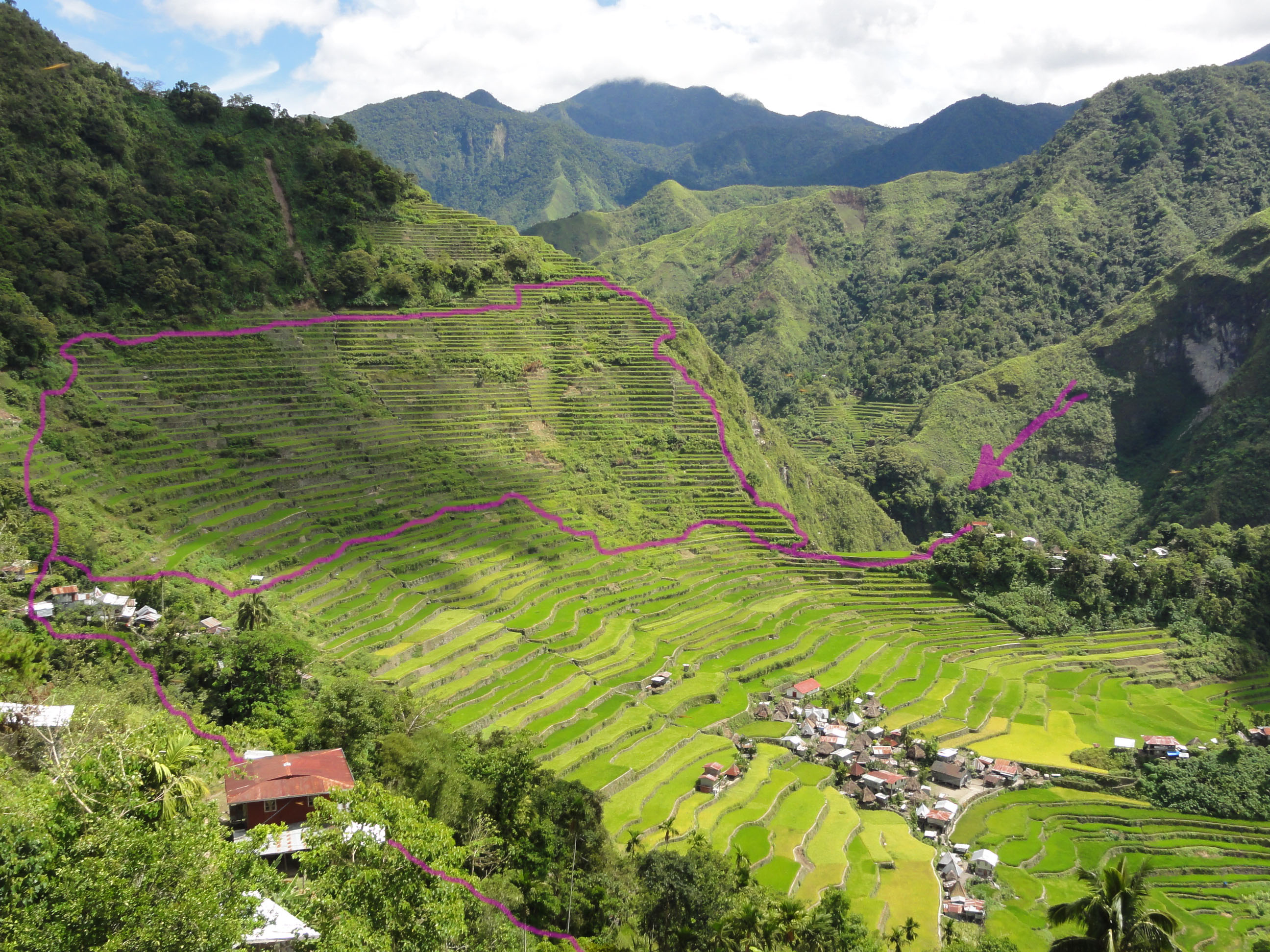 The approximate path we took through the rice terraces. (Click to enlarge)
[ 11 comments ]
( 47 views )
---

)
-Miranda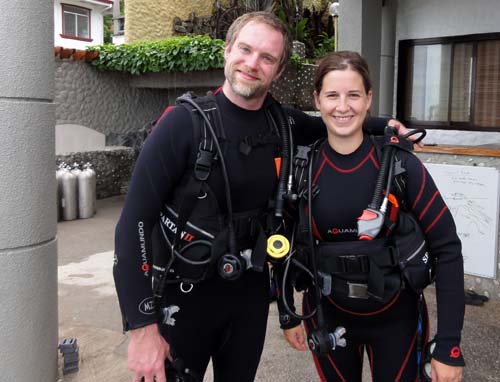 Joe and Sandra before going out scuba diving.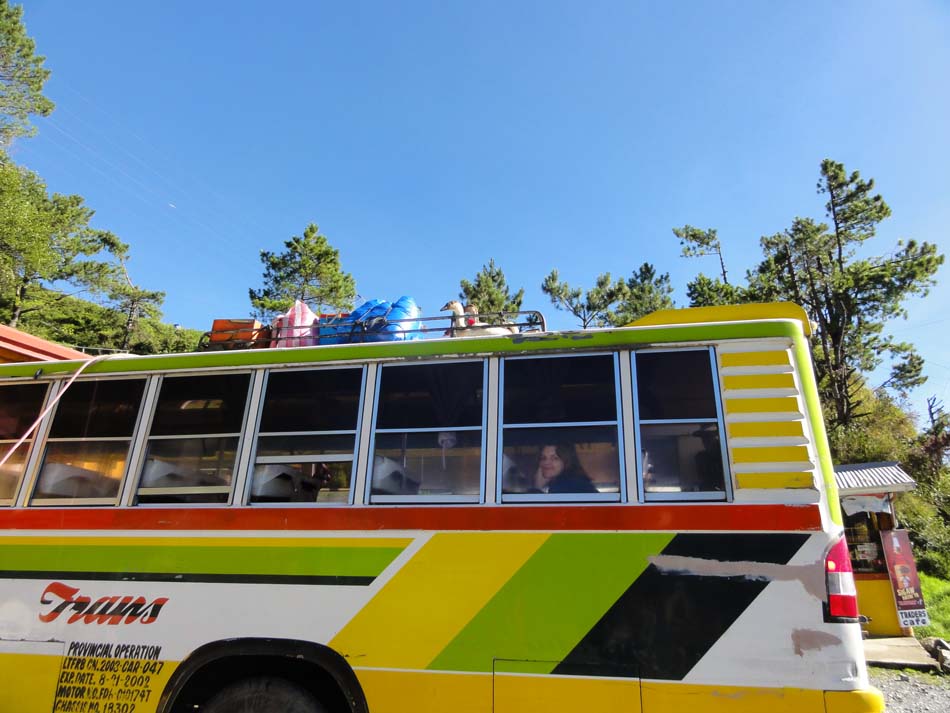 The bus to Bantoc. Yes, those are geese on the roof. (Click to enlarge.)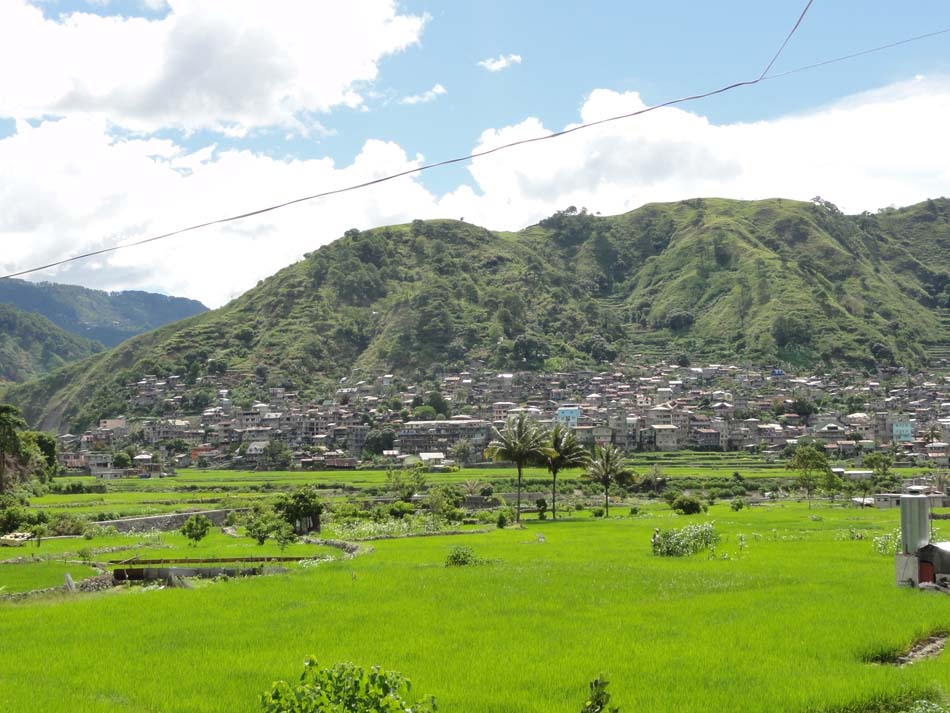 Rice terraces. (Click to enlarge.)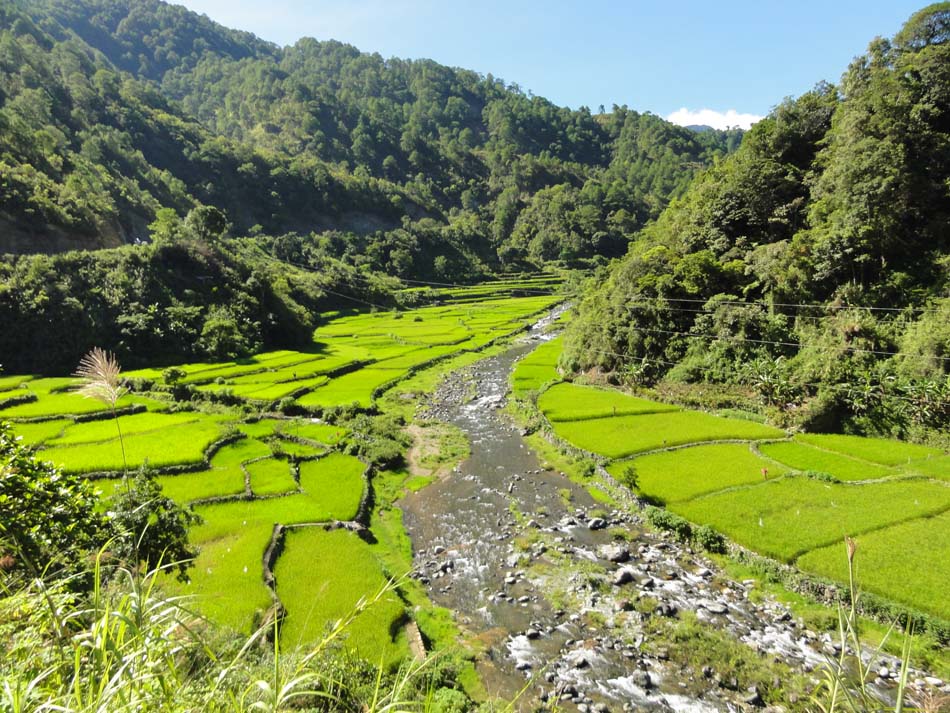 More rice terraces. (Click to enlarge.)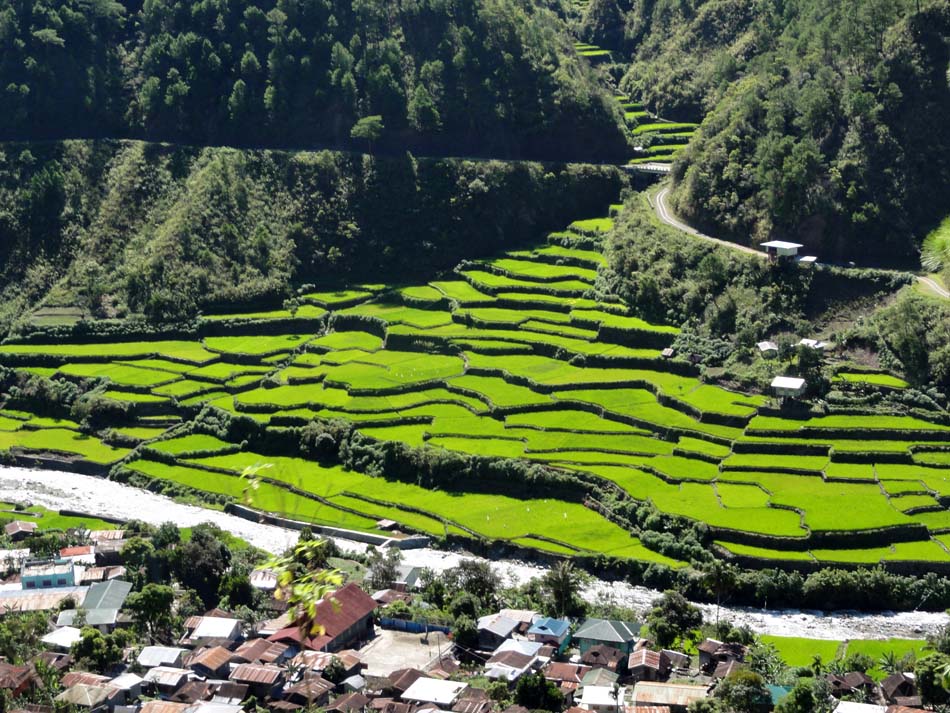 And yet more rice terraces. (Click to enlarge.)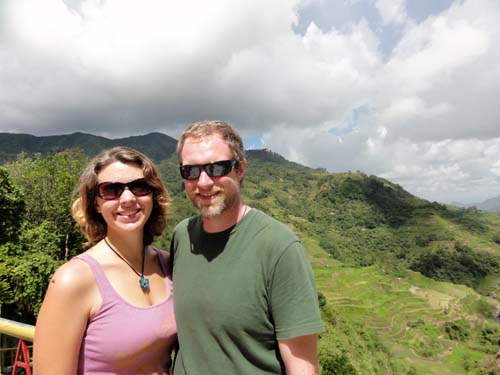 Joe and me in front of the Banaue rice terraces.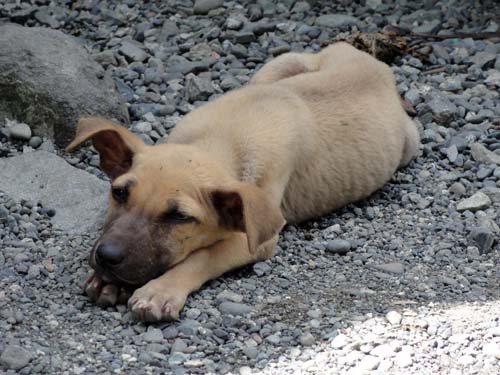 An adorable puppy on the side of the road during our walk back to the hotel.

A panorama of the area. (Click to enlarge.)
[ 2 comments ]
( 8 views )
---
Back
Next