and how everything works. Now we'll take a few days back at home to finish getting setup for our big trip. On the way home in Bessemer we climbed the City Bluff in Bluff View Park. Nice view, but we ascended on a hairy side.. should have almost had equipment!! All-in-all it was a good trip. Turned out we got about 8mpg (mostly because I drove an average of 40mph and used neutral for all the big downhills

(NOTE TO SELF: DO NOT SHUTOFF AN RV THINKING YOU'LL SAVE EVEN MORE GAS, The Power Brakes and steering is awefully important when it's that big...)
-Joe
P.S. We added the pictures back to the previous days. We never had enough internet time to get them up earlier.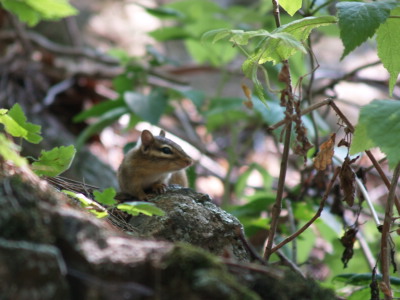 A chipmunk we saw on the way up the bluff.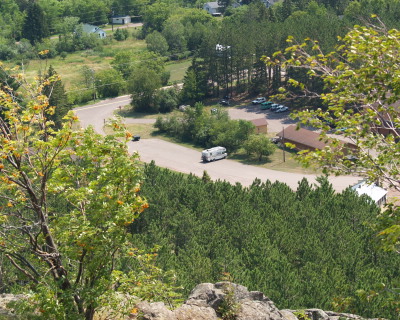 A view of our RV from the top.
[ 1 comment ]
( 3 views )
---
We stopped for a swim at a public park on Lake Superior past Ontonagon. It looked just like Park Point. Afterwards we stopped right next to the Big Iron River and watched the begining of the sunset before heading back south away from The Lake.
For the night we stayed back at the same sandpit we had stayed at on our second night.
-Joe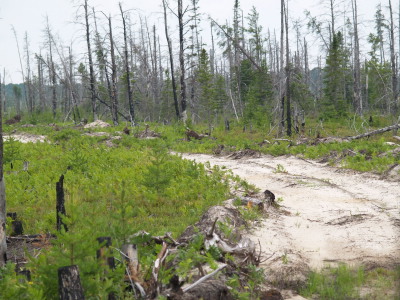 The burned sandy-bog.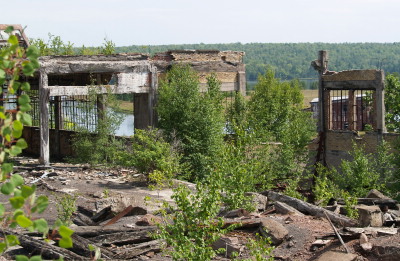 A large, old, burned-out building we stopped by.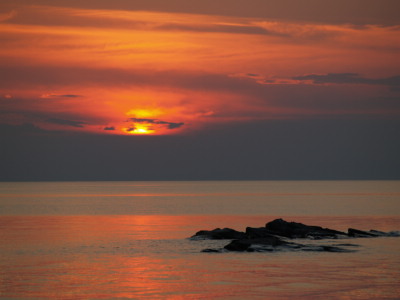 Sunset by Big Iron River.
[ 1 comment ]
( 11 views )
---
A lot of old logging roads or sand pits scattered around. We picked one
to take a break on [47 25'36"N 88 00'56"W]. We had bought Fly Paper at the
general store, which allowed us to regain our sanity. I think we swatted maybe 50, and there must be 100+ on the fly papers! From now on, we shut the cab
windows when we stop!
Went for a "Bushwack" hike. Tried getting to Meadow Lake, a roadless lake nearby. Ended up hiking about 7 miles.. when we found it, it was a little swampy so not swimmable. Ended up taking a swim in Medora Lake.
Great Night sleep!
[ 3 comments ]
( 28 views )
---
I'm pushing for a little better "view"

[46 39'34" N,89 35'53" W]
On the road, we went through a construction site where they're working on the highway.
There was a red Dodge Viper parked off the road in the middle of the work site!?!
Checked out Jacobs Creek Falls, climbed up the river a quarter mile.
Went Snorkeling at an awesome swimming beach, nicer than Park Point! [47 26'36"N 88 13'0"W]
Not much other than sand, and a couple rocks.. . Clean perfect sand.
Afterwards, we managed to find internet access in Copper Harbor, which was a surprise since it is
a tiny little tourist trap. They wanted $3.56 for gas ($3.16 avg out here).
Camped out on the side of a road right past Copper Harbor.. We gave up searching for a better spot,
nice view, but we may get asked to leave.. [ 47°27'46"N 87°49'32"W ]
-joe
FLYS!!!! CANT SLEEP BECAUSE OF FLYS!!!!! HUNDREDS OF FLYS!!!
Jacob's Creek Falls.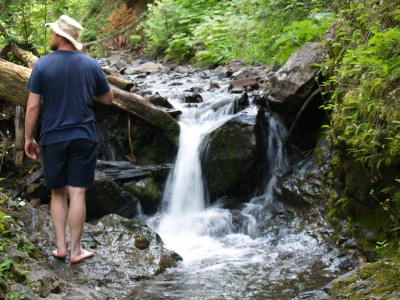 Farther up Jacob's Creek Falls. It was quite pretty.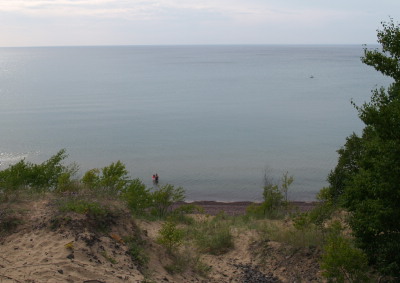 The beach we had lunch at. That's me (Miranda) with the pink flippers in the water.
[ 3 comments ]
( 16 views )
---
had a nice dinner in the parking lot (conveniant!) and then Slowly drove down by the spooky-dark
yet traversable forest floor. Very nice roads so far, small, but good condition.
Stopped for gas, 20cents more expensive in Michigan!! (SAM!!!) ouch. should
have filled up in Wisconsin... We tried a new technique for finding a "hobo-spot", one of us rides her bike down small roads quick while i sit on the shoulder. Saves gas, and prevents the beast from getting stuck.
-Joe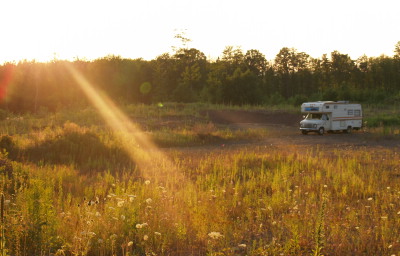 Our sandpit we stayed in that night.
[ 1 comment ]
( 9 views )
---
Back
Next