On Tuesday, we walked with Rod to the vegan restaurant that we had tried to go to the day before. The food was definitely interesting. Some was good, some was a little too odd. We continued on to downtown again and eventually stopped at Mallards to get some 'ice'. It's basically like a sorbet.
That evening we had a great dinner a couple that knew Joe back when he used to spend summers here through his uncle, Michael. The food was excellent and it was fun chatting. I even made them some homemade chocolate pudding for dessert.
We left this morning because we were hoping to find some forest in order to let the cats out. We are near Mt. Baker now in a neat camping spot (there's a small clearing and a fire ring) not far from the nearby river. Unfortunately, we got here too late to let the cats out, so they're going a little nuts. Tomorrow morning we'll let them out. Hopefully they won't wake us up at 5, but I'm not too hopeful. One issue here though, is the flies are insane! We can't spend any time outside, otherwise they swarm around you. We do have some internet, so we'll see how it goes. Hopefully we can stay here a couple days.
-Miranda
[ 4 comments ]
( 10 views )
---
We spent a few days there. One of the days we decided to bike up to Goat's Peak. Our plan was to bike up to the trail head, then hike up that. Well, the bike trip ended up being 20 miles roundtrip with an elevation gain of about 2500 feet. We only made it to an overlook. That was far enough.
We had a lot of fun in Mazama and Rob's family was very welcoming, but it was supposed to be crazy hot there on Friday, so we left to get to the, hopefully, cooler coast. There were a number of neat trails in the forest along the highway, but we were still pretty sore (and slightly sun burnt) from our bike ride the day before, so we just got out to check out one overlook and got out at a different place to check out a stream.
We stopped at Diablo Lake again. We went there during our first trip back in 2007, but it was raining at the time.
We wanted to find someplace to stay, so we picked a road that said it lead to a hiking trail to Thornton Lake. We made it at least a few miles up the road (pretty steep) when we got to a section that was essentially 45 degrees. The RV wouldn't do it, so we backed up to a wide spot, turned around and decided to stay there. We were curious about the rest of the road though, so we took Curly out with us and headed up the road. About an hour later we reached the trail head.... The hike was a "strenuous day or overnight hike". Oh well. We headed back down the road, but Curly decided he didn't want to follow anymore. Joe finally picked him up and carried him for a bit. Curly started freaking out, so Joe eventually put him down. He ran straight for the side of the road, started running back up the road, then all of a sudden, pounced. He came out with a vole in his mouth! He would pick it up, follow us for a bit, then set it down, chase it, pick it up again, follow us, etc. He did that for a few minutes, then sat down and ate it.... After that, he followed us really well. Apparently he just had to get some of his energy back.
The next day we left right away and made our way to Burlington where we had lunch at a very cute cafe. We then headed to Bellingham and are now staying outside the house of a friend of Joe's. At this time, we've basically just been working since we didn't have internet at all on Friday. We don't really have plans for how long we're staying here yet.
-Miranda
PS Apparently I've been slacking on uploading photos, so some of these are a little old.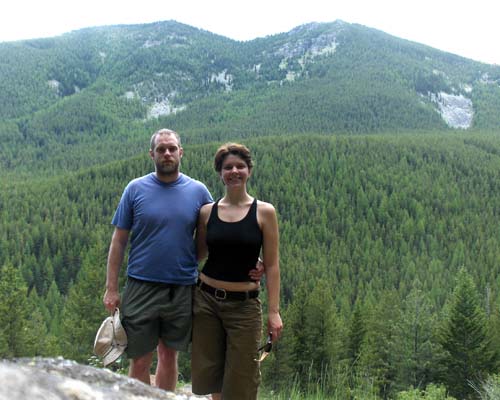 This is a photo of the two of us during our long hike at Sherman Pass.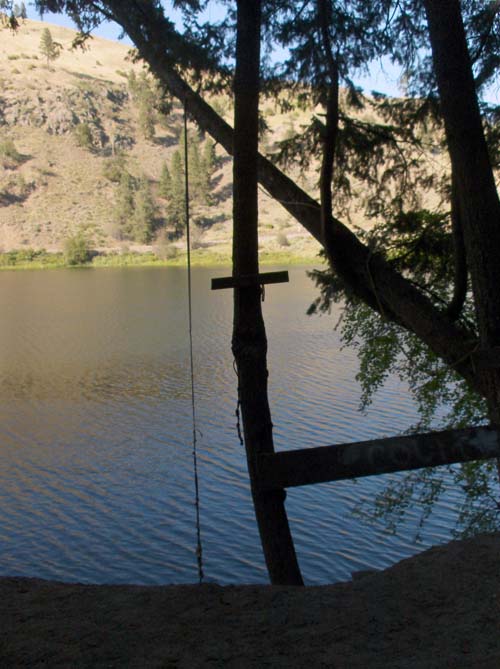 The rope swing we found on Fish Lake.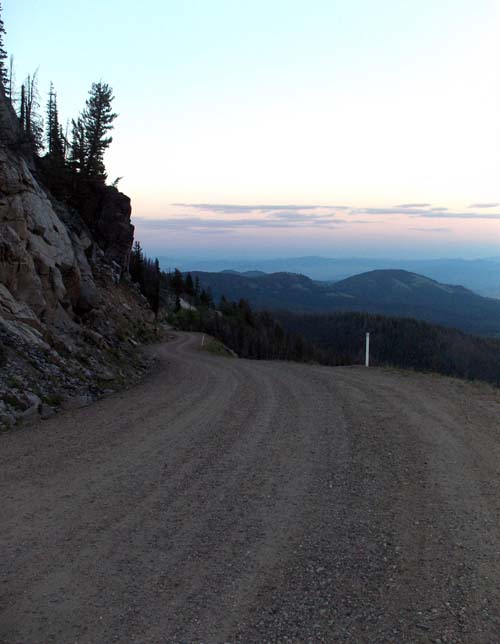 The top of the national forest road. It's around 6000 feet.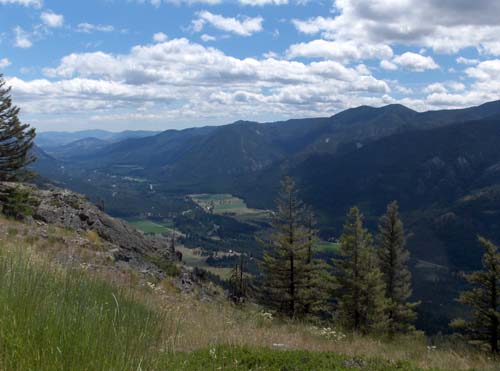 The view of the overlook we biked up to.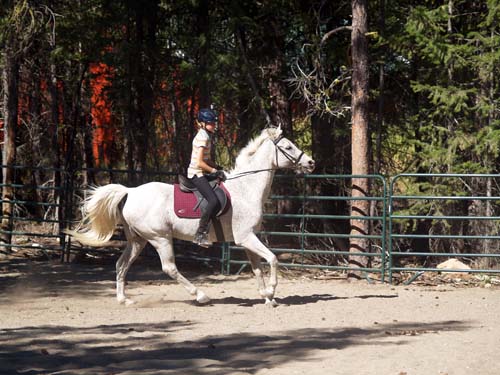 Maya riding her horse, Breyer.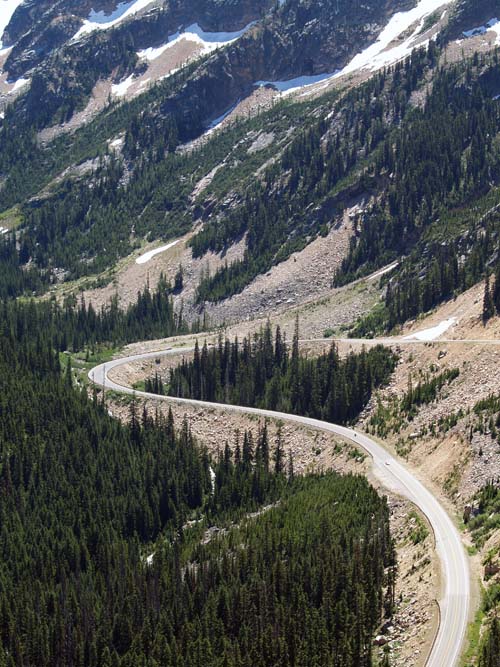 The road we came up at Washington Pass.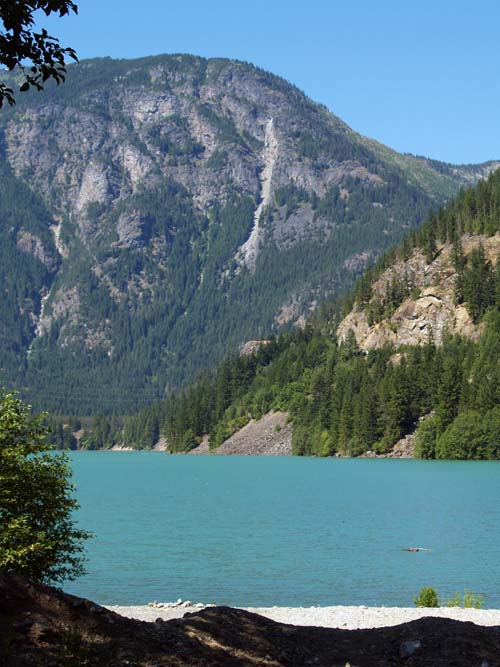 Diablo Lake.
[ add comment ]
---
We started the hike and could go either towards Sherman Pass or towards Jungle Hill. We first headed towards Sherman Pass, then realized that was probably just going up to the highway. After walking for around half a mile, we turned around and went back. The other trail was 3.9 miles. Mostly uphill. Along the way, we kept running into bikers heading down the trail. We finally asked one of the guys and it turns out there was some festival going on. They all took a shuttle up to the top of Sherman Pass, then took one of the trails to the one we were on. So, they had a nice bike ride downhill the enture way.
We ended up hiking about 9 miles total. We're still sore. Afterwards we stopped in Republic to find dinner. There was a pizza and sandwich place and a Mexican place. Joe really wanted pizza and I wanted Mexican, so we had a small meal at the Mexican place, then Joe went back to get a pizza. We did some work and headed out to the next chunk of national forest to find a place to stay for the night. We ended up finding a road that dead ends and just stayed there. One neat thing was the stream that was nearby. Around it was filled with strawberry plants. Too bad most weren't ripe yet.
The next day we headed to Tonasket. We parked on the side of the street using someone's wifi, and got caught up with work. There was a small natural foods coop just a block away, so we did get some cold, fruit bars since it was incredibly hot. Our next plan was to head down a 41 mile national forest road (National Forest Development Rd 37) that goes through a pass that is around 6000 feet, so we knew we weren't going to have internet that night or the next day. We found a place to pull off and have dinner, but we didn't feel comfortable letting the cats out, so after eating, we kept going. It was already 8pm which made for a gorgeous view of the sunset behind the Cascades during our drive. We made it to the top and over. It was getting dark, so we found a spot to sleep for the night. The next morning, we left again and ended up finding a small road that went below the main road. It lead to, basically, a campsite right near a creek. The cats have been loving getting to spend the entire day outside.
We went for a walk this afternoon along the creek. There are two streams that meet where we are. One of them has a waterfall that Joe noticed. We decided to hike towards that. After getting across the stream, we heard Curly crying. We were worried he had tried to cross on his own, so Joe went back to get him. He was still on the shore, fortunately, but Joe grabbed him anyway and put him on his shoulders. Curly followed us throughout our walk. It was pretty fun. Even when we were walking in the stream, he followed us along the shore.
We are now sitting in Winthrop using some internet. It's a pretty cute town, though touristy. Once we get some work caught up, we'll probably walk around a bit.
-Miranda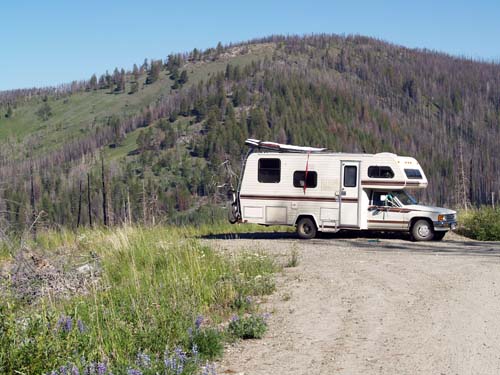 The place we stayed near the top of the pass.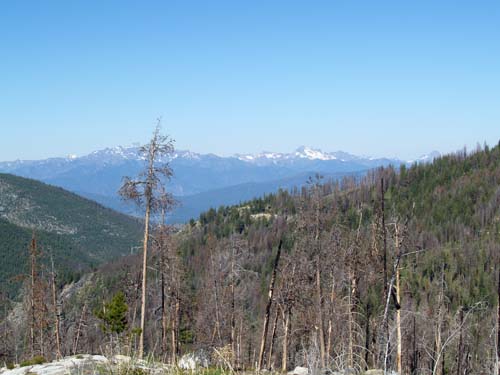 Our view from that spot.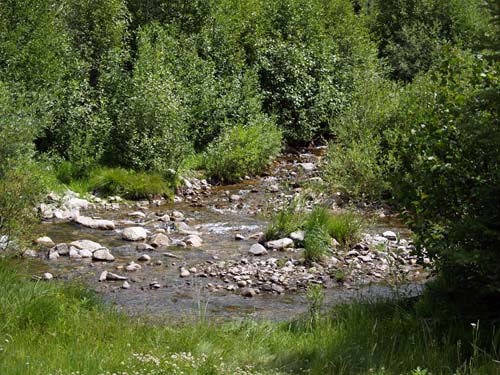 The creek right next to the spot we stayed at last night.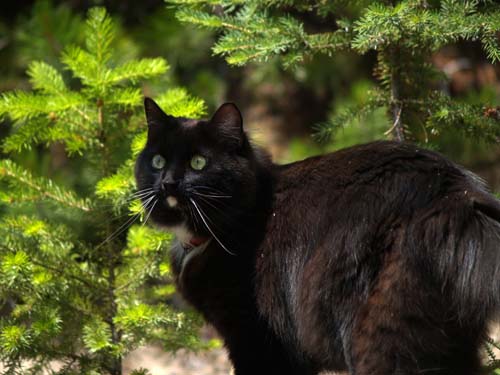 Finally got a decent photo of Zoe!
[ 2 comments ]
( 8 views )
---
The food was very good. They make homemade ice cream, so we had some of that for dessert. We then decided to check out the national forest across the lake. It's technically a recreation area so we weren't quite sure what we would find. There was an area that was definitely used for a shooting range (log with lots of broken glass behind it). We kept going and found a road that lead to a number of camping areas. Basically spots with fire rings. We picked one and ended up going for a bike ride up the mountain to see what else there was. We found a small stream, but not much else. It wasn't busy either.
The cats have been loving it being able to spend time outside. They apparently even got their fill of it today as all 4 were back inside long before their dinner time. They were incredibly annoying this morning though. They decided running around the RV like maniacs was the way to be. However, last night, Joe and I were playing a game and apparently something freaked out Curly. He was by the back window then all of a sudden just started jumping and freaking out. When I went up to him, I barely touched him and he jumped a foot in the air. He stayed pretty freaked for a good 10 minutes, and it kept coming back once in a while, but he seems fine now.
Today our wonderful spot is apparently more popular. A few vehicles drove by on the main road and we heard shooting down below for a good chunk of the day. Then at around 5 someone drove down the road we're on. They left, but around 8ish two trucks showed up towing ATVs. They're both apparently staying for at least the weekend. We may be heading out tomorrow then. We'll see.

-Miranda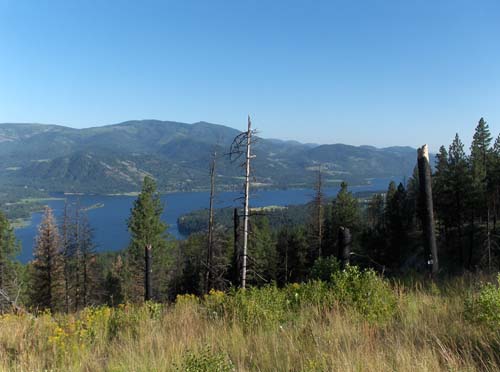 The view from the top of our bike ride.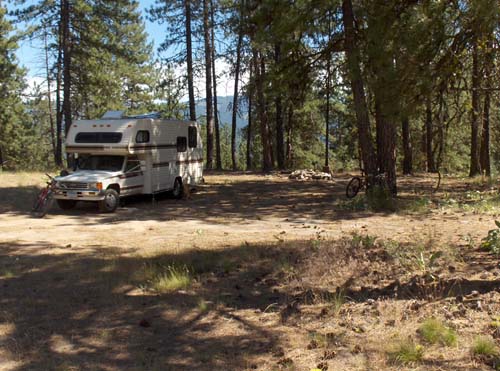 Our site.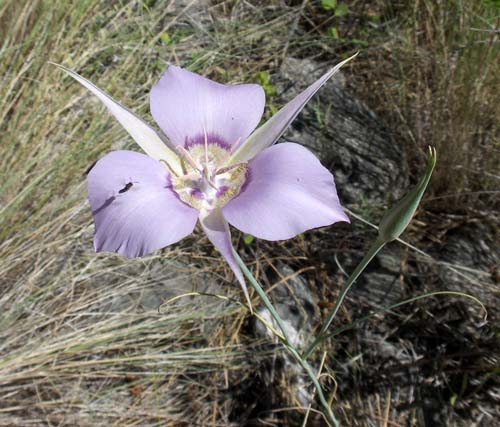 A neat flower I saw today.
[ 1 comment ]
( 2 views )
---
For dinner we decided on sushi. There was a restaurant pretty much on the way. We stopped there and it was a pretty bad experience. There was one server and one cook. ONE COOK! She did all the sushi rolls and all the cooking. There were 3 groups there. We were the first and we almost got our food last after waiting for at least an hour. I ordered a sushi platter which was done at least 15 minutes before Joe's was. It was so weird. The cook didn't seem to know what she was doing. I ordered my stuff first, but both tables got their sushi before I did. Not that it really mattered in the end because it would have just taken longer for Joe to get his food. Pretty nuts.
We then headed straight to the Walmart in Port Falls, ID. We walked a little over a mile to a Dairy Queen. The next day we found an Indian restaurant in Spokane to have a good buffet at. The food was good.
On Sunday, after our walk, we were going to take a shower using the camp shower. Unfortunately, after setting it up, the branch it was on broke and the camp shower fell to the ground and completely split open. While on our way out of Spokane, we found a sporting goods store and bought another camp shower. Woohoo!
Until you get to Kettle Falls, there isn't much for National Forest. Near Addy, the National Forest did come up to the road, so we found some small roads that jutted off the highway. We checked those out and found one that was far enough off that we felt safe letting the cats out. They got to hang out, outside for a few hours. We just stayed there the night and we headed out right away in the morning.
We're now staying at a campground in Kettle Falls. The internet isn't great, but will work for tonight. We're not quite sure what the plan is from here. We may go back into town and just stay at the RV park there so we can have a good shower and good internet, or we may try the national forest across the lake to see if the internet there is decent enough so we can get work done. Who knows.
-Miranda
[ 1 comment ]
( 4 views )
---
Back
Next