-Joe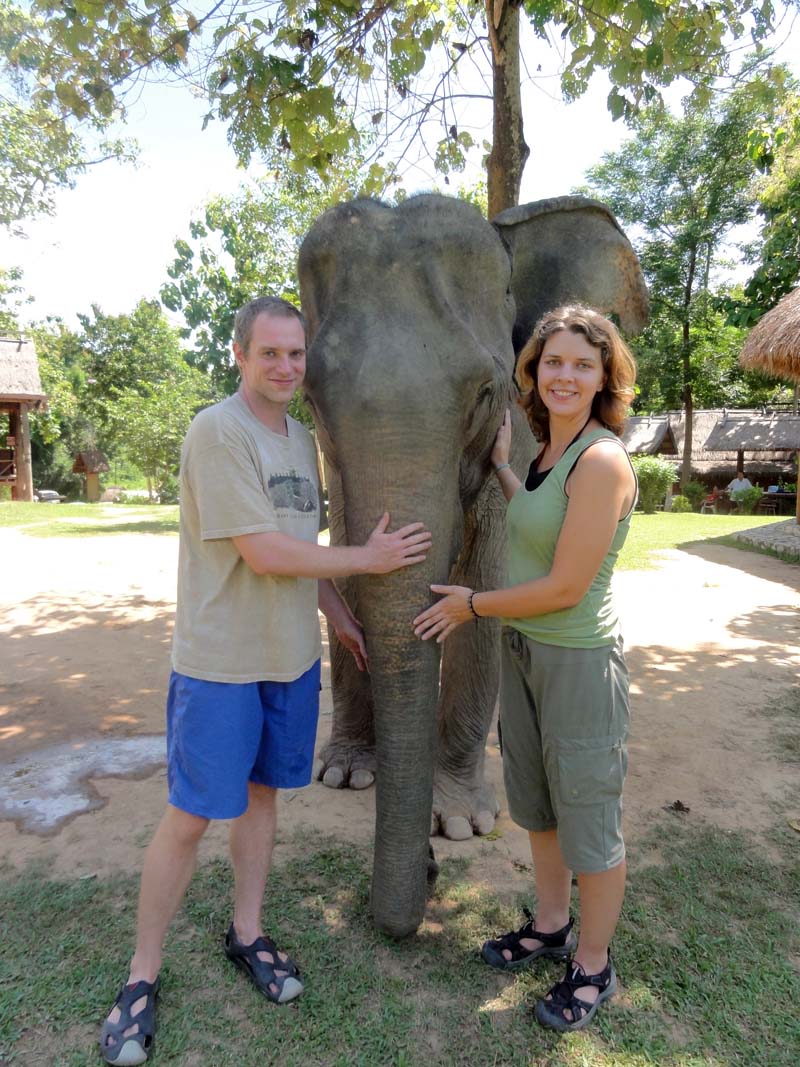 Us with the elephant we 'trained' on. (Click on photo to enlarge.)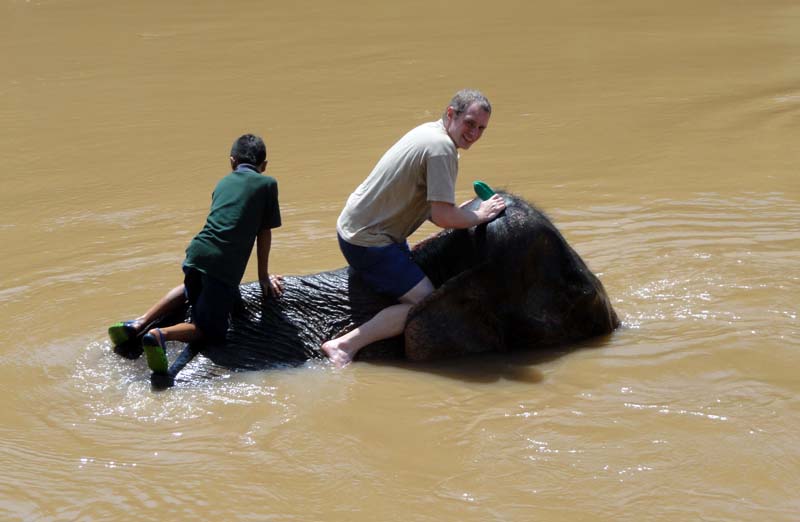 Bathing the elephant. Yes, my mahout was a kid... (Click on photo to enlarge.)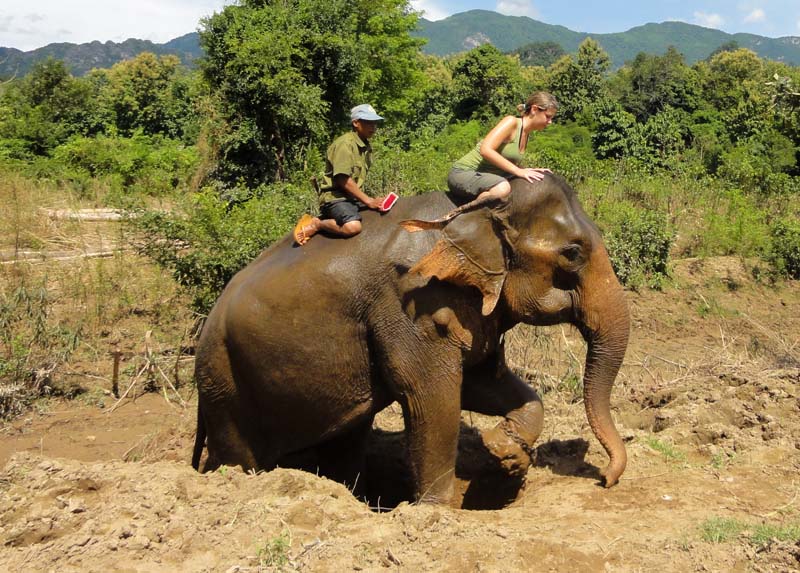 Miranda's elephant decided to go back up to where the other elephants were instead of letting her off at the bank like everyone else. (Click on photo to enlarge.)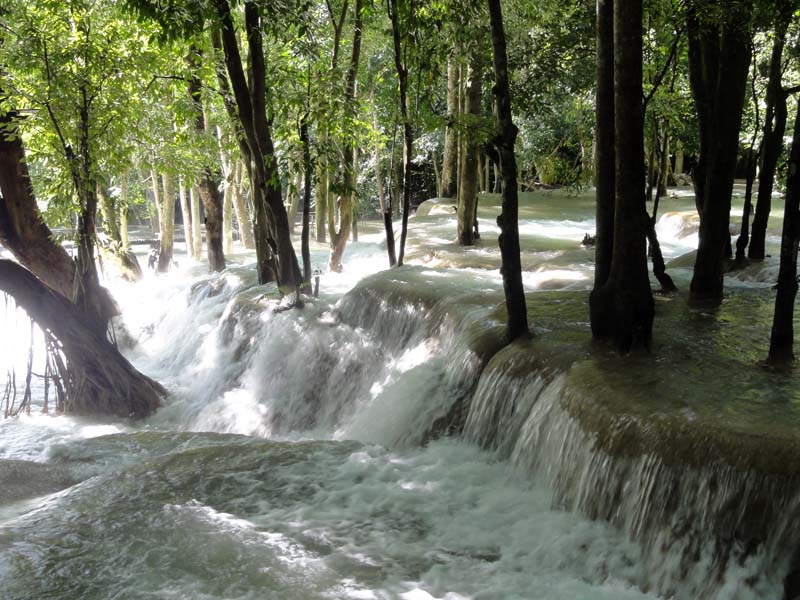 The waterfall. (Click on photo to enlarge.)
[ 5 comments ]
( 13 views )
---
The trip was 7 hours the first day, with an overnight stop in a ready-for-tourists village. Many places offered accommodation, morning to-go baguette sandwiches, and some good dinner. The second day's boat trip was longer, close to 10 hours. We were very happy to be off since we had been sitting on the floor most of the time. The scenery was nice, mostly the same for the 16 hours, but occasionally some notable moments.. Like a floating bloated dead Water Buffalo we passed... A nice river-front rock-face-cave-dwelling monk temple... And a similar boat with 2 giant elephants on it rather than loads of tourists...
We are now in Luang Prabang, and while not super cheap, the accommodation and food has many options and confusingly french-asian in architecture and menu. It is hot though. We feel a bit bad about using some AC, but the alternative of constant full-body sweating is tiring.
We have purchased a full day of elephant wrangling tomorrow, so it should be exciting.
-Joe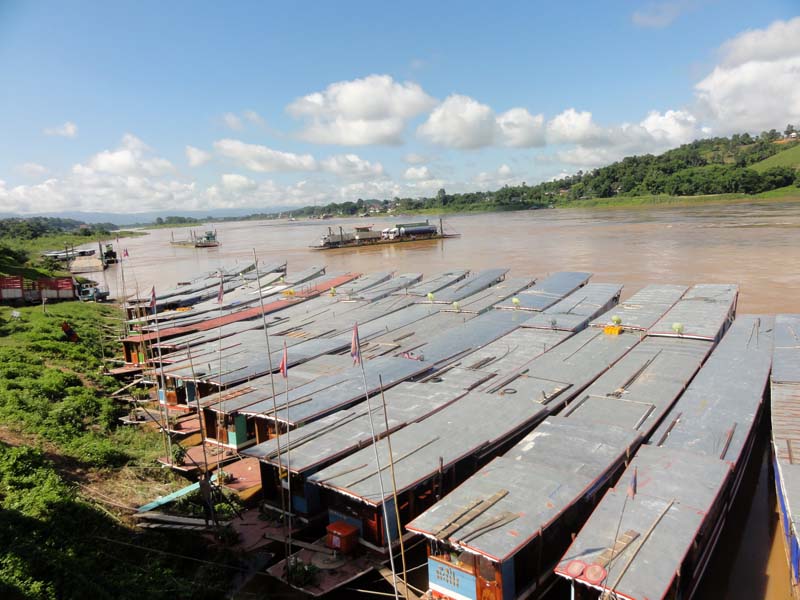 The lineup of slow boats ready to go. Since it's low season, only a few went.
[ 5 comments ]
( 3 views )
---
The city was cute. The first evening we didn't do much. The next day we rented scooters again though. We headed to the 'white temple', Wat Rong Khun. It was stunning. White and mirrors. The statues around the temple were crazy. The guy that is designing it has been working on it for decades and hopes to have it completed in 2070. Apparently it's supposed to represent Nirvana. You would expect the guy was a heavy metal fan. There were a lot of skulls around and generally creepy faces. Inside the temple they were working on a very colorful mural which included all sorts of images, but some things you would not at all expect, such as Michael Jackson, Superman, Batman, Neo from The Matrix, the Terminator, Captain Jack Sparrow, etc. You're not allowed to take photos inside the temple, so I don't have any images of those.
After leaving there, we went to a temple in a cave. It was so quiet. Nothing too significant. Lots of dogs and cats and one monk. We left there only to have a torrential downpour start. We got under a canopy of a small shop before we got too wet and were stuck there. Fortunately, it was only about 15 minutes or so. We didn't wait for it to stop, but it had let up quite a bit. The roads were pretty flooded, but once we were moving it wasn't too long before the roads were a lot better and it wasn't raining anymore.
That night we decided to go to the foot market, but, of course, it was raining again. So, we didn't stay for long.
We didn't do much on our last day in Chiang Rai. We walked to the Hilltribe museum to check it out and watch the movie on it. We went to the night market and walked around some. That was about it.
This morning we hopped on a bus to the border city of Chiang Kong, which was only two hours. Upon arriving, we went to the port and crossed the Mekong River into Laos. It's hot! When we were eating lunch, I noticed their thermostat said 40. That's basically 104!! We're melting. Our plan tomorrow is to get on a 'slow boat' and head down the Mekong River to Luang Prabang, which will take two days of travel. Staying at a village along the way for one night. Should be interesting.
-Miranda

A panoramic of the white temple. (Click photo for larger view.)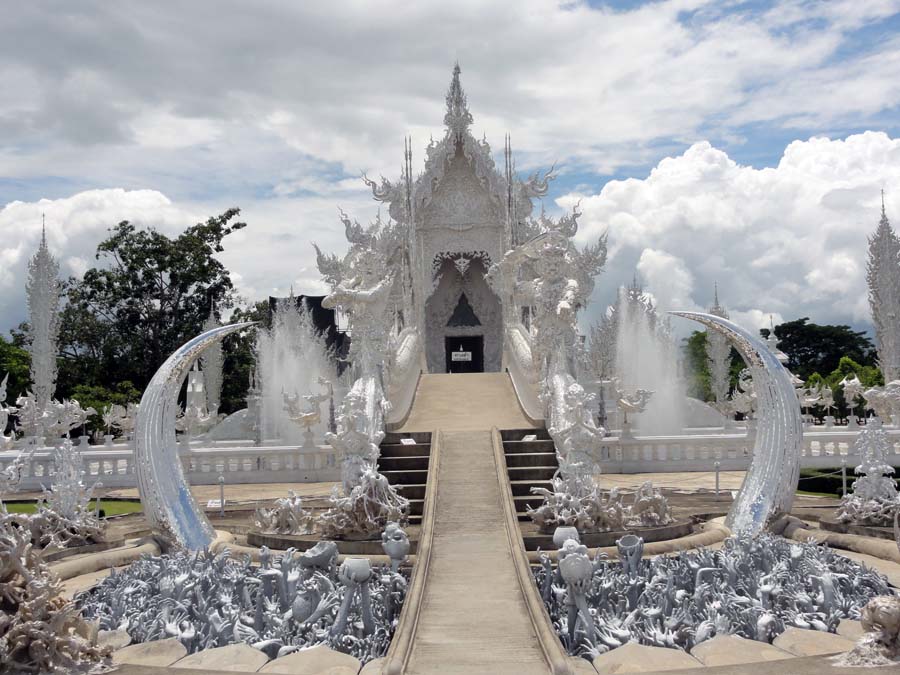 The front of Wat Rong Khun. (Click photo for larger view.)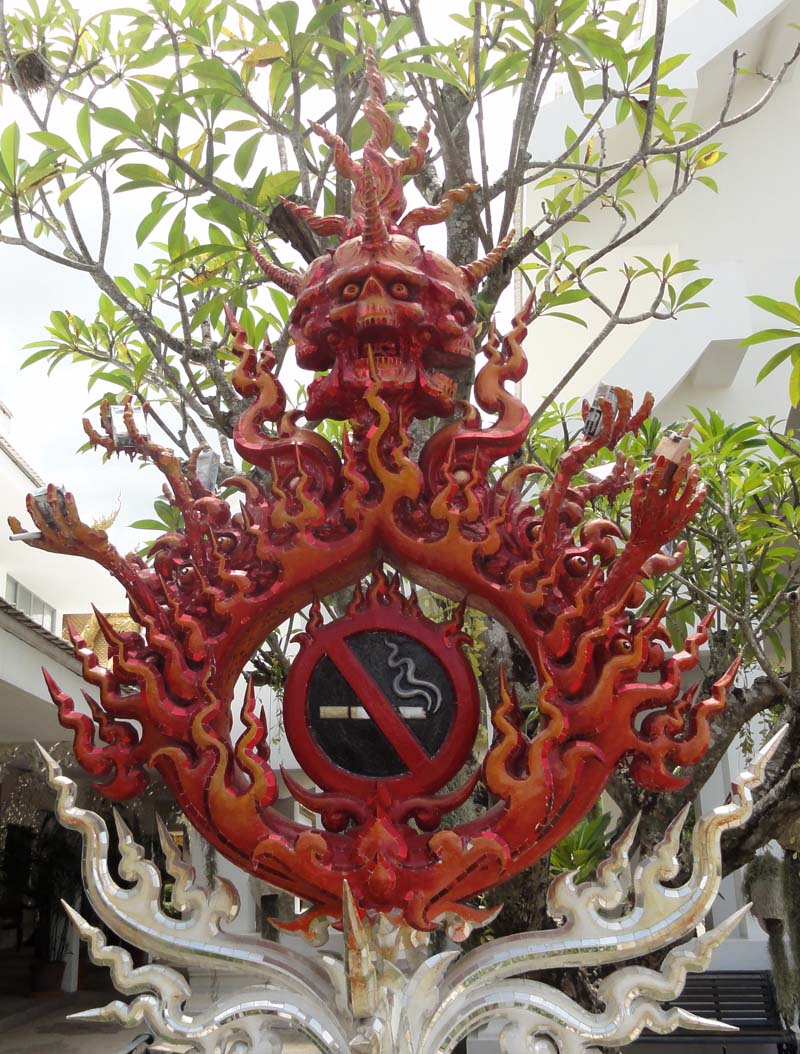 The no smoking sign. There was a similar one for no alcohol. (Click photo for larger view.)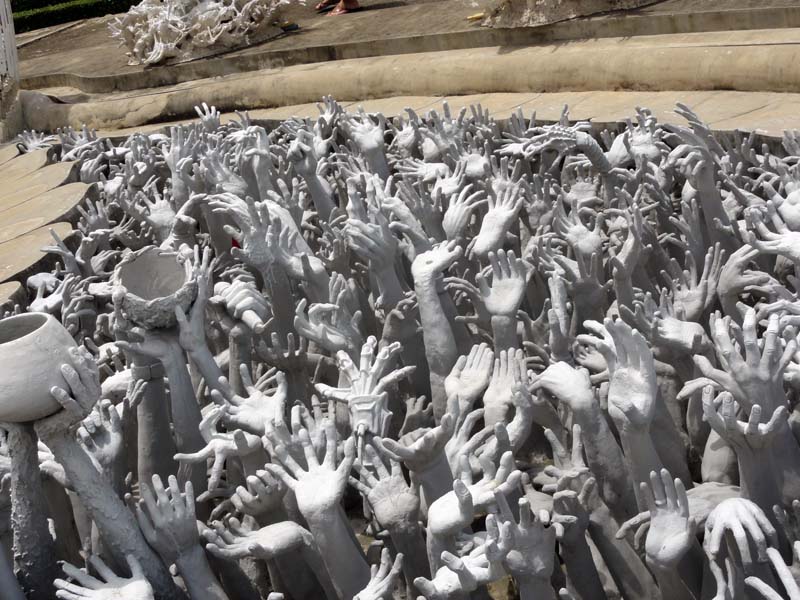 A pit of cement hands in front of the temple. Kinda freaky. (Click photo for larger view.)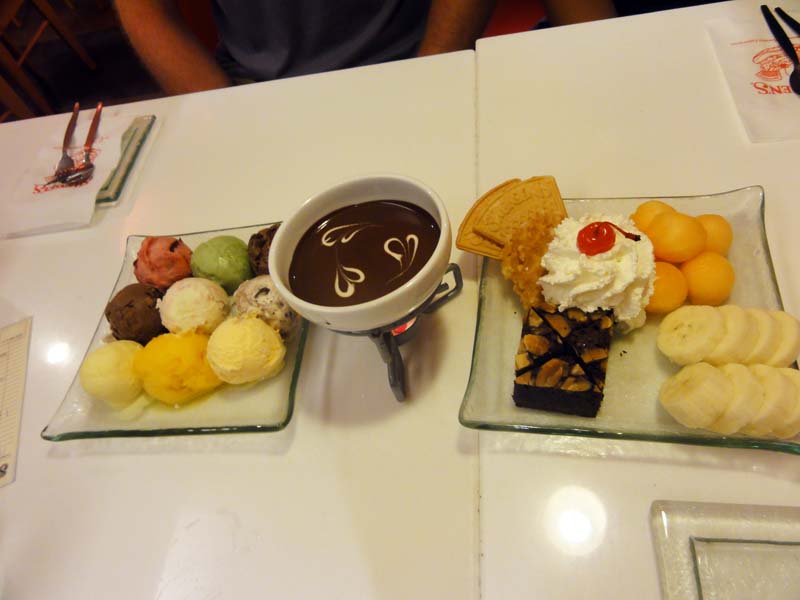 We had a chocolate fondue at Swenson's. Yummy. (Click photo for larger view.)
[ 8 comments ]
( 18 views )
---
We got to feed the elephants and bathe them in the river. Well, throw buckets of water on them. It was pretty fun. We were given a buffet lunch. Most of it was vegetarian and there were so many different dishes. It was crazy!
We spent a lot of time with the elephants. There are two babies there. They are just over 2 years old. In the video you can see them walking with the rest of their family group.
It was enlightening and fun. We did hear some very sad stories about the abuse some of these elephants went through, but it's good to know they have a safe place to live now, especially since they can live almost as long as humans.
-Miranda
Elephant video!
Elephant Nature Park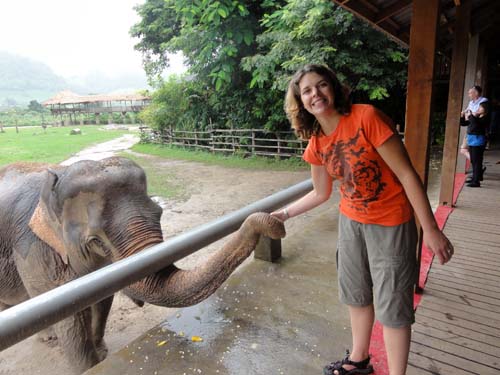 Feeding an elephant.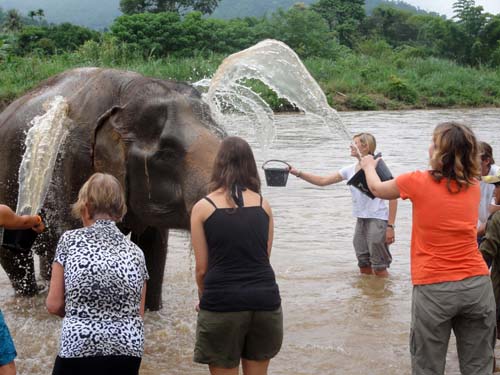 Elephant getting a bath.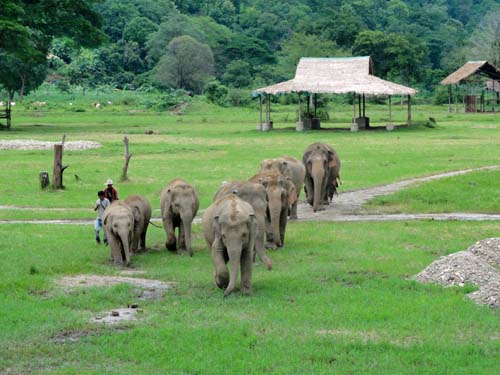 The family coming with the mahouts (locals that watch the elephants).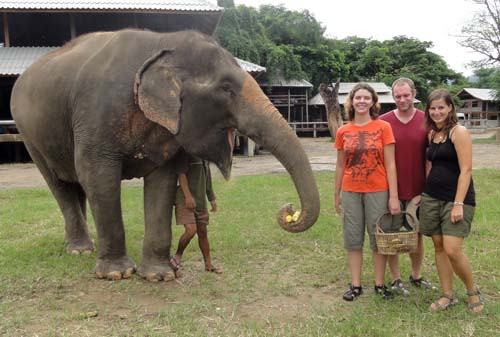 The three of us hanging out with another elephant we got to feed.

Sandra getting a photo with two elephants. heehee
[ 2 comments ]
( 6 views )
---
That evening was our cooking class! We made a curry paste, then the curry, plus 3 other dishes. Joe made Cashewnut stir fry, Tom Yum soup and Papaya Salad. I made Sweet and Sour stir fry, Coconut Milk soup and Spring Rolls. It was a lot of fun. The food was good and I feel like we learned quite a bit. We got a recipe book to keep also, which looks very helpful. Meither of us liked the soups all that much, but everything else was good.
-Miranda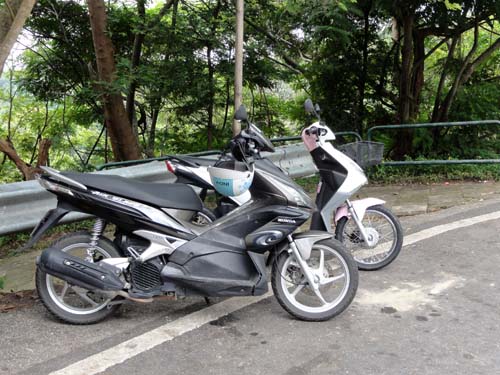 Our awesome scooters.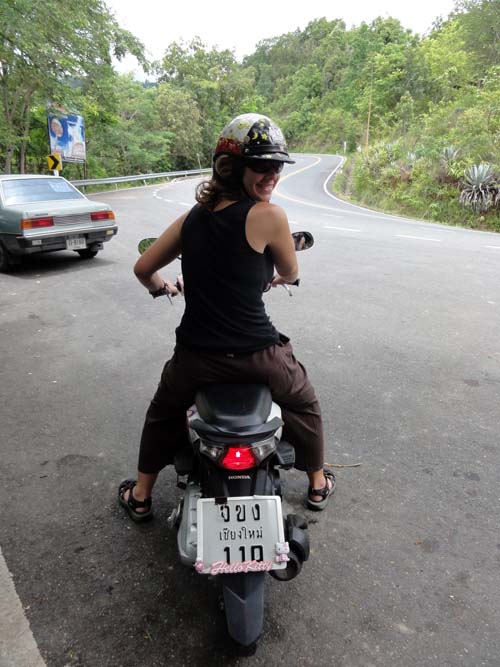 Yep, I got the pink scooter with the Hello Kitty plate cover, plus that was the only helmet that fit my head. :p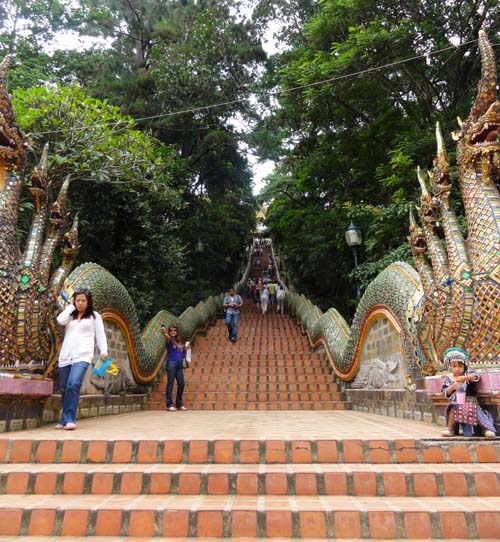 The stairs up to the temple.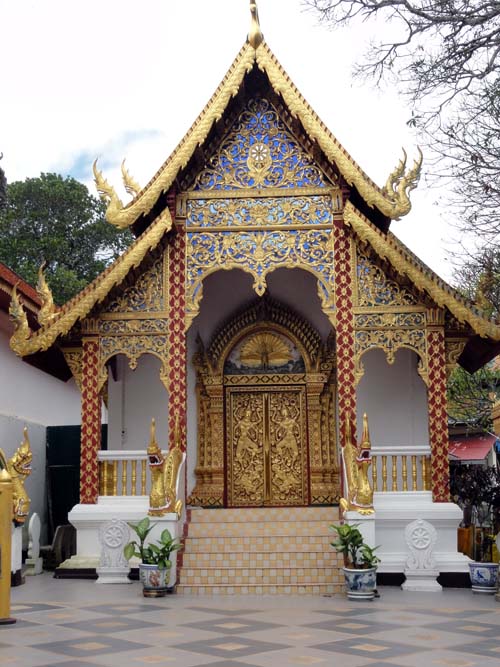 A building in the temple.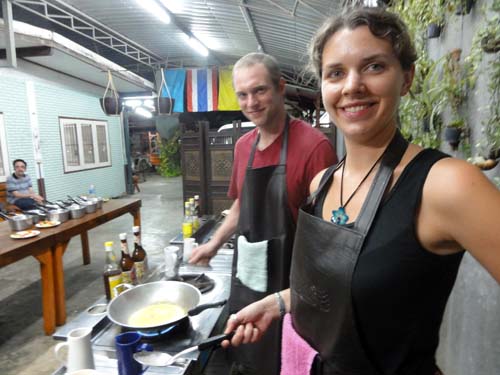 Cooking class!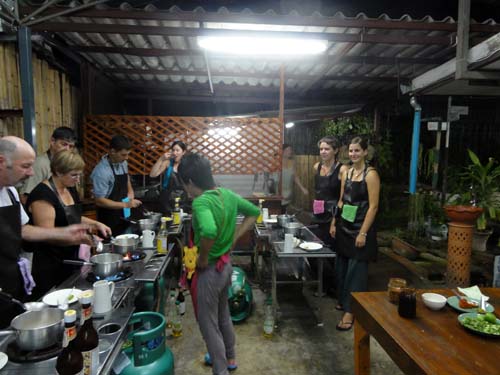 Our teacher was pretty amusing. Yes, that's a little Winnie the Pooh purse thing.
[ 3 comments ]
( 19 views )
---
Back
Next