We basically just drove today. We stopped at a Fred Meyer to pick up a few things. I found a cute hat in case we go an extended period of time without a shower again. :D I've never been much of a hat person, but it's pretty cute, so we'll see. Oh, and it's possible the guy that filled our gas (in Oregon you can't fill your own gas, an attendant -has- to do it) may have forgotten to put our gas cap back on.... I can't remember for sure if I did at the last place in Washington, but considering I was always the one that filled the gas, it was pretty automatic for me to put it back on, so I can't imagine that I forgot, but who knows. So, we have to go find an auto store to get a new one, again (Joe forgot to put it back on once).
The rest of the day was pretty boring. We stopped in Manzanita to go to a cute little natural foods shop that we remembered was there. We checked out a state park campground there, but they wanted $24 for it and we really didn't need anything, so couldn't justify paying that much. Especially since we would just be hanging out in the RV all day since it's raining.
We made it to Rockaway Beach and stopped to see Betty. She's the lady who had a parking spot that we stayed in the last time we were here. We chatted with her for quite a while and plan to stay a day or two here again. Hopefully it's supposed to stop raining tomorrow. We'll see.
-Miranda
[ 4 comments ]
( 10 views )
---
Continuing on we looped back out onto the coast and in Moclips, we drove out onto the Beach sand for a nice view with lunch. Found a nice YMCA near Aberdeen for jog, weights and a swim (they even had a waterslide?). That was refreshing. Camped alongside 101 sneakily outside a lumberland gate.
-Joe
[ 1 comment ]
( 6 views )
---
Then coasted over to a Gas station in Queets with $3 showers. Having almost been a week, Miranda was ecstatic.
We went 4 miles up a forest road (2180) and camped in an existing site right on the side of road. The original plan was to go to the end of the road to a campground and do a hike or two there, but once we got to the section of road that was unpaved, we decided it would be too rough and long, so we found the spot right off the road instead.
-Joe
[ add comment ]
---
Then headed south on 101 to see the Hoh Rain Forest. We did the three nice hikes at the visitor center then decided to head back out since the campground was busy. We saw 3 different Elk near the road while driving through the park. We found a nice overnight spot down a State forest road along the Hoh river. Although it was very thick-brushed and dark it looked safe to let the cats out in morning.
-Joe
[ add comment ]
---
During the rest of the day, a few more vehicles came up, which, with the cats outside, made us a bit nervous. Around dinner time, we brought the cats in, then walked the trail. It was a nice trail, but nothing too exciting. We got some more work done, then when it got dark we decided maybe we should head out. Since it was dark we would have less of a chance of running into anyone coming up, which would be best. There was one fork that headed towards Highway 112 that Joe wanted to check out. So, once we got to that, we headed that direction and ended up finding a spot just off the road that was quite nice. The view was gorgeous. We stayed there the night and let the cats out the next day.
That evening, we decided to do the same thing. We already knew of a spot we could stay at the bottom of the road, so we headed down after dark. We stayed at the spot we intended to that night and headed out right away in the morning.
We weren't originally going to go to Neah Bay, but decided to anyway. We went to the end of Highway 112 and went on a very nice hike at the end of Cape Flattery. On our way back, we decided to buy some smoked salmon since it was all locally caught and we found we like some smoked salmon. It was very good. From there we headed back the way we came and went out to Mora. The campground there was very nice. Rialto Beach was an easy 2 mile bike ride. Unfortunately, my back bike tire had gone flat the day before for some weird reason. Joe spent some time fixing that. Fortunately, he had some tools, though they were cheap plastic things, so they didn't work well. He finally was able to get it done though and decided that only if it was an emergency would he ever do it again.
Rialto Beach was gorgeous. I didn't take my camera because our original plan was to head back the next morning. We didn't end up going back, so no photos. Sorry. Anyway, the driftwood along the beach is huge! I mean gigantic! We spent a chunk of the walk along the beach just walking along the driftwood. It was fun. We got to a point where there's a hole in the rock. It's very neat. Around the same area were a lot of tide pools. The tide was mostly out, so it was fun to see all the starfish and other things.
The next day we headed into LaPush. We had lunch, went to First Beach, then headed over to Second Beach. Second Beach was quite sandy and very pretty. We walked along that for quite a ways. We ended up walking back on the trail (.8 mile walk) barefoot since our feet were filled with sand. Not too bad, but not something I would want to do too often. That evening we headed into Forks and had dinner at a pizza place in town. We also finally got a copy of the truck key made. Just in case.
There was a rode that went to a primitive campground and national forest, so we went back to that for the night. The primitive campground was gorgeous, but wanted $10 per night and we couldn't even find a bathroom. The fact that we didn't have any internet either didn't make it too appealing. We just went back out to the road and found a nice spot far enough off the road to stay.
Today we've just been hanging out in a parking lot in Forks working. This is the first time in a while that we've actually had good internet, so we had a lot of catching up to do.
-Miranda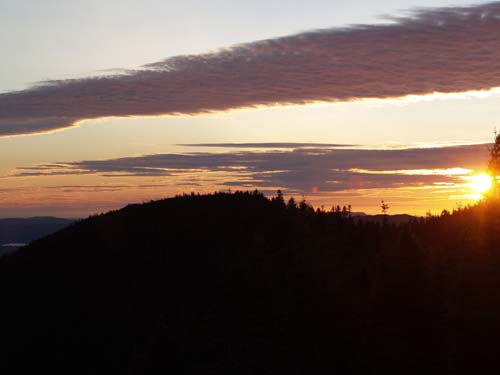 Sunset at our spot at the lookout.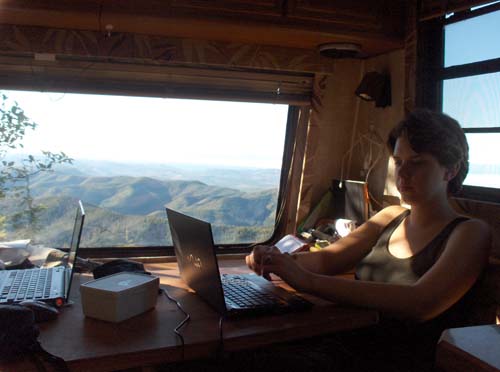 Me working and the view we had at the spot just off the road that was headed towards Highway 112.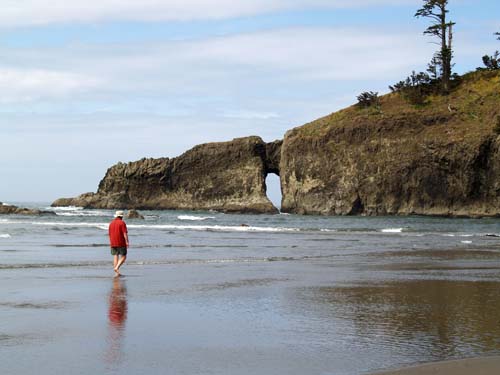 Second beach.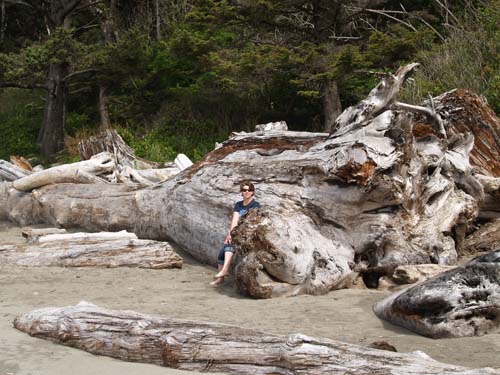 A large piece of driftwood. This isn't even as big as some that were at Rialto Beach.
[ 6 comments ]
( 4 views )
---
Back
Next