The middle of last week was exciting. Pat and I were down hooking on a Super-sloped Corridor 45degrees+ . A huge limbless log 300 feet up was lost out of the grapple... All we heard was a huge "whoosing" sound, and could see debri flying up the hill directly above us. Pat freaked out, which really freaked me out.. We had to just sit still and determine to which side of us this bullet train was going to go.. At about 50 feet away It looked 10feet to my left, So I bolted to the right as fast as i could... "Whooooosh" it carreened by... I was pretty freaked out, But I guess something like that rarely happens, maybe just once/year... so i was just lucky to see one so soon

Also have to listen for boulders bouncing down the Corridors... Feels like Freaking Donkey-Kong Down there

Off to try another week!
-joe
[ 4 comments ]
( 31 views )
---
I should really get a video up here of miranda running her machine!
-joe
[ 5 comments ]
( 44 views )
---
So I'm going to bring Miranda up to camp for Thursday and Friday,
She can have a look at the operation so we can decide whether to stay here the winter working or not!.. Going to see if she's interested in learning to run the Giant complicated De-limber machine!! Whilst i just do dumb brute grunt work hooking.
-Joe
[ 1 comment ]
( 30 views )
---
Currently the forrest service has a 1Pm limit for working with saws/fuel in the woods, so it was a mad rush to get the logs out of the woods between 6:30am and 1 pm. After words the delimber and crane could continue working.
It was fun work, awesome sunrise every morning, and great mountaintop views..
We were at 6000 feet. trying to decide whether to do it another week.. or more... .
The whole Line logging biz is neat also. It is not nearly as scarring as normal Clear cut logging, and These guys try to leave plenty of good "seeding" trees behind so that everything can regrow. for the most part it looks pretty sustainable, and pretty slick.
-Joe
[ add comment ]
---
On the way back to the dock Nancy and Pat did a little fishing. Nancy caught a good sized fish, but let it go. Then Joe went water-skiing all the way back to the dock.
-Miranda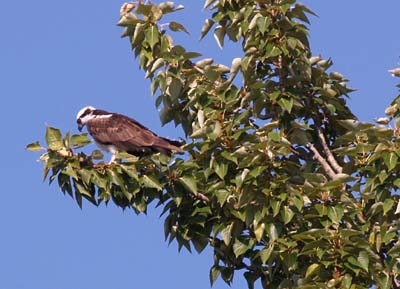 Osprey we saw near the boat launch.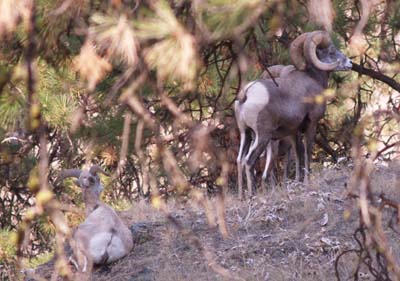 Big Horn Sheep
[ 1 comment ]
---
Back
Next