Here are some pics! The lighting in the RV is awful and she was a bit too interested in the camera so I couldn't get very good ones.
-Miranda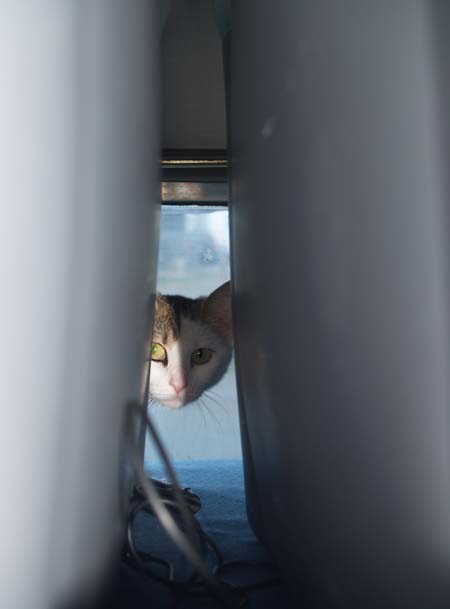 Joe showed her the upper bunk and that has turned into her new favorite spot. I think she likes to watch out that front window.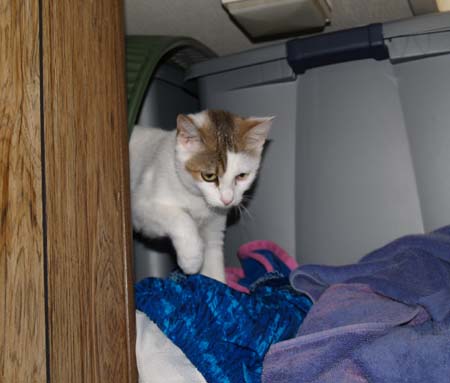 Here she's climbing down from the top bunk.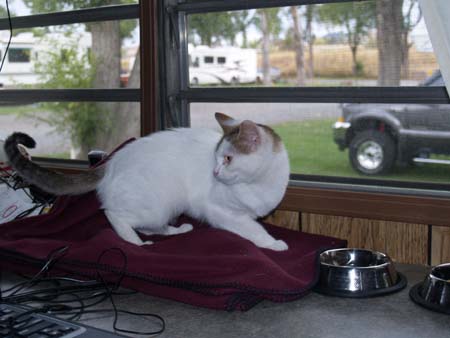 This is her little area. She doesn't actually spend much time on the blanket, but it's there so she can check out the window whenever. She is spending most of her time in the upper bunk or in our laps.
[ 6 comments ]
( 26 views )
---
Lucy is a white 1 year old Cat. Already Marking most of the RV as her own.
Within the first hour she explored most of the RV, Used the Littebox, and Ate some food. We hope she will be mellow enough to just "hang out" with us. We'll see what kind of terrors lay ahead .. . . . ;)
UPDATE: After waiting an hour at petco, We drove gently back to our Campground. Lucy Behaved very well. Im impressed so far.
-Joe
[ 5 comments ]
( 40 views )
---
Catacombs Cave (6,903 ft/2,104 m)
This very long cave is easily entered but gradually
increases in difficulty. It is possible to walk upright for
approximately 800 ft (244 m) to the stairway, after
which the ceiling rarely exceeds 3 ft (0.9 m). A few
places exist where the ceiling height is less then 12 in
(30 cm). A cave map is highly recommended for any
group planning to explore the entire length, as multiple
levels and numerous side passages can be confusing.
This cave is not recommended for inexperienced
cavers.
Lava Beds Website
Nice

One mile long cave, with some parts you have to crawl through!!
Yeeehaaawwww!!! We'll be heading there Sunday or Monday

-Joe
[ 4 comments ]
( 27 views )
---
On the north side of the lake was a pumice desert. That was neat. Barely any trees and pumice all over. We stopped a bunch of places along the drive and then left the national park by early afternoon. We are now in Klamath Falls where we are staying for a few days to get some serious work done.
-Miranda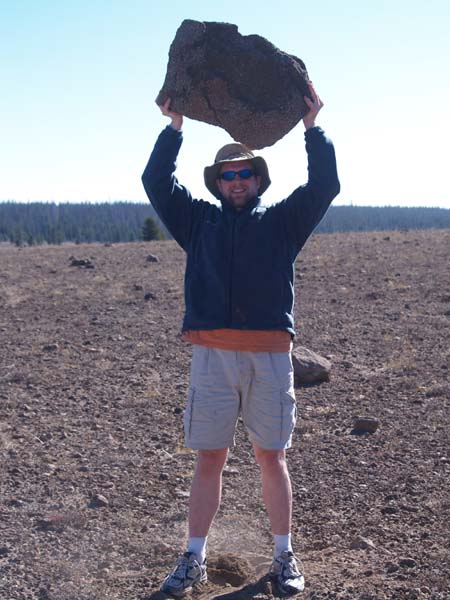 Joe picking up a big rock! (yes, it is pumice.. .)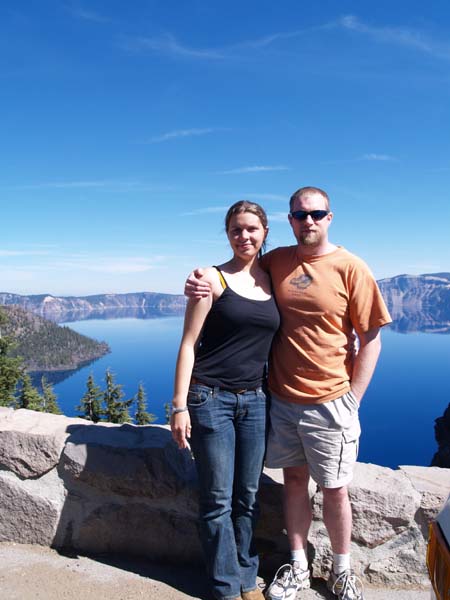 Joe and I in front of Crater Lake.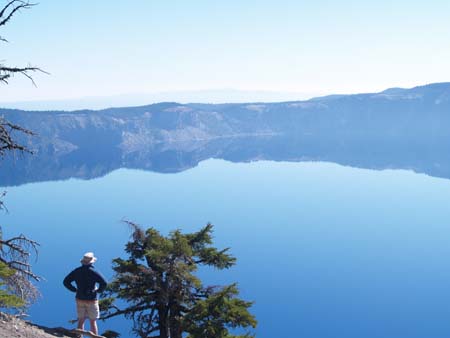 Joe looking at the lake. I think he got a panoramic with his camera... If it turned out I'll put it on the site.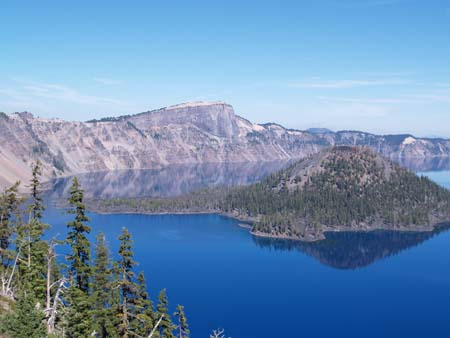 Wizard Island which is in Crater Lake.
[ 3 comments ]
( 11 views )
---
This is quite a pretty area. The drive was very nice. We are now at an elevation of about 5000ft and still have to go up to 7000ft to get to Crater Lake.
-Miranda
[ 1 comment ]
( 3 views )
---
Back
Next