by the time the stars cleared in my head, I had a slight minor chest pain, but the poor chaps door was nearly ripped off ;) Oh well... He couldn't close it as the brackets were all strectched and the open-limit bar ripped

Thanks for new cheap-plastic-cars, they bend really well, to cusion the impact ;)
We had a better surfing experience this morning, except for the 25+ people there.. . I managaged to paddle out of the beach break only once after 4 unsuccessful winding tries

but it was nice. Tomorrow it should be a little smaller and cleaner, so it should be even better

-Joe
[ 5 comments ]
( 38 views )
---
On our way down the mountain, Lucy came up and laid on the dash. First time she's done that and it was a super windy road. She is seeming to get much more used to the driving.
We are now on our way into town to find a place where Toan will be able to rent a car to drive back to Sacramento to catch his flight out. It will be a nice break after Toan's 20 miles and our 28 miles of hiking over the last few days.
-Miranda
CLICK FOR VIDEO:
Lucy Riding on the Dash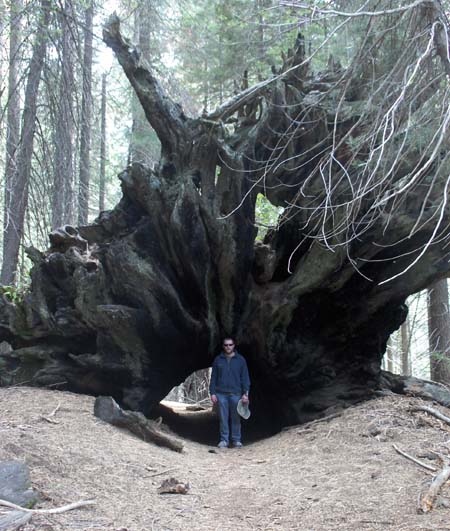 An old, burned out sequoia that is a natural tunnel. Their roots are very shallow, though they spread out a lot, so snow storms and wind storms can knock them down. Especially if they are severally scarred from fires. Which most of the sequoias we saw had a triangular fire scar at the bottom. A fire rarely takes out a mature sequoia.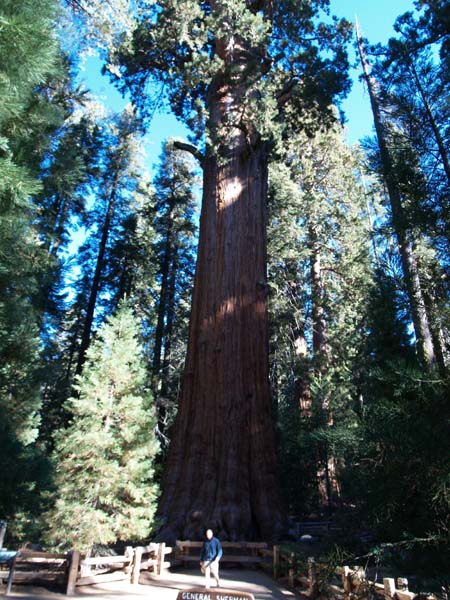 General Sherman.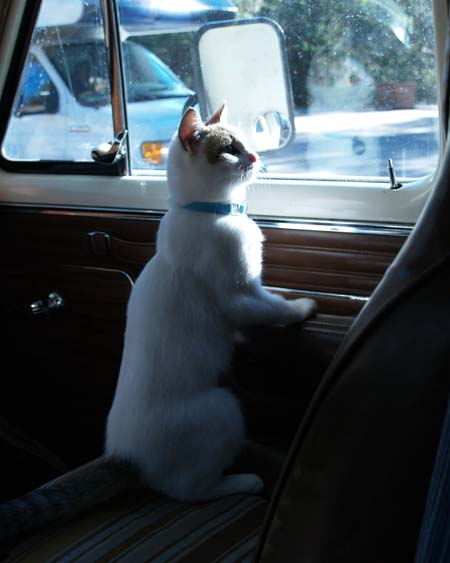 Lucy looking out the passenger side window when we were in a parking lot.
[ 2 comments ]
( 16 views )
---
-Miranda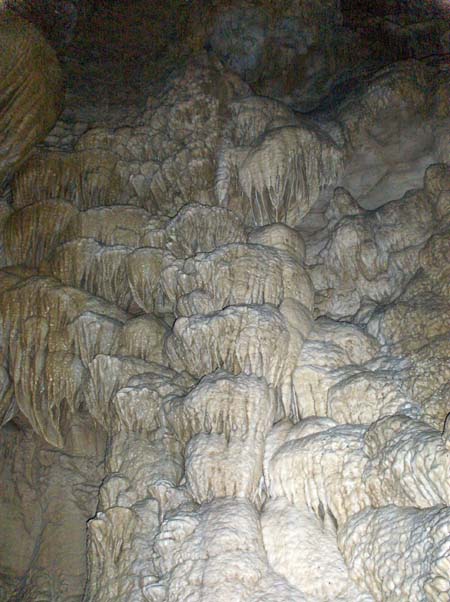 Some formations in th marble, Oregon Cave. Very neat looking.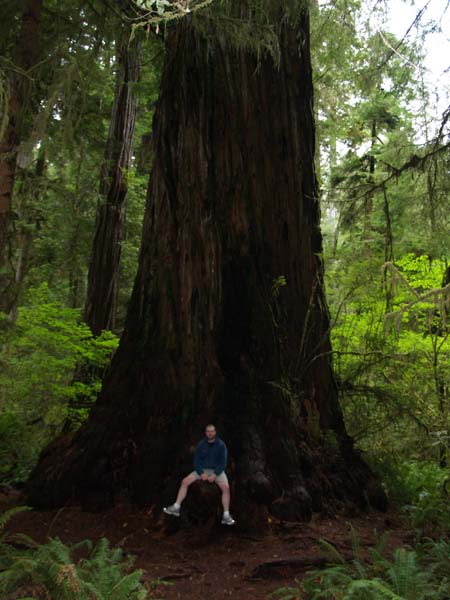 Joe sitting on the burl of a Redwood.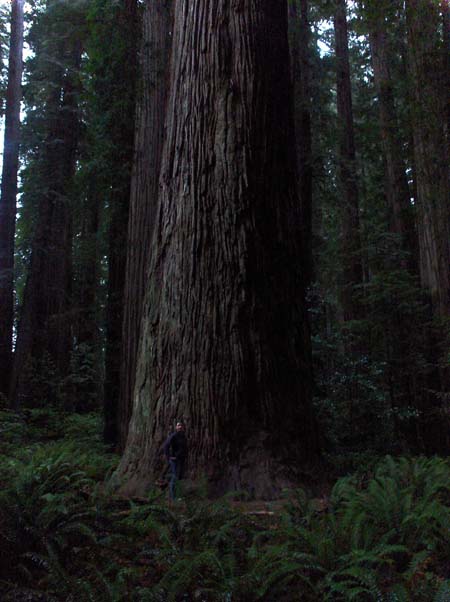 The largest Redwood we saw. It was in Stout Grove. It's probably about 16 feet in diameter.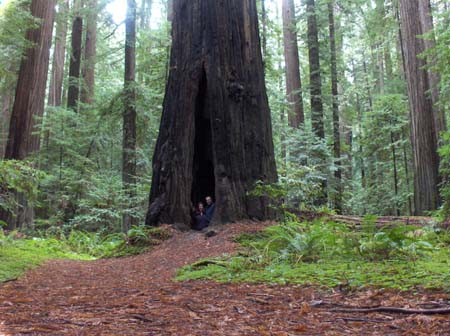 Yes, we are standing in the tree. The bark is very resistant to fire, so after many forest fires, it will typically make a hole in the bark and the fire eats away the dead inside. The outside, right under the bark, is living, so even though the bottom of the tree is partially hollowed out the tree still lives and stands.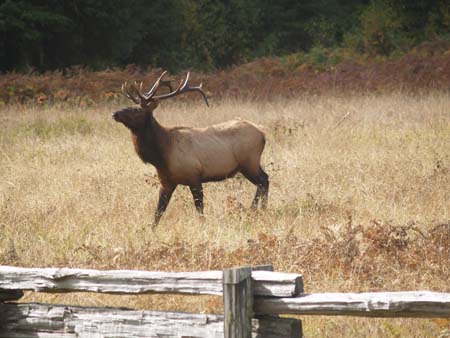 An elk we saw as we came into Elk Prairie State Park.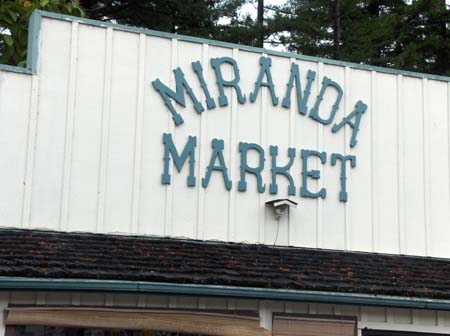 There is a town named Miranda along the Avenue of Giants.

[ 2 comments ]
( 7 views )
---

-Miranda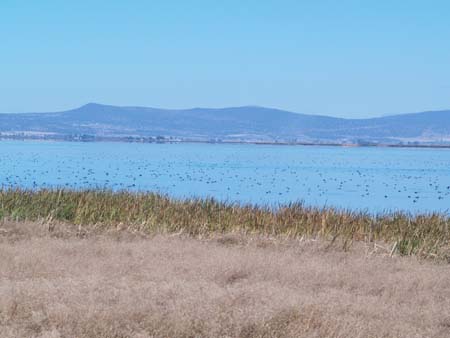 A lake nearby the monument. Yes, all those black spots are birds.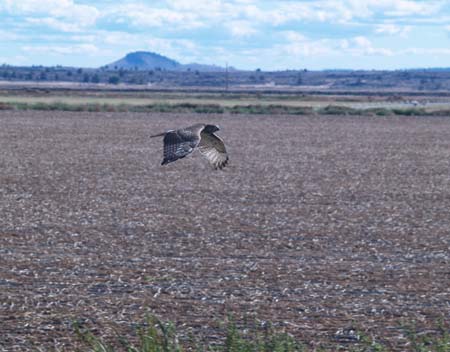 A, I think, young Red Tail Hawk that was flying by the RV.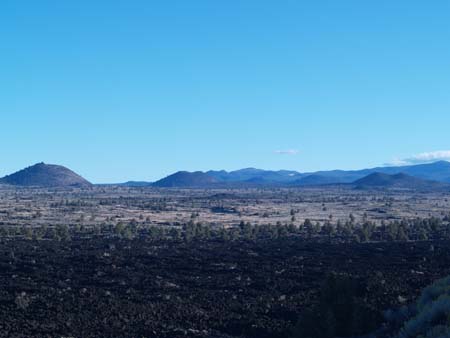 This was an area called the Devil's Homestead. The black below is an old lava flow. The mountains in the distance are volcanoes. I thought it was so neat that they all dipped on the top instead of being pointed like normal mountains are.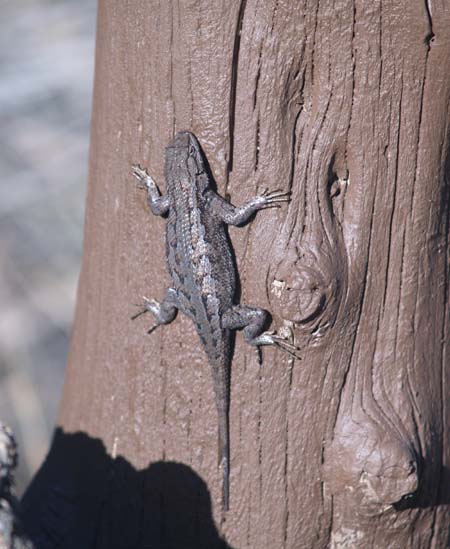 These little lizards were all over the park. This one sat nicely on a post while I took it's picture.
[ add comment ]
---
There were some very neat formations in there. We'll get some photos up soon.
-Miranda
[ add comment ]
---
Back
Next