We worked on unpacking the RV today. We still have some stuff to put away in the house, but it's mostly done any taken care of.
The blog will be pretty quiet now since we'll be home and basically just working.
Oh, and here are the photos I promised.
-Miranda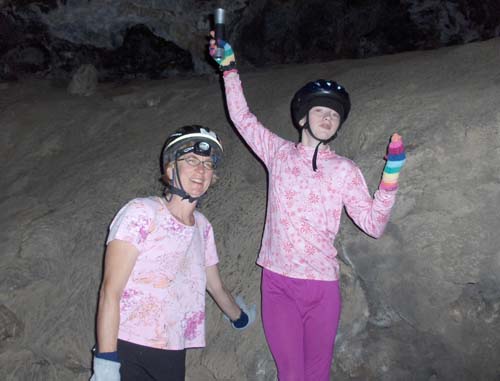 Julie and Emma in the caves at the Lava Beds.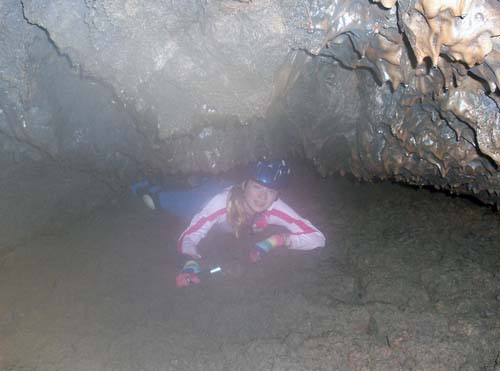 Emma coming through one of many tight spots in the Catacombs. Unfortunately it's fuzzy because the lens was fogged up. I didn't get any decent photos of her after I cleaned off the moisture. :(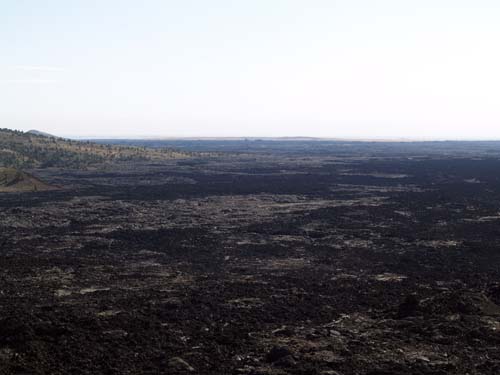 Craters of the Moon National Monument. So many cool formations. This is just a view of the landscape.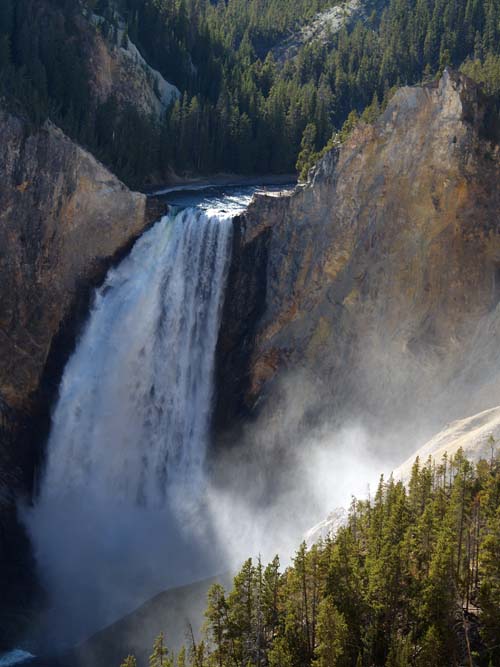 Lower Falls of the Yellowstone River.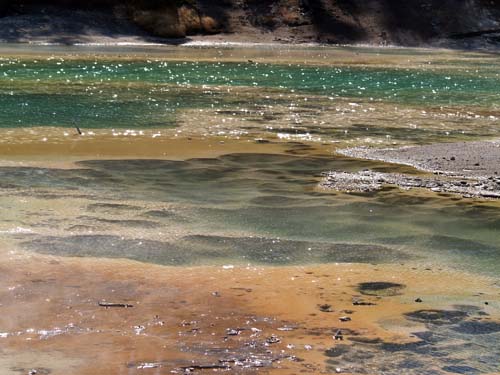 A very neat area in one of the Geyser Basins in Yellowstone.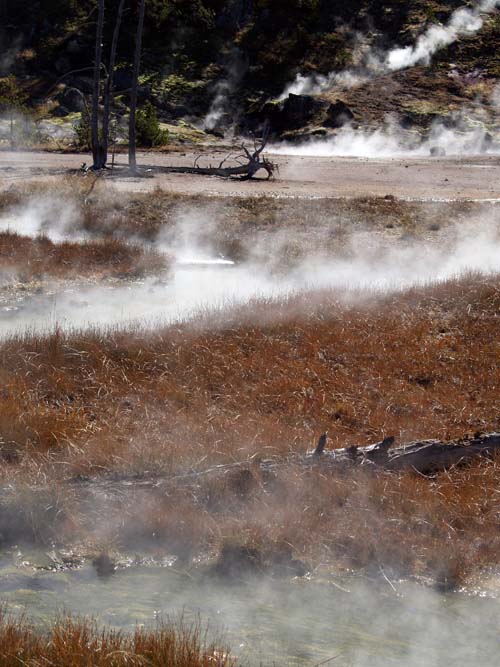 A steamy part of Yellowstone.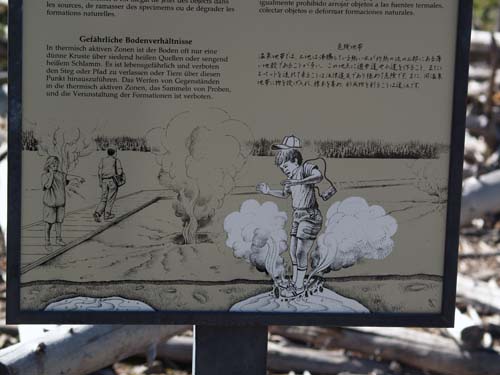 An amusing sign by all the trails that go by hot springs and geysers.
[ 2 comments ]
( 7 views )
---
We stopped at most of the stops this time. We say the Norton Geyser Basin, the Lower Falls, the Mud Volcanoes and a bunch more. It was lots of fun and lots of walking, though tiring. We ended up leaving Yellowstone around 5pm and started working our way towards Billings.
We got to Billings last night and just stayed in a Walmart parking lot. This morning, we were getting up to go have breakfast with Sara (Joe's sister) and her boyfriend. It was fun to be able to sit and chat for a bit.
We are now on the road and headed for home. Our hope is to get at least partway through North Dakota today, find someplace to stay, then be home tomorrow night.
I'll get photos posted once we get home.
-Miranda
[ add comment ]
---
We debated on staying in the campground there, but decided against it. We figured it would be better to get closer to Yellowstone. There was a state park before Yellowstone, so our hope was to stay there. I finally looked at the weather for Yellowstone though and it was supposed to be in the teens that night! We decided we would just be driving through, not camping there at all.
We started driving, but right around the time the national forest started, we started climbing a mountain. At that point we realized, it was going to be a cold night. Instead of waiting for the state park, we found a road and drove down it a short ways, then parked. We emptied our sink water and hopped into bed.
Neither of us slept very well. We kept waking up, making sure Curly and Pickles had some blanket on them to help keep them warm. In the morning, the temperature was 16, so I have no idea how cold it got, but it was pretty chilly.
[ 6 comments ]
( 11 views )
---
-Miranda
[ 2 comments ]
( 22 views )
---
We ended up walking about 10 miles. It was fun, but tiring.
On Thursday, we took a break in the morning, but in the afternoon we headed to the cave loop and did a few caves. Once we got to the end of the loop, Joe's knee started acting up, so we headed back to the RV.
On Friday, Julie and Emma showed up. We took them in a bunch of the easier caves. They had lots of fun. The plan was to leave on Sat. but we wanted to do the Catacombs with them. So, Sat. morning, we got up, got ready to go and headed up to the Catacombs. Wow it was tiring. There was so much more belly crawling and just plain crawling than I remembered. We all made it to the very end and signed the book! After we finished, we headed back to camp and packed up and made lunch. Julie and Emma headed back home. Joe and I headed south and east.
We did stop in the National Forest south of the park. We let the cats out for an hour, then headed out. We were going to stay longer, but then Curly wondered off farther than we were comfortable with, so we gathered them up and headed out.
I'll try to get photos up from the lava beds once I get them uploaded.
-Miranda
[ 3 comments ]
( 20 views )
---
Back
Next