I'm impressed and happy she actually got up. It was actually her idea. We left and headed to Ventura to pick up Jenny who was down from San Fransisco to visit her sister. We had lunch with her then spent some time at the beach.
After we dropped Jenny back off at her sister's place, we headed inland some to Connie's place. Connie works on the game and we had never met her before. She and her mother have been very welcoming and great. It's pretty chilly at night, so tonight we're probably going to use the heater that they have to keep it a bit warmer.
-Miranda
[ 3 comments ]
( 17 views )
---

Laura has been working in the mornings, so Joe and I are able to work as well. We did have sushi the first night here. The place we found had 6 different veggie-type sushi rolls, which were very good. The next night we went to see New Moon and then had dinner at a vegetarian Ethiopian restaurant. It was a different experience and very good as well.
We made Thanksgiving dinner when Laura got home from work yesterday. That was fun. Don't really know what are plans are from here. We'll be playing it by ear for a bit, as usual.
-Miranda
[ 2 comments ]
( 9 views )
---
The next day we drove to pick up Stacy, one of the original beta testers of Horse Isle. We all had an Indian buffet and went to the San Diego Natural History Museum. There was a Darwin exhibit that was very interesting along with some fossil exhibits.
Joe and I really wanted to go back to that vegetarian place again, so we headed back that way. Oh my gosh, parking in this city is impossible! You can park on the streets for free (at least in that area) but even all the residential areas were packed. We finally found a place and went in. The food was very good again.

We stayed in front of Stacy's house last night and, yay for no ticket.

-Miranda
[ 2 comments ]
( 18 views )
---
We got into San Diego then headed for the zoo. David went riding around downtown on his bicycle to see about finding Cindy a cheap bike. The zoo was awesome. We were in there for 4 hours and still didn't see it all. I have tons of photos. I'll probably just post the best ones on facebook. There are too many to try and post them here.
After the zoo, we headed to Goodwill, picked up a bike for Cindy, then went to a really neat, completely vegetarian restaurant. The food was excellent!
We couldn't really decide what to do from there. We ended up heading up the coast a little ways in hopes of finding a state park with an available spot for us. We tried two and both were booked solid. So, we found a place on the side of the road where there were no signs. And, the next morning we found a $50 ticket on our window. Apparently, RVs are not allowed to park in the street anywhere here overnight. . . Yep. We were supposed to know that.
David and Cindy loaded up their bikes this morning and took off. So, hopefully they have fun.
-Miranda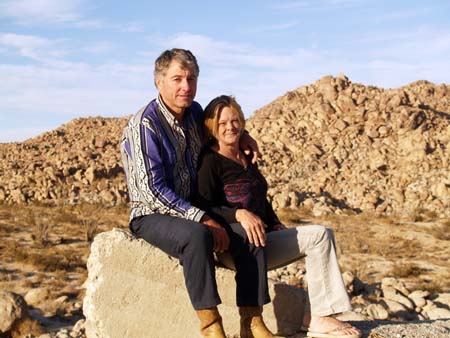 David and Cindy.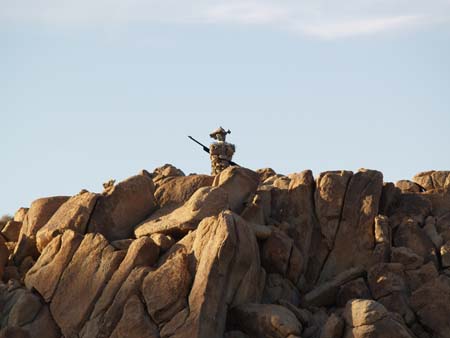 A crazy statue made of rocks on a nearby mountain...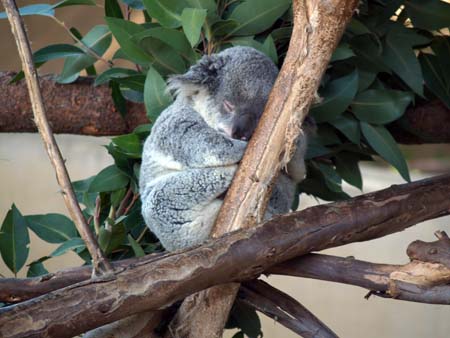 A super cute koala.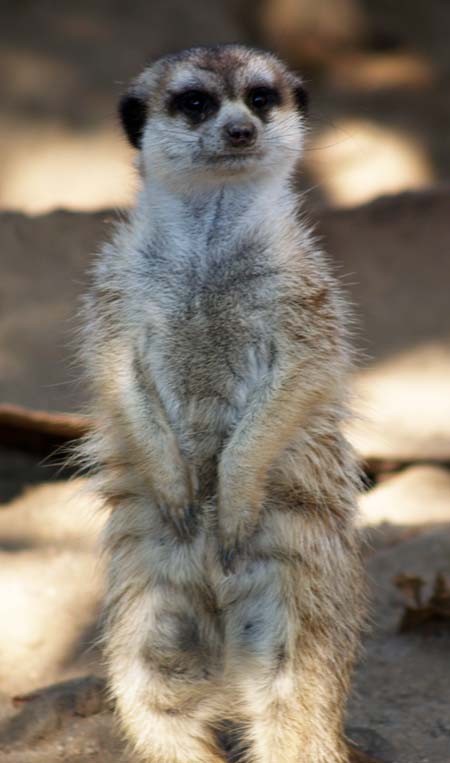 Meerkat.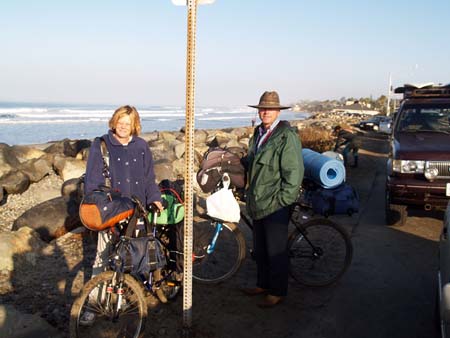 David and Cindy heading off.
[ add comment ]
---
It's been a little bit since the last entry, so this is going to be a long one. .. Sorry.

The next day we went back to the Whole Foods Market for lunch and ended up getting far too many sweets to bring with us. We debated on staying near downtown in an RV Park, but decided to just get on the road and drive for a while instead.
Outside of Austin a ways, we say an older couple hitchhiking. Joe decided to pick them up because he always complains about how no one will pick him up when he really needs a ride. David and Cynthia are heading to California also, so it actually works out pretty well.
That night we stayed at a Parking Area off of I-10. They're kind of annoying areas... There are garbage cans, and that's it. No bathroom. But we didn't know when the next rest area was, and Joe was tired. David and Cynthia have a tent that they stay in a little ways off when we've been parking.
The next day we decided to check out Balmorhea State Park (http://www.tpwd.state.tx.us/spdest/findadest/parks/balmorhea/). The main focus there is a pool that is fed by a natural spring. In the pool are fish, turtles and ducks. The bottom was mostly rocky and was up to 25 feet deep. We had goggles, so it was really fun swimming in there.
I really wanted to see the Carlsbad Caverns, so we headed north and stayed at a campground in Guadalupe National Park which is just south of the caverns. The next morning we drove to the caverns. The "Big Room" is a self guided tour. If you take the Natural Entrance (instead of the elevator) you have to walk down 750 feet via ramps, but there was a lot of very interesting formations along the way. I did get some photos, so I'll get them up soon. It sounds like Cynthia's never really seen much outside of Mississippi, so she really enjoyed the caverns. It worked out really well that our annual park pass covers up to 4 people.
David and Joe noticed that the welding that holds on the back bumper was starting to rip, so Joe was hoping for a weld shop in El Paso. We found one where the guy came out, looked at it, said he could do it, we pulled up to his truck that has the welding equipment in it, he started on it right away and finished within 15 minutes. The bumper is now more solid than it was before we ever started the trip! It was cheap too. We then found a Mexican restaurant to have dinner (because you have to have some Mexican food when you're in El Paso ;) ) which was very good.
Also, remember the electric problem we had before? Well, the RV started clicking again (what it was doing when we drove down the mountain after the electric problem). Joe pulled over and finally found out that it was the transmission relay. So, the overdrive wasn't working anymore, but otherwise, the RV was just fine.
Unfortunately, the internet in New Mexico is horrible. So, we basically just drove for quite a while until we found one of the best rest stops I've been at. You can stay there for up to 24 hours and they even had little picnic shelters that you could park by farther off the interstate. We parked by one of them. Then Cynthia and David could tent behind it.
We left in the morning and headed for Tuscon. We got laundry done and Joe went to see about the transmission. One guy he talked to wanted to flush it then when joe talked about the overdrive problem, he basically said that it would cost $55 - $75/hr depending on how complicated it was. .. There was another transmission place nearby, so Joe went over there. The guy said that whatever you do, don't flush it. That would actually ruin the transmission. Joe told him about the overdrive problem, so the guy drove the RV around for about 10 minutes, and, of course, the overdrive worked without a problem... The guy didn't charge Joe a cent. So, that worked out really well.
We are now headed to Picacho State Park. We should have great internet so we'll finally be able to get some work done.
-Miranda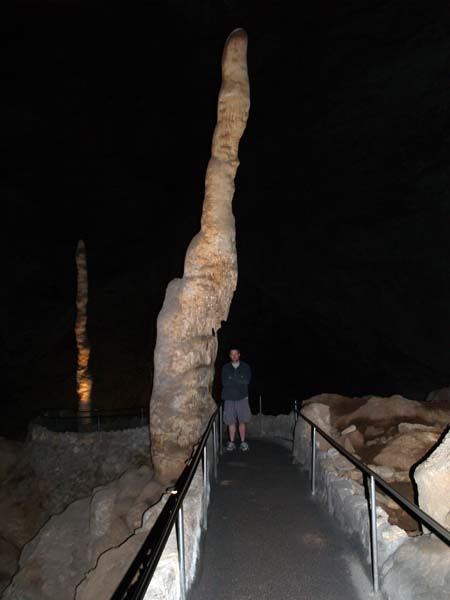 A tall stalagmite.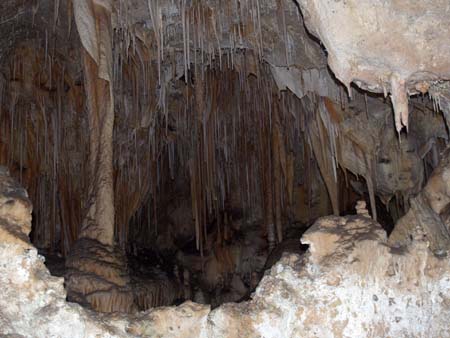 Soda straw formations.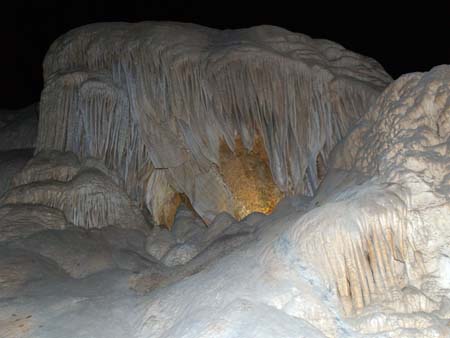 A super neat formation named the Whale's Mouth.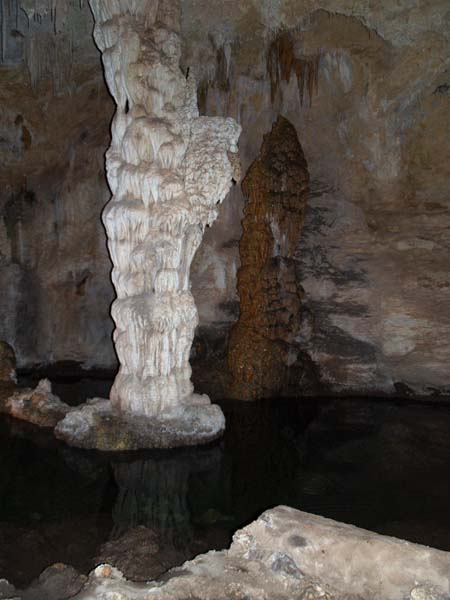 A pool with a column in the middle. The pool was completely filled from cave drips.
[ 3 comments ]
( 16 views )
---
Back
Next